11:20 AM ET 07.14 |
Well, we're finally at the midpoint (roughly) of the MLB season, and I think its time to hand out some awards. There have been many surprises, disappointments, and great moments. And most of all, there have been great players. So here I am to honor them, my midseason MLB awards.
AL MVP: Josh Hamilton, Texas. This team is carried by their hitters, and none of them are playing better than Hamilton. He has ungodly numbers this year: 21 HRs, 95 RBI, and a .310 batting average! That's spectacular. I think its unappreciated just how many RBI Joshn Hamilton has. He's on pace for about 170! Wow. Theirs no question that the Rangers would not be in the race without him, and he's my choice for MVP.
Honorable Mention: Ian Kinsler, Carlos Quentin, Earvin Santana, Milton Bradley, Grady Sizemore.
NL MVP: Ryan Braun, Milwaukee. This is a really tough one, with so many great canidates. But in the end, Braun gets the nod. Milwaukee is one of the best teams in the league, and Ryan Braun has helped an offense that is coming together well with that pitching. He has 23 HRs, 66 RBI, and a .286 BA. And he has just gotten better all season, and is helping Milwaukee in the best division in the NL. By a hair, its Ryan Braun.
Honorable Mention: Chase Utley, Ryan Howard, Albert Pujols, Aramis Ramirez, Lance Berkman.
AL Cy Young: Cliff Lee, Cleveland. Despite being on the biggest disappointment in baseball, Cliff Lee is having one fantastic season. He has the best record in the game at 12-2, a microscopic 2.31 ERA (in the AL), and has struck out 106 batters. And this is with absolutely NO run support. If he had normal run support, and not this Indians crap, he could actually be at least 15-0, no joke. He has yet to have a bad start this season, and he runs away with it in my mind.
Honorable Mention: Mariano Rivera, Justin Duchscherer, Roy Halladay, Frankie Rodriguez.
NL Cy Young: Edinson Volquez, Cincinnati. This is one helI of a race, but in the end, Volquez has the nod. He's first in the league with a 2.29 ERA, has a 12-3 record, and is third in the league with 126 Ks. He is one of 3 (!) NL pitchers with more than 1 K per inning. HE has shown fire and can throw very, very hard. Him and Lincecum come in pretty much a deadlock, but I have to give the edge to the ERA leader in Volquez.
Honorable Mention: Tim Lincecum, Brandon Webb, Ben Sheets.
AL Rookie of the Year: Evan Longoria,Tampa Bay. Now for the boring part of the awards, the runaways. Longoria's only the third rookie in the last 70 years to have 15 HRs, 20 doubles, and 50 RBI going into the All-Star break. He's the best player on one of the best teams in the league, its the obvious choice.
Honorable Mention: Jacoby Ellsbury, DAvid Murphy, Greg Smith.
NL Rookie of the Year: Geovanny Soto. Another tough one. NOT! He's the first non-Japanese rookie since 1949 to start in the All-Star game (other than pitchers). HE has 16 HRs and 56 RBI, on pace for a historic season for a catcher. He may be having the best rookie season ever for a catcher.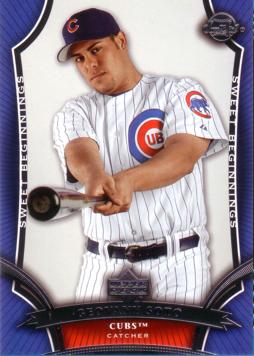 Honorable Mention: Kosuke Fukudome, Jair Jurrjens.
AL Manager of the Year: Ron Gardenhire, Minnesota. Yes, you want Joe Maddon, but there were many people at the beginning of the season that thought Tampa would be a solid team this season, and they have. Not that great. Minnesota was supposed to be TERRIBLE this year, and yet they are right in the thick of the playoff race. Other than Joe Mauer,how many players can you name on the Twins? That's what i thought. What a manager.
Honorable Mention: Joe Maddon, Ozzie Guillen, Bob Geren.
NL Manager of the Year: Fredi Gonzalez, Florida. Every year, I pick the Marlins to be a terrible team, and they never are. And Gonzalez is a big reason for that. This team has no payroll, no pitching staff, and yet they are only 1.5 games out of first. They are a huge surprise this year, and there are really no other canidates. Gonzalez wins this one.
Honorable Mention: Lou Pinella, Ned Yost, Jerry Manuel.
So, there you go, my MLB All-Star Break Awards. Feel free to share your thoughts in the comments section.