12:53 AM ET 07.19 |
Yeah, yeah, yeah, the Twins are playing extremely well this season, better than anyone expected...(I had them third in the division I believe...), but they are so overloaded with dead meat that will just become a hassle when we get into September...What can these guys do to make themselves instant pennant contenders?
1. Call up Francisco Liriano
OK, I'll admit that this one seems a little obvious, but the Twins are going to need Liriano, one of two starters on the 40-man roster with playoff experience, during that stretch run while the arms of the younger guys like Nick Blackburn (Who's sideburns are rivaled by only Joe Mauer...) and Glen Perkins begin to wear down. Liriano has definitely earned a spot back in this rotation with those amazing numbers he's posted at AAA Rochester after the surgery, but that brings up a conundrum for the Twins....who to get rid of?
2. Trade/cut Livan Hernandez, Mike Lamb, Adam Everett, and Boof Bonser.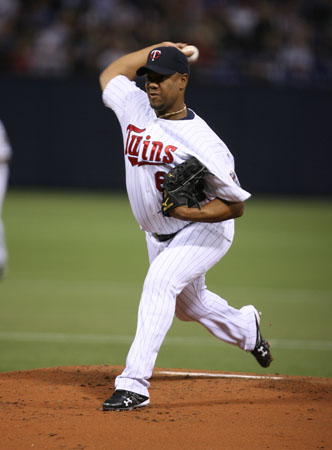 I'm assuming that for Hernandez, it will probably be a trade. There is definitely a team that could use Hernandez's veteran saaviness during the stretch run, and they'll probably get Bonser in that deal again, a young pitcher with a lot of promise who's never really figured it all out at the big league level...Dumping Hernandez gives the Twins a spot open to call up Liriano as well as Bobby Korecky or another good young guy from Rochester. Now, about Lamb. His contract is going to be very hard to dump on another team. He's been dreadful this year, and he's signed on for another year after this one. The better option here would be to buy him out, let him sign elsewhere, and let Brian Buscher and Nick Punto handle the hot corner. The Twins have no need for Everett either, with Brendan Harris playing solid baseball at short and Nick Punto able to play there as well. Everett, too, should be bought out.
3. Acquire a power hitting 3B
This is where it gets complicated. Will the Rockies accept Hernandez, Bonser, and Craig Monroe for Garrett Atkins? My guess would be no. Neither would the Mariners for Adrian Beltre. The Twins are going to have to give up a prospect here, biting the bullet, especially if they get Beltre, as Atkins is still young. Bottom line is that the Twins don't know if the production they are getting from Buscher will last and they need a guy to come in and play.
4. Send down/bench Carlos Gomez once Michael Cuddyer comes back off of the DL.
This is going to get some nasty remarks. Gomez was brilliant in April and early May, but he's been terrible in June and July. He's hitting something below .200 during the month of July, and if he doesn't get it turned around by the time Cuddy comes back, the best option for the Twins to exercise to open up a roster spot is Gomez's. He needs to learn to have better discipline at the plate, rather than just going up and swinging at everything. Plus, Denard Span has been absolutely tearing it up in the majors, making it easier to find a center field replacement in Torii Hunter's heir apparent after last season.
If the Twins can do even just three of those four things, they are going to put themselves in a great position for either the Wild Card or the AL Central crown.