07:16 PM ET 07.21 |
It's been a while; two weeks of no blogging here for me. But I found time today to get this in. I'll be away going away next week so I might not have time for a blog next Monday either.
Anyway, in those three weeks since my last Topic Time! post, one topic came up every week. In fact, it came up every day. Like it or not, every time you turned on SportsCenter it was something about Brett Favre.
This storyline has become like a train wreck to me; you want to look away but you can't stop watching. You're sick of hearing about Favre but if you stop listening you're going to miss something big sooner or later. Everytime I turn on SportsCenter, they bring up Favre. I feel like turning the channel, but being a Packers fan and a Favre-fanatic I need to hear what happened, whether it's a request for an unconditional release or just a text message (which does make me kick myself for taking the time to hear that).
The only time in July that I liked seeing Favre was last night on the ESPY's. He got an award and Justin Timberlake made it fun to hear the name Favre. But that's the only time that it can be like that. Anywhere else, it's media. Reporters are running around making up stories (I like to believe half of those reports that I hear aren't true, it's just people getting their names out and trying to "contribute" to the Favre-fest). I'll listen to what the media has to say, but I'm not going to believe it fully. I've learned this from the past five years when Favre would consider retirement during the off-season. Don't believe the media. The only way you knew what Favre was thinking/doing was when he came out and directly told us what he was thinking/doing. Those reports were guesses at what Favre would end up doing. So right now I'm only fully believing things when Mike McCarthy, Ted Thompson, or Favre comes out and says "This is what's happening".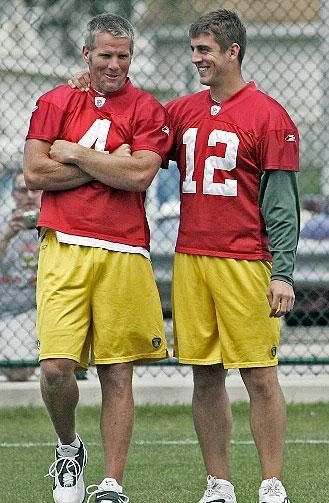 So anyway, now that you're reading, you might be wondering "what is Cheezhead's thoughts on this subject anyway?". Well, here it is:
Brett Favre wants to come back. Football still hasn't come out of the offseason yet, so this shouldn't be a problem. But the Packers say that they're already set with Aaron Rodgers and they don't like the idea of a Favre comeback because Aaron is their quarterback now. So Favre wants to play and says "hey, well then let me play for another team then. Release me.". The Packers again say no. They want him to be reinstated as a Packer where they'll "do what's best for the team".
So what is best for the team? This should be an easy question. Start Brett Favre! It's really easy to forget that he retired and that he decided to play another year; we aren't out of the offseason yet. Favre should be starting at quarterback for the Packers if Green Bay wants what's best for the team. Just look at his numbers last season:
95.7 passer rating
356-535 (66.5%) passing
4,155 yards passing
259.7 yards per game
7.8 yards per attemption
28 touchdowns
15 interceptions
He just had a break-out year. He can still dominate the NFL. He is an icon in Green Bay. But he isn't welcomed back. I just cannot understand that. Michael Jordan wanted back in Chicago and he was welcomed back. Both of these two are the best in the business.
So why all the hate? Most fans don't like the idea of him coming back? They think he's being selfish, that he just wants attention. The truth is he just wants to play football another year.
I feel for Rodgers, seeing that he has been waiting for his shot, but the Packers just aren't handling this well. Saying Favre can backup Rodgers isn't exactly the smartest idea ever. If a quarterback that just had one of his best years in his career wants to play for your team, why turn down the offer? If you can't start Favre another at least be like the Cardinals and play Aaron and Brett like Arizona does with Kurt Warner and Matt Leinart. If anything have a postition battle.
I'm thinking and I'm thinking and I know I had to have missed some points I'd like to use, but this is what I have right now. Until the Packers and Brett Favre come to an agreement, this media storm is going to stay on our television screens and our radio speakers. So if you want to shut it all out, just turn Amish for the summer and stop using all electricity.
I just hope you liked hearing a cheesehead's thoughts on this worn-out soap opera.
P.S.: I do think it's cool that Favre has his own section on ESPN's Bottom Line