06:43 PM ET 07.29 |
Not Everyone Likes Fame Over Fortune:
This NBA offseason has been noteworthy of former NBA players using their passport and traveling to Europe. There have been a handful of role players attempting the exchange of contenents as well. You've seen Josh Childress, Bostjan Nachbar, Juan Carlos Navarro, Jorge Garbajosa, Carlos Delfino, Primoz Brezec, along with Nenad Kristic, who recently agreed to a two year deal worth $3 million euros per year to slip on a Triumph Moscow jersey next season. In case you didn't know, 1 Euro = 1.6 U.S. dollars. Along with more money, you have your team pay for your taxes. Why don't we all just move to Europe and such!
And if you don't remember clearly, Nenad Kristic was actually a very talented starter for the New Jersey Nets a few years back. During the 2006-07 regular season, he put of above-average numbers, including 16.4 PPG and 6.8 RPG.
Out of all the seven former NBA players to migrate to Europe, six of them averaged at least 9 points this previous season. I believe you will see more of this as well. It's one thing when powerhouse teams overseas like Olympiacos sign talented players from the NBA like Josh Childress, but when non-Euroleague teams like Triumph from Moscow start being able to outbid NBA teams, then we have a serious problem. It looks like the pendulum finally "swung entirely the other way."
But in a different perspective, this somewhat popularizes the NBA internationally. Other than Josh Childress, all the players going overseas have been foreign players. So far, this looks to be good, but there will be major concerns if rumors such as Ben Gordon going overseas acctually become reality.
Speaking of popularizing the NBA, three famous European clubs are planning to make the journey in the opposite direction this fall for an exhibition tour against five NBA franchises, the Golden State Warriors, Los Angeles Lakers, Orlando Magic, Toronto Raptors, and the Los Angeles Clippers. The timing of this decision is perfect. This gives the NBA fans time to witness the European teams first-hand, the teams that are paying so much money to our players.
I have a question for you readers. Have you ever taken a look at the Euroleague rosters? There are tons of former NBA players that have played a handful of NBA seasons. Don't look now, but a player who achieved a near All-Star season in 2007 is now in Europe playing. I wouldn't be surprised if at the end of an All-Star players career, maybe Kobe Bryant or someone big like that, they could attempt a move to Europe, most preferably Italy, where he grew up.
The first game has CSKA facing the Orlando Magic, which will be a very intriguing matchup. Trajon Langdon, both CSKA and the Euroleague's best player, is a former Cleveland Cavalier, and 2008 Euroleague Final MVP.
I don't know if this is very surprising, but Barcelona actually defeated the Philadelphia 76ers in 2006 104-99 in an exhibition that formed part of the NBA's Europe Live tour, which is what the event is called this year. And year after year, the European teams have been improving, going from 2-6 during the 2006 Europe Live tour, to 2-3 last year.
Tim Donaghy Headed to the Slammer: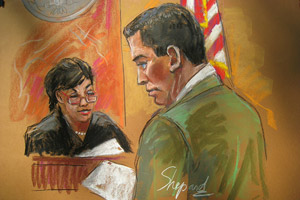 (I've always enjoyed these paintings.)
The scandal is finally over, or at least I hope it is. But after much speculation, former NBA official Tim Donaghy has received 15 months behind bars, along with three years of supervised release, for his partake in a gambling scandal that still has the league looking for some solution to this problem.
During the sentencing, Tim Donaghy admitted that he'd brought shame on his profession as an NBA official. Donaghy is pretty to get 15 months on one hand, considering he could have been receiving 33 months.
The Donaghy situation has cause a big cause-and-effect. The first operation that took place was that Ex-Army General Ron Johnson was hired as senior vice president of referee operations.
There is no surprise here: A study has clearly shown that white referees had called fouls more frequently against black players than they did against white players. The 2002 Kings-Lakers Game 6 looked to have been rigged, and who knows what other important playoff games were rigged.
But overall, I think they gave him too much. Why? Well, many lawyers reffered to the alligations and said that he should have received much less. Secondly, he had given a lot of information about the their case against the other two defendants to the FBI. I feel he should have received about 12 months.
Thanks for reading the first blog for "A Hoops Junkie Haven."