09:26 AM ET 07.30 |
Welcome to the 15th installment of Love it ? or Hate it ?..as usual we take a subject and tell you whether we love it or hate it..feel free to throw in your 2-cents. Humor us..tell us which subjects you love and which ones you hate.
-----------------
This week is going to be a Love it ? or Hate it ? Salute to....Women !!!...the fairer sex or unfairer sex..you choose.
----------------------
The panel this week consists of Harry Callahan, i B4 e, It's All Mine!, and Packbrew42.
-------------
The word of the week is terrific.
-----------------------
The first subject is pro pool player Jeanette Lee.
-------------
Harry: Love her.
We have a finely tuned..exotic.. jade of the orient here folks.
They call her the Black Widow..she just has that look that say's " I will spot you 7 balls.. and still whip you"
And i have the look that say's i would smoke her 9 games out of 10 if we played pool...Just kidding !!! she could spot me 7 and take me out on a run in like 15 seconds.
---------------------
PackBrew42: Hate her.
Can't claim indifference again, so I'll just go w/ hate her. She looks alright, but pool just doesn't get me excited....I guess the picture would've been better if she had been bending over the table in those pants to take a shot where the cue is far away and she's looking back into the camera...not that I'm fantasizing about that or a professional photographer.
-----------------------------
i B4 e: Hate her.

Come on, how hard is it to hit a ball with a stick. Pool is nothing more than basic Geometry and Trig. You just gotta know your angles.

Heck, if George Costanza can hit home runs by merely applying the laws of Physics, how hard can pool be?
-----------------------------
It's All Mine!: Hate her.
Don't know anything about her, except that she plays pool professionally. Which means she could whip my arse, and my fragile male ego just can't take that. And I especially can't take it after several beers, thinking I am all that, with Jeanette fawning all over me, begging me to join her at the corner table, just us two. Then I find out that she was not, in fact, fawning all over me, and she's actually deriding me for s***ing so bad at pool. That's why I hate her.
--------------------
The second subject is Oprah Winfrey.
----------------
Packbrew42: Hate her.
You know what the difference between her & Marshall Applewhite is? She hasn't bought her audience matching sweatshirts & sweatpants. She's annoying and not that interesting, yet women love her for some reason unknown to me. I heard they did some kind of TV show where they took away all her assistants and handlers and she didn't know how to check into a hotel room she had a reservation for.
--------------------
Harry: Hate her.
Good lord..if your a man and like her..you have problems...she is an unabated man basher.
Plus she unleashed Dr. Phil to the world..that i can never forgive.
If you are her partner in life like Stedman Graham..who has written some back page stuff for Sports Illustrated..which i found simply awful..you will always be known as Mr.Winfrey.
Which really isn't that bad for him because if they split..he will get great departing gifts and a few bucks to boot.
----------------------
It's All Mine!: Hate her.
I just have a problem with people who follow other people. And the strange phenomenon of Oprah Winfrey is reprehensible. I'll explain: The women who hang on every word of Oprah need to form their own opinions about the many facets of life. It is shameful that they swallow everything she says, simply because she's "Oprah". Well, you know what? She's just a person. So she had a hard childhood. So she overcame great adversity (and I applaud her for her strength). So she has opinions about stuff. So what? She's just a person, ladies! And YOU are people, persons! You have your OWN opinions buried underneath that Oprah facade. Stand up and be yourself, not Oprah Jr.!
------------------
i B4 e: Hate her.
I hate everything about Oprah. I hate the wrong message she is sending to millions of naive people. There are so many things I hate about Oprah, there isn't enough room to list them. I have never truly hated another human, but my dislikeness of her ranks second only to the jerk who raised me.
----------------------
The third subject is Indycar driver Danica Patrick.
----------------------
i B4 e: Hate her.
She needs to make up her mind, be a race car driver or be a model. Doing the model thing while trying to be an athlete didn't work so well for Anna Kounikova, why does she think it will work for her?
Besides, women shouldn't drive cars.
---------------------
It's All Mine!: Love her.
Danica Patrick: Want her!
Oh. Uh, I mean...Love Her! Oh. My. God. She is beautiful beyond words, and she's fiercely competitive. And if I were indifferent before, the photo of her posted here just seals the deal for me. I want you to pause, and scroll back to her photo above...I'll wait...

NOW tell me you hate her. No, you don't. You're just intimidated by her. Believe me, I know. Mmmmmmmm.....Danica.....mmmmmm!!!
--------------------
PackBrew42: Hate her.

Danica Patrick - Hate her. Damn Harry, why'd you have to pick such a good picture of her. Okay, well, I hate her...she's not that great looking in my opinion (aside from the above picture). She's had more success posing in her underwear/bikini (not that I have a problem w/ that) than she's actually had IN HER PROFESSION. Every time something happens to her out on the track, she gets in front of a camera & whines. Really, I think she plans out her pit row antics for the media attention and seriously just wanna see a male driver throw a punch at her sometime.
--------------
Harry: Love her.
She is.. really good looking..but i am not a racing fan and know very little about her..i have seen her on E.S.P.N. and she seems to be very high maintenance and ****.
I would say if you gave me that 57 chevy up there.. to cruise around in for the night.. with her in that red bikini beside me..ditch the boots..what are you Nancy Sinatra ? i would be a happy camper...very happy indeed...until this happened.
Danica: Never say camper again..got it ?
My reply: No problem.
Danica again: Never say no problem again.
My reply: Got it boss.
Danica again: Never say got it boss either..okay ?
Me again (HI !)...Yes madam.
Danica again: Never say..that either..you got that ? Huh ?
Me again:( No response..just the sound of crickets chirping )
Danica: Where the hell did he go ?
----------------------------------
The fourth subject is Kate Winslet.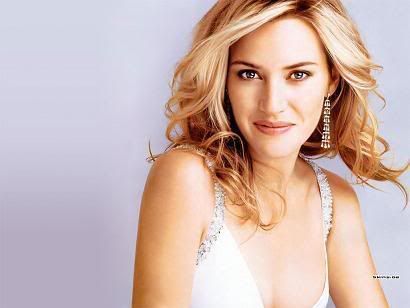 --------------------
It's All Mine!: Love her.
She's rich, famous, and beautiful. I am not. That means that I love her, though I know nothing about her.
------------------------
PackBrew42: Love her.
I guess. You could plant her in a group of 20 other women and I wouldn't know who she is nor what movies she's in....so love her, I guess as I have no reason to hate her.
--------------------
Harry: Love her.
She sort of has a regality about her..like she could be a queen.
Good actress..good looking..and seems to be the type of woman that would get dressed to the nines for a presidential ball..but would also be comfortable in sweat pants..drinking a beer and watching a game...that equals sexy in my book.
----------------------
i B4 e: Hate her.
Come on, who does she think is fooling with that fake accent? I can do a better fake accent than she can. What kind of acting skills does she really have? The only reason she gained acclaim for Titanic is because she got naked.
(b/b Josh)
----------------------
The fifth subject is boxer Laila Ali.
---------------------
Harry: Love her.
Chip off the old block..and easy on the eyes also.,,saw her fight on a Tyson undercard a few years back and she beat the living snot out of her opponent and it was over by the 3rd or fourth round.
You know... to have your kid follow in your footsteps as an athlete and succeed at it like you did would be simply awesome..her old man must be very proud. I haven't kept up..but she was undefeated last time i heard.
------------------
i B4 e: Hate her.
Boxing is a man's sport and women need to stay out of it. SHe thinks she is all big and bad because her last name is Ali. If her last name was Smith, she would not have been nearly as successful.
-----------------------
It's All Mine!: Love her.
This woman is amazing! She boxes better than that guy who's been working at Fedex for ten years. She has HUGE shoes to fill, but apparently, she's doing that just fine. Any time I hear about the Ali girls, I'm reminded of Sinbad's take on them when Muhammad was roasted years ago...he said, "Seriously, Muhammad, after all the ribbing and joking, I just have to say--You got some FINE daughters, my man! FINE daughters!" And Ali stood up, all shaky and slow, bit down on his lower lip, and put his fists up. That's when Sinbad screamed and ran off the stage.
---------------------
PackBrew42: Hate her.
Her fame is because of her name, not her accomplishments...that's all I have to say about that.
----------------------------------
The sixth subject is Women's perfume.
------------
i B4 e: Love it.

It makes me smell all pretty and fresh. I love how it puts me in my happy place when I smell myself.
--------------------
It's All Mine! : Hate it.
I don't care for heavily make-upped women, and I don't like the smell of a woman in the room who obviously marinated herself in some eau-de-cologne for the last six hours. My girlfriend doesn't use perfume, and she smells WONDERFUL!
---------------
PackBrew42: Love it.
Love it as its certainly better than them wearing men's perfume?
---------------
Ah' they just changed the name.. men's purfume.. to cologne Pack...so they could stop all the confusion.
----------------
Harry: Hate it.
Some women are completely oblivious to the fact that they are blocking out the natural smells of the world with their perfume stench.
They drench themselves in a whole bottle of the crap...and leave a lingering flower odor in whatever area they just left.
Ever try to take in the smell of sausage and peppers grilling at a ballgame when you are standing next to a vat of lavender ?
Go ahead use your Oil of Olay or whatever other $7.99 a bar ladies soap you use..that i can handle.
What are you hiding under there Defcon-9 body odor ?
---------------------
Ah' why not..let's throw in a seventh..which is tennis champ Ana Ivanovic.
-----------
It's All Mine!: Love her.
Never heard of her, never seen her before. But that doesn't change the fact that I love her dearly. But only after seeing this picture of her. Did you notice the way she's looking at me in that photo? I think she loves me, too.
-------------
PackBrew42: Love her.
Love her. Hard for any straight male to not love women in tennis shorts....hell, those tennis shorts make average looking women look even better.
------------------
i B4 e: hate her.
Ana Ivanovic: Hate her
Who the heck is Ana Ivanovic? Who the heck spells Ana with only 1 "n"?
---------------------
Harry: Love her.
Don't really watch tennis..but i would if she was playing..very All-American girl like...and with a Bond girl name to boot..if her name was Ana Ivanahump it would be perfect.
-----------------------------
v
v
v
v
----------------------------------------
Jyoti's corner.
Jyoti took some time between classes today to chat us up.. so lets hurry this along so we don't make her late.
-----------------------------
It's All Mine!: Hi, Jyoti !..My first question is: Have you ever played basketball?
---------------------
Jyoti: Hello IAM..sure all the time..i have a nerf ball hoop on the back of my bedroom door..regulation height of 24 inches off the floor..i would make most of you Pier boys look foolish..Harry for sure..i got game.
---------------------
It's All Mine!: How many beers does it take to give you a buzz?
----------------
Jyoti: Well i'm only a kid so i don't drink beer..but my approximate estimation would be a thimble full for me..would equal a keg to you IAM.
-------------
It's All Mine!: Have you already been promised to a future husband, or can I ask you out when you're of age? I only ask because I think I love you.
-------------
Jyoti: EEEEWWWW !!! ( Jyoti pulls out a mini-bottle of mace and sprays IAM right in the face as she is alternately blowing a mini-whistle and screaming.. STRANGER DANGER !!! STRANGER DANGER !!!
--------------------
i B4 e: Lets get some cold water on that IAM...see you next week Jyoti.
--------------------
Later fellas...sorry that i overreacted a bit IAM...the burning should stop in about 16 hours according to the can. It does also say it may cause corneal bleeding..so pack those eye-lids with cotton and gauze before you go to bed...godspeed pal.
----------------
Well that's it folks..we hope you liked it..if not..as always..we could give a crap.
This has been a Pier-11 production.
Est.1/2/08