12:12 PM ET 07.30 |
I'd like to share some more songs with you guys and get some thoughts and opinions,so if you don't mind,sit back,listen,read,and enjoy.Some of the songs I just browsed along and found as I was writing this.
Bron-Yr-Aur-Led Zeppelin
http://www.youtube.com/watch?v=y-WRtoY_eus&feature=related
This is a beautiful song from Physiacal Graffiti.It's played wonderfully by one of the best Jimmy Page.It's just so,smooth.....and gentle.It really calms me,some of Jimmy's best work.Sorry it's not really a video.
Run Like Hell-Pink Floyd
http://www.youtube.com/watch?v=XYd6mCAcQw8
Roger Waters.What an interesting guy when it came to music.I love how this song sounds.When Waters produced the music,there tended to be odd lyrics,as you can see from "The Wall".I'm not to fond of the second,In The Flesh,on the album as it expresses,as it seems,a bit of racism.But I do like the first In The Flesh.The sound he makes at the beggining?Is that supposed to be a dolphin or something?Idk,I just know I really like this one.It's seemingly pretty cool how they look in concert.
Do it again-Steely Dan
http://www.youtube.com/watch?v=sRJWnE6cLYk
This is a pretty good one as well.I was going through some Pink Floyd music on my phone and it said if you like Pink Floyd you may like: and gave a list of groups.Steely Dan was one I checked out.I didn't know much about them,but did realize I liked several of their songs.For example,Do it again,and Reelin' in the years,are songs I couldn't have told you who they were by like a week or two ago.Great song.
Killer Queen-Queen
http://www.youtube.com/watch?v=MMz-wi50ACU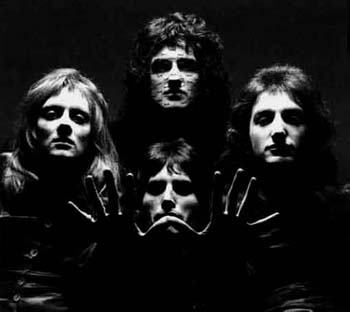 Love this song.Great opening on the piano.There's certain things to really love about Queen.I like the playing of the piano in many of their songs,and the back-up vocals by the other members,though we all know Freddie Mercury is one of the best vocalsits ever.Whenever I hear this song I can't help but think "Dynamite with a laser beam",just sticks I guess.
25 or 6 to 4-Chicago
http://www.youtube.com/watch?v=LmPVxyr185A&feature=related
You cannot tell me you don't love the beggining.It's awesome,the play several different instruments and altogether it meshes together excellently,eithr this or Saturday in the park is my avorite Chicago song.
Fly like an Eagle-Steve Miller Band
http://www.youtube.com/watch?v=Bu6EnO2Jglw
This is so melow,I like a lot of their stuff.Abracadabra,The Joker,Jet Airliner,Rock'n me.Several excellent,cool songs.
Note:This is just one I felt like doing.Some other time I'll get in-depth on my thoughts.And next time I think I'll go into some music that's not so known,and provide you a look into some unknown yet still good stuff.That was the point with the first two songs.Ok,thanks for reading.