04:40 PM ET 07.30 |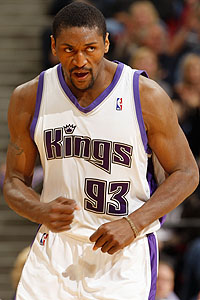 The Rockets pulled off a monster deal to acquire Ron Artest from the Kings. They gave up Bobby Jackson, Donte Greene and there 2009 First Round draft pick. This is a major risk for the Rockets, but it could turn out to be a deal that puts the Rockets as one of the elite teams in the West.
The Rockets are hoping they're getting the lock down defensive player, and not the total team distraction like he was in Indiana when he was talking about becoming a rapper and not caring about basketball.
If Artest can come in and provide that defensive prescense that makes him so feared around the leauge then the Rockets will come out of this deal as huge winners.
Now everyone talks about what the Rockets get out of this deal, but what about the Kings?
Well they get the expiring contract of Bobby Jackson, a young Donte Greene, and another draft pick. All this is building towards there plans of going after one of those big named players in the 2010 free agent class.
There was some speculation that the Rockets were talking about giving up Tracy McGrady this offseason. They decide to go the other way and bring in a guy like Artest that helps there chances of not only winning a playoff series but making a run at the Finals.
Artest's defense is not the only thing he brings to the table. He averaged 20 Points a game last season and for a career he averages 16 a game. That will take some of the scoring load off of T-Mac. He also adds 6 Rebounds a game to the offense.
Artest also adds a toughness and an edge to a team that really lacked that last season. The SouthWest Division is definitely going to be a fun race to watch next season with three potential teams that could contend for the Western Conference Crown. If nothing else the Rockets should be a fun team to watch next season.