11:01 AM ET 08.02 |
Is Barry Bonds FINALLY gone? Is his tainted reputation finally outside of stadiums all across the America?
My answer? Yes.
Although in his last season Bonds' still had pretty good numbers (.276 batting average, 28 homers, 66 RBIs, .480 OBP and a .565 SLG%) I don't see him coming back because of this simple fact: NO team is ready to take on what will come with him.
Besides the fact that you'll basically add two people when you sign Barry Bonds (Pedro Gomez), you'll be adding tons of weight in the extra baggage including too much media attention, and I doubt it'll be easy for teammates to accept Bonds as one of their own.
Bonds will not go away from the media spotlight, but I think he's FINALLY done with playing in the MLB. I don't think he's ready to accept that fact, though. If he came back for one more season he'd achieve some huge records (3,000 hits and 2,000 RBIs).
Although he probably wants desperately to play for any team so he can attain those records, he has tarnished his own reputation enough that no team will take in his potential 20-25 homers, 55+ RBI and .450+ OBP.
Barry has only one person to blame. Himself. We may never get an answer to the million-dollar question (Did Barry Bonds use steroids?) but what we do know is that enough people doubt him and he won't be able to get a job with a major league club.
Don't expect to see Bonds in a MLB clubhouse near you anytime soon, maybe in a movie theater, but not in a clubhouse.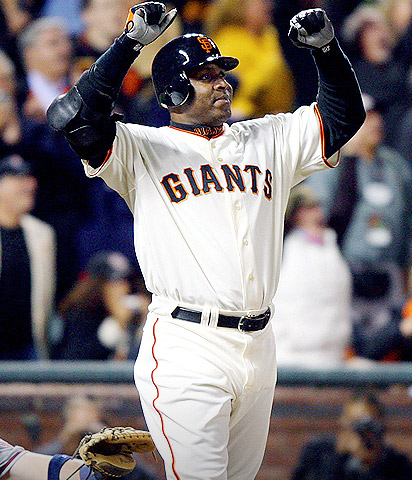 Bonds celebrates after hitting his record 756th homerun.