01:12 PM ET 08.03 |
This is my five-favorite rock n' roll albums, obviously. I had thought about pushing it to possibly 10, or even to 20 like another has done... but I realized it would have been too much effort and I felt no real desire to crank out something of that magnitude.
So, these are the five of the most important ones to me. Some are still building on me and are recent loves, some are ones I've loved for a while and have stayed with me. Regardless, they're the five, the top five in Mac's music loving heart.
I didn't put a great deal of effort into this. So don't be expecting an epic.
Here they come...
5. Goodbye Yellow Brick Road - Elton John
There aren't too many times you come across albums like these. There aren't very many times (if at all) that you listen to an album that sounds just like a Greatest Hits CD. Elton John has put out many Greatest Hits CD's over the years, and I've got one of them, and I swear to you that nearly half of Goodbye Yellow Brick Road are on them.
For me, there's nothing like Elton John's voice. For a lot of people, the most uplifting and iconic voice in rock n' roll is people like Freddie Mercury. It's Elton John in my case. Elton's voice is... I don't even know how to put it - it's so many things put together. I can never not enjoy a song by Elton John, whether it's off GYBR or any other album or Greatest Hits CD.
Goodbye Yellow Brick Road never misses a beat. The first few tracks -- "Funeral For a Friend", "Candle in the Wind", "Bennie and Jets", "Goodbye Yellow Brick Road" -- are absolutely legendary, making for the first minutes of the experience near perfect. It continues on and still doesn't trip up going by with hits like "Grey Seal" and "Sweet Painted Lady". This 15-song album is a classic filled with the exuberant energy and creative genius of Elton John that always seems to lift my spirits - and that's something that must be recognized.
The only criticism I've got here is the track ordering. It's normally a knock on the producers who mixed the album, so I'll take my shot at them. They could've done a much better job ordering it and shuffling songs around, so that the top of it isn't so heavy and there's a gap in the middle. Like I said before, though, it's not like the album dips down and dies for a little while in the middle - the songs are all good and great, but I'm making the same gripe I would've with the guys who mixed U2's The Joshua Tree. Those lugs put "Where the Streets Have No Name", "I Still Haven't Found What I'm Looking For", "With or Without You" and "Bullet the Blue Sky" as the first four tracks. The rest isn't bad, like this album, it just was poorly mixed.
Regardless of any quirks I've got a beef with, Sir Elton John's 1973 album is bar none, one of the best works of that decade and in rock n' roll history.
Notable Tracks: Funeral For a Friend (Love Lies Bleeding), Bennie and the Jets, Goodbye Yellow Brick Road
Honorable Mention: Saturday Night's Alright For Fighting
4. The Doors - The Doors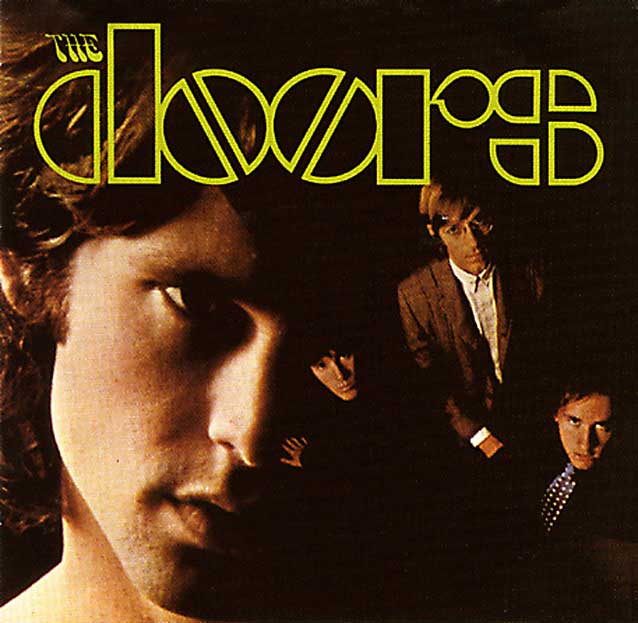 Is there any better of a debut in rock history than this?
Outside of possibly the Jimi Hendrix Experience's Are You Experienced?, I'm not too sure there's anything that rivals the Doors' eponymous record that spelled out to the tee what the Doors were about. Upon the first few listens of various Doors songs I was as bored as Cartman on a day that he didn't call Kyle a stupid Jew. The lack of guitar irked me; the dominating presence of a keyboard made me question their manhood; Jim Morrison's wails and unmistakingly "out there" lyrical prowess made me go back to the kings of noob rock, AC/DC - who I at the time, thought was the best band ever.
My, how times have changed. Naturally, the Doors only come in small doses despite being a favorite of mine due to how soft they are - I'm a sucker for a driving guitar and a heavy bass line, if you didn't already know - but albums like this one never fail to put a smile on my day. It isn't that good for a band's reputation to be known for their debut and in effect, known as someone who got progressively worse - although, it was never substantial; it's just hard to top an album like this one. Never have I listened to an album that explains in full so much of what a band is about and what they intend to grace us with during their careers. Each song helps spell the words to their name so magnificently, through short jingles to hauntingly drawn out rock classics.
There are so many terms you could use to describe the contents of this album. So many ranges of emotions it's too difficult to put into words for fear of not giving it justice. The Doors did things on this album and for the remainder of their short career that were unheard (literally) in their time, sounding more like the Black Sabbath of rock n' roll but having enough twist and creativity to hold a balance of horror show sound and uplifting keyboard rock. For me, it's a matter of how it starts and ends: We "Break On Through" in the beginning, and "The End" closes the album off in a way that still remains a fixture in the hearts of people who lived to hear it back in 1967.
After hearing an album like this, one needs a glass of water to stomach it all.
Notable Tracks: Break On Through, Light My Fire, The End
Honorable Mention: Alabama Song (Whiskey Bar)
3. AEnima - Tool
My top three artists (Metallica, Pink Floyd, Tool) are all bands that are extremely therapeutic for me. They cover different ranges of emotion and are the perfect prescription for them. Metallica is generally my haven when angry; Floyd when I'm in the need to be swept off my feet and to another place; Tool to become numbed. It's hard to describe what I get from Tool. Their sound is such a complex animal that it escapes the label of hard rock, metal, progressive or pyshcadelia and finds it way at art rock.
One thing I like about these guys is although they don't incorporate raging guitar solos, they continue to sound fresh and non-repetitive with each installment to an album. And lyrically, well, Maynard is in his own world there. Songs like "Stinkfist" can be interpreted as about @nal sex when they're about completely other things. Ambiguity runs rampant in Tool's work and it makes for an overwhelmingly exciting experience when listening. You don't always wanna try and dissect songs and their meanings while listening, especially with bands like Tool because you can caught up in their songs so much you can forget where you are when it's over, but with Tool you're forced to read the lyrics and make judgments. And then Maynard shows the ability to take it down a notch in resorting to simple, vulgar and still powerful lines heard in "AEnema."
All in all, the album never misses a beat. There are no fillers, only a following step to the puzzle, one leading to another and another leading to one more.
This enormous album both in minutes and its meaning/unique sound is a must hear, simply put.
Notable Tracks: Stinkfist, Eulogy, AEnema

Honorable Mention: Third Eye
2. ...And Justice For All - Metallica
One thing I've always heard about music is that it's like a snap-shot of society. Listening to the Beatles' 1968 groundbreaking album Sgt. Pepper's Lonely Hearts Club Band and you can make general statements about where music and society was at the time. Listening to the British Heavy Metal invasion of the 1970's and you can practically sense the movement in what was accepted in music and where people were heading in their own experiences with what was brought to them by the Machine. Another way to look at this concept is where an artist is in their careers and lives with what they produce. Never is it more obvious and powerful (at least to me) than with Metallica's 1988 fourth-studio album ...And Justice For All.
In September of 1986 during a leg of their Damage Inc. tour in Sweden, Metallica's tour bus skid off icey roads sending then bass guitarist Cliff Burton through a window, into a ditch where he was eventually crushed (twice) by the tour bus. Burton's death came at the worst possible time in the band's careers, as they were at their peak after the release of now heavily revered thrash metal (a style of metal they created) albums in Kill 'Em All, Ride the Lightning and Master of Puppets. The band later acquired bassist Jason Newsted to replace Burton and trudged on to release yet another album.
Whether the band has ever acknowledged it, ever been asked about it or if it's even really true or not, to me there's a direct line between the rough, angry sound of Justice and the turmoil surrounding the two-years it took to produce it. Out of all the albums Metallica ever released, Justice packed the most emotional punch and raw energy. Lyrically it was bolder than any other album; musically it was much more forceful and intoxicating -- having both a positive and negative reaction from fans and critics. To me, this album is a direct product of loss of life and the domino effect of emotions it entails.
Despite having a non-conventional style of drum-play that clicked rather than pounded and guitar entirely overshadowed the bass-play -- which has been a longstanding criticism between fans -- the album still has sold over eight-million copies and to many who have an ear for the rugged and obnoxious sound of it is held as a truly underappreciated metal album and one that deserves to be on a metal enthusiasts favorite list.
For me, there is no issue with the tapping from Lars Ulrich's drums. There is no issue with the lack of bass and overbearing guitar from Hetfield and Hammett. What grates on the nerves on others releases me and allows me to drift away. The overall complexity of the album is seen through the longetivity of the record (65:33) and the lack of any and all feelings of repetition. ...And Justice For All hammers all the way through, from rages of the destruction of Earth, the raping of Justice, infanticide, loss and the confusion and angst felt in adolescence. Cliff Burnstein once said that the album St. Anger needed to be something that hammered all the way through, that yelled at the listener and forced them to say "There's no letting up from these guys."
With this album, there is no letting up. Outside of the one possible filler, "The Shortest Straw" which still packs enough of a guttural punch to make it past average the record never unhinges its death grip on its lyrical themes and aggression. And still, through all the madness it finds room to pay tribute to bassist Cliff Burton with the near 10-minute instrumental "To Live is to Die." Despite the flat sound and the shark's edge guitar the genius of Metallica found a way to reach a level of heartfelt sorrow, remembrance and a will to carry on and honor the departed through gliding softness of guitar during the middle that begs the listener to let tears roll. And like the album before it closes with a furious thrash blitzkrieg helping to expel the anger and emotional baggage of the band members and any of the listeners in "Dyers Eve."
The Justice album through all its obvious production flaws and inner turmoil that fueled it packs a mighty roar, forcing itself upon the listener and creating a uniqueness that must be cherished.
Notable Tracks: ...And Justice For All, One, To Live is to Die
Honorable Mention: Harvester of Sorrow
1. The Dark Side of the Moon - Pink Floyd
Is there any more of an iconic and recognizable album cover?
The more I listen to it the more I appreciate the beauty of this legendary concept album that the greatest progressive / psychedelic rock band forged from the chasms of their creative minds in 1973. This is the album that helped me stop clinging to the sarcastic vocals of Roger Waters and discover the majesty of David Gilmour; not only his vocals, but his guitar play as well, something I found out much more about in songs like "Echoes". (See: Live at Pompeii) Dark Side is a continuum of thought panning across various aspects of human ways and the culture we make up. It flows like the wings of a goose making its way South or a duck slowly making a course through a pond: unwavering, without breakage and never lacking a purpose. It's captivating throughout and never fails to remind a Pink Floyd fan of the immense power of its songs and how transcending it was in its time. The Dark Side of the Moon challenges you every step of the way, from openers "Speak to Me/Breathe" to possibly one of my favorite Floyd songs in "Us and Them" that features an orgasmic use of a saxophone solo. Floyd's most successful release -- it stayed on the Billboard 200 for a staggering 14-years straight -- it has become iconic and a must listen to any newcomers to the greatest music genre: rock n' roll.
What I generally look for in an album to measure its greatness is how consistent it is; both positively and negatively. Allow me to explain... With any album and especially concept albums there's a necessity to carry the singular theme or ideal throughout, almost like an essay but also and quite obviously never becoming too pretentious, too repetitive or for a lack of a better term, boring. Roger Waters and the rest of the British rock band Pink Floyd set out to explore the human spirit with Dark Side; they succeeded, mostly because their topic ranged from all sides of the spectrum, never relinquishing its theme and still managing to take risks with the audience, virtually playing the role of a puppeteer. (See: "Money" -- Obnoxious sound-effects; tongue-in-cheek lyrics; vast difference from other tracks of the record) Another thing needed is a solid introduction and conclusion. Floyd nailed it with "Speak to Me/Breathe" and never more so in their entire careers than with the transition from the classic "Brain Damage" to the final piece to the puzzle, "Eclipse" which leaves you with a finishing blow that reaches your own morals and ideals of which you could very well believe to be yours.
This album holds some of my favorite songs: "Time" and "Us and Them".
Some of my favorite lyrics:
Far away across the fields, the tolling of the iron bell calls the faithful to their knees to hear the softly spoken magic spells.
And easily my favorite conclusion to an album: "Eclipse".
This thing is a masterpiece.
Notable Tracks: Time, Us and Them, Brain Damage
Honorable Mention: The Great Gig in the Sky
Albums That Just Missed the Cut: Master of Puppets (Metallica), Crime of the Century (Supertramp), Physical Graffiti (Led Zeppelin)
And on that note... time to go watch the Yankees and Angels and eat lunch. I'm out.