01:40 PM ET 08.04 |
Once there was a family of tomatoes walking down the street. The smaller one was falling behind, and the papa tamato came back and smashed him with his foot. He leaned over the demolished baby tomato, and said "Ketchup."
OK, bad joke... and I killed a perfect Pulp Fiction reference. Moving on...

Two weeks ago, my Monday Mac Attac never was posted because of being on a mini-vacation in New Orleans -- it was boring, sadly. Last Monday, it was due to my computer being out of action. The internet wasn't responding, actually popping up an error after I'd click on it telling me it didn't exist. (much like Spinal Tap) Not much else would respond and I couldn't even properly shut the thing down. But alas, I called Dell and got tech support: the computer was restored to like the day I bought it and I've finally got a quality virus program, that being Norton 360.
A lot has happened in the past three weeks... a lot for me to catch up on and address here.
The Brett Favre saga has continued, providing more entertainment than "The Happening" every day on the ESPN's Bottom Line. There has been news updating the developments daily, yet in retrospect, not much has actually occurred. In two weeks, all that has happened is a waiting game. Finally, Roger Goodell reinstated Favre and Brett has now flown to Green Bay. The saga has been covered to the max. Favre has even gotten a spot for him on ESPN's Bottom Line -- just like the Patriots -- for the people to get their daily news on what was transpiring prior, during and after long days of work. A few weeks of offers from the Packers and trade talks going down the crapper have now culminated into the Pack doing an about-face and letting Brett come to camp to fight with Rodgers for the starting job.
I've had to digest that, along with fighting back anger; sadness; confusion; and now acceptance that I no longer get to see number-24 in left-field for the Boston Red Sox. Initially, I was oblivious to important developments that led to his trade and was extremely angry with Theo Epstein and the Red Sox organization over it. Coming home from work and finding that out after it had been apparent that the deal involving the Marlins was nearly dead was a crushing blow. Then I found out that players had held a meeting with Epstein the day before the Trade Deadline and had requested Ramirez to be gone the next day. Things have always been rough with Manny around, it just came to some extremes as of late. So... I've gone from an enraged Sox fan dearly missing his Manny to still missing Man-Ram and accepting the occurrences. And it looks like Manny is doing just fine anyway; two-home runs in three-games with the Dodgers aint too shabby.

And through it all, my life has continued as well. I'm heading to Burbank, California to see my uncle Glen and my cousin Ashley for a few days. I hear crazy things happen in California, and not just for $4.70 a-gallon for gas. Cant wait...
MLB
As you can see, my life is sort of looking into the future and not living in the now. Burbank is a few weeks away, getting to enjoy Jason Bay in his first few games with the Red Sox is in the now. He scored the winning run in the 12th inning after hitting a triple in his first game, and the next day in a 12-2 rout over the A's hit a three-run home run. So far, both clubs - the Dodgers and Red Sox - are benefiting from the deal. As far as the Pirates... well, just ask the Cubs how things have gone lately. Jason Bay may not be Manny Ramirez, both in relation to offensive production and lack of character, but if Bay can flash leather like he's done so far and be a part of the offense like he's been as well, he'll fit in just fine.
The Los Angeles Angels of Anaheim and their dominance in the AL are also in the now. The Angels are 69-42 and went through a week in which they went 5-2, including a sweep of the defending World Series champion Boston Red Sox - who in their own right made headlines for all the wrong reasons this past week - and a two-two split of a series in the Bronx against the freshly updated and improved New York Yankees, who are now sporting new guys in Demaso Marte, Xavier Nady and Ivan Rodriguez. The Angels hold a sizeable lead over the pitch less Texas Rangers in the AL Central, and despite having their worst game of the season on Sunday where they gave up 10 un-earned runs off four-errors, they're still in the driver's seat out in the West and are the odds on favorite to cruise to the playoffs and be the team to represent the American League in the World Series. One stat that was brought up during the broadcast Sunday on TBS was how the Angels are 14-0-3 in series against the AL this year. Can the dominance be any more convincing than that?

Naturally, things happen: injuries, hot/cold players, etc. But as of right now, the Angels are the best team in the Majors and there's nothing that they can't do - including hit home-runs. Adding Mark Teixeria was a huge addition to the lineup, and it was cashed in during that wild game on Sunday at Yankee Stadium when Tex hit a grand-slam that at the time put the Halos up 9-8. Chone Figgins was a big part of the loss on Sunday, contributing a few errors while over at third-base, but looking at the entire week and the entire season, Chone (stupidest spelling of the name Sean ever) has done wonders for the lineup much like Howie Kendrick and Vladmir Guerrero. His week overall wasn't too bad, minus Sunday's game, of course.
Figgins' Stats: 13/28, 8 R, 1 RBI, 4 BB, .464 BA
Speaking of those Yankees, Bobby Abreu had quite a week for himself. Robinson Cano lately has been one of the Yankees' best hitters; Bobby Abreu outshined practically all hitters this past week with what he did, raking for four-dingers and a bloated average. Abreu hit three-singles on Sunday during the two-comeback effort that resulted in a 14-9 win and the Yankees keeping pace with the Rays and Red Sox.
Bobby Abreu: 12/27, 11 R, 8 RBI, 2 BB, 4 HR, .444 BA
Sticking with the AL East, two Baltimore Orioles players are being featured today. (You can celebrate now Gu3) Baltimore for a time this year was over .500 and looking very well improved. Right now, they're 53-57, 5-5 in their last 10-games and in fifth place in the AL East that has an average win percentage of nearly .550. The division is one of two Major League divisions with at least three teams with at least 60-wins; the NL Central being the other. The O's went 4-2 during the week, two of those wins coming off their star pitcher Jeremy Guthrie who with his two solid outings has pushed his record to 8-8 with an ERA of 3.35. The 29-year old righty pitcher put in nearly 16-innings worth of quality baseball for his O's and got a lot of help from Aubrey Huff, who now has his average to just over .300 and a total of 22-home runs to sport to the rest of the AL.
Huff's Stats: 10/19, 4 R, 9 RBI, 1 BB, 2 HR, .526 BA
and
Guthrie's Stats: 15.1 IP, 7 H, 2 R, 2 ER, 3 BB, 6 K, 2-0
The other tough division in baseball today is the NL Central, which boasts the NL's best team the Chicago Cubs and two of the leading Wild Card chasers in the Brewers and Cardinals. The Cubs are scorching hot right now, boasting 67-wins and six of their last seven being victories - the only loss being to the Pirates. Chicago started their week by getting Alfonso Soriano back and went through a four-game set in Milwaukee, in which they won entirely stretching their lead to five-games in the Central. If the Angels are the front runners and odds on favorites to represent the AL, the Cubs are the ones to chase in the NL. Chicago has gotten back Soriano - who had a monster week - and are now showcasing a three-headed ace monster to throw at anyone: Zambrano, Dempster and Harden. With that type of pitching day in and day out, and now with Soriano leading off, the Cubs look just that much more unstoppable, much like how the Angels do with the addition of Teixeira.
Soriano's Stats: 11/21, 8 R, 4 RBI, 3 BB, 3 HR, .524 BA
One thing about not having an MLB package and having the capability to watch any game every night is that you're stuck with ESPN's programming. That bugs me to no end, but because I'm a Red Sox fan I still get to see them quite often.
For my uncle, who's a St. Louis Cardinals fan... his viewings of his team is few and far between. He gets the Cubs / Cards games when they come around but other than that, it's rare that the Cards are on ESPN. Luckily, and not so luckily as well, he got to see them on Sunday night. The Cards rounded off their week at 5-3, losing two-of-three at home against the Phillies, pushing themselves further back of the Brewers and Cubs in the Central. The Cards are a 62-win team, which is good for first in the West and either tied or right with the Phillies in the East. Ryan Ludwick was a huge piece to the Cardinals five-game winning week puzzle, contributing four-home runs in the final three-days of the week. With a .306 average and 78-RBI's, Ludwick is cashing in on the confidence Tony LaRussa and his staff had in him in 2006 that led to them letting him play a lot in 2007, and now have a starting job in 2008.
Ludwick's Stats: 13/24, 7 R, 7 RBI, 4 BB, 4 HR, .541 BA
MLB Player of the Week: Ryan Ludwick
NASCAR
For the fourth time this season, Carl Edwards won a Sprint Cup race. This week the NASCAR circuit took its competition to Pocono, and without any Competition Cautions. Last week at Indianapolis, Jimmie Johnson sowed up a win with Carl Edwards only a few car lengths behind and in full-view in his mirror.
Still waiting on him to break his neck...
This week, Edwards made a push for the Chase with a win at Pocono, and he had to risk having nothing to show for it at all to do it. I remember years back when I first started watching NASCAR, Jeff Gordon stretching his gas tank and crossing the line victorious with only fumes left to spare. Edwards copied that dramatic style of winning a race on Sunday after rain had begun to pelt the track at lap 127. With the win, Edwards not only got his 11th career taste of Victory Lane but tightened the gap between him and Kyle Busch in the standings, who is in first place with seven wins in the 2008 season. Edwards is now in third place behind Dale Earnhardt Jr. and Kyle Busch with only a few races left in the season.
Golf
This week, the PGA Tour was at the Bridgestone Invitational in Akron, Ohio. With a World Golf Championship at stake, Vijay Sing came through, hitting a short par put in the final round to solidify his victory and keep other players in Stuart Appleby, Lee Westwood, Retief Goosen and Phil Mickelson at bay.
Singh's par puts on the final two holes clinched a needed win. Singh shot a 2-under 68 on the final day of the tournament, closing out the entire event at 10-under 270. With the win, it is expected that he'll move up to number-four in the world.
Tennis
Only days after defeating Rafael Nadal, delaying his inevitable taking of the number-one ranking to as late as August 18th, Novak Djokovic - the number three player in the world - lost in the Men's Singles final to Andy Murray, 7-6, 7-6 in straight sets.
Murray had defeated Ivo Karlovic in straight sets in the semifinal round before undertaking the task of winning the ATP Masters over Djokovic. The 7th ranked player in the world stole the show on Saturday, doing his best to overshadow Djokovic's victory, and the frenzy of coverage over the eventual taking of the number-one spot by Rafael Nadal.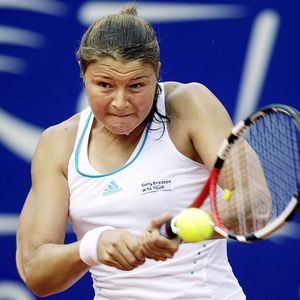 In the WTA, the Women's Singles final was decided on Sunday, with Dinara Safina taking down unranked Dominika Cibulkova in straight sets: 6-2, 6-1. Safina, like Murray, the seventh ranked player, had to get through Victoria Azarenka on Saturday in the semis. And in the previous rounds, took down Svetlana Kuznetsova, Patty Schnyder and Anastasia Rodionova.
Wow, that was tough just typing. Imagine trying to say some of those names.
Can things get any more exciting in sports? Brett Favre is coming back, as the League has reinstated Brett and the Packers have not only dropped the $20-million marketing offer but are even going to allow #4 to compete with Aaron Rodgers for the starting job.
On top of the Favre saga, the races in the MLB are still tight as ever. The Rays are clinging to a small lead over the Sox and Yankees. The Cubs, Brewers and Cardinals are all jostling for position in the Central and in the Wild Card standings. The Angels are dominating. The Dodgers just became that much more of a hot ticket with the addition of Manny Ramirez. K-Rod is still on pace to blow away the save-record.
NFL football commenced via the Hall of Fame game Sunday night, with the Washington Redskins taking down the Indianapolis Colts by a score of 30-16. Granted, Peyton Manning didnt take any snaps for the Colts, but it was still a solid showing by the Skins... not to mention a breath of fresh air to see some pigskin being played. I'm still in baseball mode, but it's great to see some football.
And oh, yeah... the Olympics are coming. U.S.A. basketball is cruising through their exhibition games (with the exception of the last one against Russia) and America is poised to see records shattered in track and field, and Michael Phelps to win more gold medals than anyone in history.
Things are going to begin to get crowded on ESPN as they do their best to juggle the active sports and their news daily. And now even more so since in the coming days they'll be going live from 9 AM to 3 PM. Great, now I can watch some of the biggest idiots on ESPN more, and with more chances for screw-ups and poorly executed isms and jokes.
In accordance to this post, all that stuff will be addressed later. I've still got some business to take care of here...
S.I.F.S. Player of the Week: Andy Murray
Any guy who can weather a grueling Tennis tournament and then defeat the same guy who took down Rafael Nadal, who had been on a 32-match win streak, deserves to get this honor. When the Olympics start, though, I don't know if there will be enough of a chance for anyone not competing in Beijing to get this honor. They're competing against the best in the world, only way I can give it to some MLB player is if someone has a week like J.J. Hardy did a month back.
(Oh, wait... he didn't even win it then either.)