05:05 PM ET 08.04 |
The University of Florida was founded in 1853, and moved to its current site in Gainesville in 1906.
With this move to a permanent campus, UF also fielded its first football squad in 1906. By 1932, the Gators joined the SEC, and had firmly established rivalries with many of the member schools.
Playing in the powerhouse SEC, the Gators enjoyed only moderate success until the 1960's. 1966 produced UF's first Heisman winner- QB Steve Spurrier- and the 1969 team finished 9-1-1 in coach Ray Graves' final season.
Another boost for UF during this period was the invention of Gatorade by UF researcher Dr. Robert Cade, through which UF still receives royalties to this day.
The 1970's once again saw the Gators falling behind the rest of the SEC, so in 1979 Charlie Pell was hired to turn the Gators around. He started building the Gator program into the national power that it is today. Sadly, his accomplishments were marred by NCAA violations in the 1980's, and led to UF being stripped of its 1984 SEC title, leaving UF still searching for it's first league crown.
In 1990, UF turned the SEC on its head by alumnus Steve Spurrier as its new head coach. In his first season, his Fun 'n Gun offense took the league by storm and led UF to the best record in the SEC. Once again, probation kept the Gators from claiming an official crown, but Gator fans everywhere knew that finally their time had come.
Under Spurrier's trademark visor, UF dominated the SEC. His record setting offenses led to a league wide change. Other teams were stuggling to keep up with their wishbones and triple options. Spurrier frequently used 4 and 5 wide reciever sets, and created mismatches all over the field, causing opponents headaches, and their fans heartaches.
One of the things that bugged opposing fans the most was that the Ol' Ball Coach was the world's biggest Gator fan. He repeatedly took shots at rival teams, and was abundantly confident (if not arrogant) about his offense (which many said would never work in the SEC).
A few of Spurriers best quips:
"You can't spell Citrus without UT." (after sending Peyton Manning's Volunteers to the Citrus bowl yet again)
"I guess FSU stands for Free Shoes University." (after FSU's Foot Locker scandal)
"God smiled upon the Gators today." (after beating FSU 52-20 in the Sugar Bowl for UF's first National Title.)
In all, Spurrier won 6 SEC titles, including 4 in a row (1993-1996) under 1996 Heisman Trophy winner Danny Wuerffel. He also led UF to a 12-0 season in 1995, and its first National Championship over rival FSU in 1996.
When Spurrier left after the 2001 season, UF endured a few subpar seasons under Ron Zook before hiring Urban Meyer to return them to glory.
Upon his hiring in 2005, Meyer installed the spread offense at UF. Once again, everyone said that it would never work in the SEC. In his second year, Meyer silenced the critcs by winning a National Title by drubbing heavily favored Ohio State 41-14. That 2006 team was led by Sr. QB Chris Leak and freakish freshman Tim Tebow.
The next season Tebow picked up where Leak left off, and took the offense to all new highs. The sophomore QB became the first person to ever rush for 20 TDs and throw for over 20 TDs a single season. He set the SEC single season record with 23 rushing TDs, and added another 32 through the air. The 55 TD effort helped to make him the first underclassman to ever win the Heisman Trophy.
Tebow's success has also led to many SEC teams following the Gators' lead and installing the spread offense. Once again, a Gator coach has proven everyone wrong and turned the league upside down.
The future is very bright for UF in 2008 with 18 returning starters, and the young Gator squad heads into the season with a number 5 ranking.
Traditions:
Gator Chomp
The Chomp is the most loved and recognized (mocked and reviled by opponents) tradition at UF. It is led by the band playing the theme song from Jaws, and done by Gator fans young and old after big plays and before kickoffs.
Gator Walk
A new tradition started by Urban Meyer has the Gators empty the team busses on University Avenue, and walk through the crowd of fans on their way to the stadium.
HEEEEEEEEEEEEEEEEEEEEEEEEEEEEEERE COME THE GATORS!!!!!!!!
90,000 fans lose their mind as the team is introduced by the stadium announcer.
We Are the Boys
Fans wrap their arms around their neighbor and sway left to right while singing at the end of the 3rd quarter.
Mr. Two Bits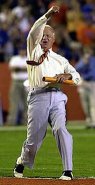 George Edmondson started this common gameday cheer in 1949, and has been doing it for almost 60 years. His age no longer allows him to attend EVERY Gator game as he once did, so Albert dons the Yellow Shirt and Gator tie in his absence. When George is in town, he gets the crowd going before the game, and even pops up around the stadium to get individual sections going.
Albert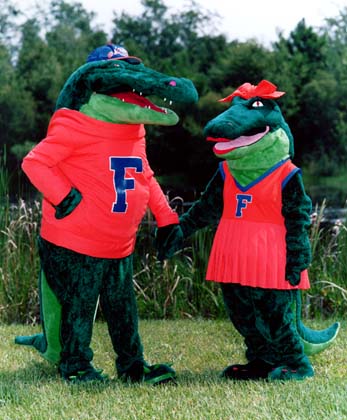 Our beloved mascot has been going strong since 1911. His female counterpart is Alberta.
Orange and Blue
The official colors were adopted in 1910, and the stadium has been chanting them for years. Half of the stadium is designated "Orange", and half is "Blue". The roar reverberates around the bowl.
Ben Hill Griffin Stadium at Florida Field
Named for UF benefactor Ben Hill Griffin Jr. in 1989, the stadium offically holds 88,000, but regularly hosts more than 90,000.
Nationally recognized as one of the loudest and toughest places in the country to play, The Swamp (as it was dubbed by Spurrier in 1991) has been a nightmare for opponents to play since 1990. The Gators are 94-11 at home since then, good for 2nd best winning percentage in the country in that time period.
The stadium is regularly listed among the Top 10 Sporting Venues in America by the likes of ESPN and SI.
Ring of Honor
The UF Ring of Honor was introduced by Coach Urban Meyer to honor former Gator legends.
To be considered for induction into the Ring of Honor, a person must have been removed from UF for five seasons, be in good standing with the University, and meet at least one of the following criteria:
Former UF All-Americans Inducted into Pro Football Hall of Fame for Accomplishments as Players
Former UF All-Americans Who Are NFL Career Category Leaders
Collegiate Career Category Leaders
Coaches with at least 1 National Championship
Coaches with at least 3 SEC Championships
Players with 2 or more consensus All-American honors (AP, Walter Camp, Sporting News, AFCA, FWAA, UPI) who have also been named National Offensive/Defensive Players of Year (AP, Walter Camp, Sporting News, ABC, AFCA, FWAA, UPI)

Current members are:
Steve Spurrier, Danny Wuerffel, Emmitt Smith, Jack Youngblood and Wilber Marshall.
*Urban Meyer and Tim Tebow also qualify, but will have to wait until they are 5 years removed from the program to be inducted.
Rivals
The Gators biggest annual rivals are FSU, Georgia, Tennessee, and LSU.
The Gators and Dawgs face off yearly in Jacksonville in "The World's Largest Outdoor Cocktail Party". (I refuse to call it anything else!) The stadium is split down the middle, and creates one of the greatest atmospheres in all of college sports.
Florida and FSU face off in the last game of the season each year in a heated battle that regularly has National Title implications.
Gators in the NFL
UF has regularly turned out NFL talent. In all, 295 Gaotrs have been drafted.
38 Gators have been drafted in the first round, and 29 in the last 25 years. They also have the second longest streak ever (1983-1991) of having at least one player selected in the first round of the draft.
UF alum Emmitt Smith holds the NFL career rushing yardage and rushing TD records, as well as a Super Bowl and NFL MVP award.
Former DE Jack Youngblood was recently inducted into the NFL Hall of Fame.
The Florida Gators have truly been blessed: Past, Present, and Future.