03:00 PM ET 08.07 |
David Price (Tampa Bay Rays)

My first prospect to watch out for is pitcher David Price. Price, 22, was picked first overall in the 2007 draft by the Tampa Bay Devil Rays. So far, Price has dominated the minor leagues:
10-0, 1.97 ERA, 0.98 WHIP, 8.83 K/9, 4.47 K/BB
Price should be able to make an impact immediately for the Rays as soon as he gets called up, whether it be as a starter or a reliever. Price could end up being to the Rays in 2008 what Joba Chamberlain was to the Yankees in 2007. Either way, Price should be very valuable to the Rays as they fight to make the playoffs for he first time in team history.
Matt LaPorta (Cleveland Indians)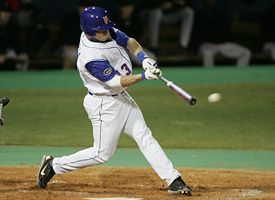 My second prospect is left fielder Matt LaPorta. LaPorta, 23, was selected seventh overall in the 2007 draft by the Milwaukee Brewers. He was the primary piece in the deal that brought CC Sabathia to the Brewers. Here are LaPorta's stats so far this season in the minors:
98 games, .277 avg, 21 HR, 73 RBI, 2 SB, .382 OBP, .534 Slugging
LaPorta is a great hitter with a lot of power and I woudn't be surprised if he got a good amount of playing time down the stretch with the Tribe. The Indians are not in the playoff hunt and I think they'll be wanting to give this kid a shot and what they got for CC.
Andrew McCutchen (Pittsburgh Pirates)
My third prospect is center fielder Andrew McCutchen. McCutchen, 21, was selected eleventh overall in the 2005 draft by the Pittsburgh Pirates. Here are McCutchen's stats so far this season in the minors:
111 games, .280 avg, 9 HR, 41 RBI, 28 SB, .373 OBP, .400 Slugging
McCutchen is a great athlete and should be called up by the Pirates. He has the potential for power in the future, but presently he is more of a contact hitter. The Pirates are obviously looking to the future, as evidenced by their trading of Xavier Nady, Jason Bay, and Damaso Marte. Pittsburgh expects McCutchen to be a great player for them down the road. Now is the time for McCutchen to get his first taste of the big leagues. By the end of the season, I think he could be batting near the top of the order.
Fernando Martinez (New York Mets)
My fourth prospect is outfielder Fernando Martinez. Martinez, 19, signed a contract with the New York Mets at the age of 16. His signing bonus was $1.4 million. Here are Martinez's stats so far this season in the minors:
67 games, .294 avg, 5 HR, 26 RBI, 5 SB, .336 OBP, .427 Slugging
Martinez could be called up by the Mets soon, either because of injury or in September. Martinez has tons of potential. He's not ready to be an everday starter, but I think it might Mets best interest to get him a little playing time in September. The Mets must be careful though. He is very young and they shouldn't rush him along too quickly.
Max Scherzer (Arizona Diamondbacks)
My fifth and final prospect to watch out for is Max Scherzer. Scherzer, 24, was selected eleventh overall in 2006 draft by the Arizona Diamondbacks. Scherzer was called up earlier in the season to replace Doug Davis. Here's how he did in 10 appearences, 3 of which were starts:
31 IP, 0-2, 2.90 ERA, 1.26 WHIP, 9.58 K/9, 2.36 K/BB
Here are his minor league stats this year in 10 appearences, 7 of which were starts:
36.2 IP, 0-0, 2.70 ERA, 1.04 WHIP, 14.48 K/9, 3.93 K/BB
I expect Scherzer to be called up sooner rather than later. He could serve as a starter or a reliever. I think they would be best served putting him in the bullpen as he is very dependant on his fastball at this point in his career. He will be very imporant for the Diamondbacks as they try and win the NL West.