04:11 PM ET 08.10 |
Welcome to a late edition of Around the Bases, I went up north this week and it was sort of peaceful listening to waves rolling and wind blowing, unlike Detroit where you hear gun shooting and smell gases . . . in some parts at least, but lets not go into that, this blog is about baseball and I am going to be a homer here and start talking about some Tigers stuff to open out the blog.
Magglio Ordonez and Miguel Cabrera make up Detroit's 3 and 4 hitters or, "The M&M Boys". These two have been two of the hottest hitters in baseball. Maggs is hitting .352 since the All-Star Break and Miggy has five home runs and 28 runs batted in in the same time period as well. Some even say that Miguel Cabrera could challenge CF Josh Hamilton on the Texas Rangers for the RBI crown with his 89 ribbies. He also has only eight less home runs than Carlos Quentin who is leading the league in home runs and he is not yet out of the Batting Crown. A triple crown candidate for sure. Yet, with all of this offense, the Tigers are still losing. Since they traded Pudge Rodriguez to the Yankees, they have won just two games. It's not their offense, it's their pitching. Lately the Tigers bullpen hasn't been holding many late leads. They blew a 5-run lead in the ninth inning to the Chicago White Sox and in another game in that series, Jermaine Dye hit a walk-off three run homer in extra innings. Kyle Farnsworth, acquired from New York in the Pudge trade, has blown two leads and closer Fernando Rodney has two blown saves since the deadline. It has become so bad that Gary Sheffield may leave the team. Sheffield has been one of the best hitters on the Tigers since the All-Star break although many would disagree. The trade will have to go through waivers but the Red Sox have interest and the Marlins acquired earlier this season. I really think that the Tigers need to keep Sheffield if they want to contend. He keeps their offense running with clutch hits all the way through. I doubt he'll be traded but hey, lets see.
By the way, if you want to know how Kyle Farnsworth is doing since he got traded, here are his stats:
4.1 innings pitched, 2 blown saves, .350 average, 8.31 ERA, 0 wins
I guess it turned out to be a lose-lose trade because Pudge is hitting .278 in a New York Yankees uniform.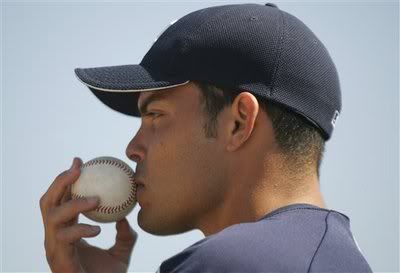 Now that the Brett Favre controversey era has been ended, the Barry Bonds controversey era has started. That's right, Bonds went to the San Francisco Giants awards ceremony and said "I'm not retired yet." I can't help thinking of Brett Favre when I talk about this, only this time, Bonds was a headcase to begin with, unlike Favre. Barry took steroids, he has a bad attitude, he is the most unfriendly player in baseball, he's old, he gets injured, he isn't a great fielder . . . with all of that said, any team would definitely improve with him on their team. Barry could have hit 30 home runs last year if he played full time and his OBP was the best in the league (I am pretty sure about that). He was on pace for 100 runs batted in - he was just good all over. A team like the Minnesota Twins or Tampa Bay Rays, contenders who don't have great designated hitters, could drastically improve. Bonds may not have great chemistry but I've said this many times before: you don't need great chemistry to have a great baseabll team. In a sport like basketball or football where a point guard passes to a forward or a quarterback passing to his reciever, those are sports where you need chemistry. Not in baseball, especially if your a DH. All he is going to do is hit, he can just go up to the plate, and when he isn't hitting, he can just sit on the bench and not talk to anybody. Plus Bonds has said that he would take a minimal deal - why not?
You want another headcase? Well here is Manny Ramirez, a guy who has been on fire lately and has been pounding National League pitching. He is hitting .485 with four home runs and nine runs batted in since he got traded to the Los Angeles Dodgers. He recently said that when he becomes a free agent after this season, he would like to be a Yankee to punish the Red Sox for everything that happened. Will the Yankees bite? Maybe not, Manny Ramirez has been pounding the Yankees for years and he has a bitter relationship with a lot of the players in the pinstripes. If I was Manny, I would want to finish my career in Los Angeles and sign a good long term contract. That probably won't be possible though because Manny will demand $20 million a year and the Dodgers can't afford that, they aren't even paying Manny's full contract right now. Plus the Dodgers already have a good outfield - Juan Pierre is a great base stealer and Andre Ethier and Matt Kemp are stars in the making. If Andruw Jones can get his groove back together, the Dodgers could easily have one of the best outfields in the league, even without Manny Ramirez. Ramirez is just one of those guys that I could never see in a Yankees uniform and since I hate the Yankees, don't go for it Manny.
Here are some trades that I made up that will likely not happen. I know that all trades have to pass through waivers but anyway . . .
Detroit Tigers trade OF Gary Sheffield and SP Nate Robertson to the Florida Marlins in exchange for SP Josh Johnson.
San Diego Padres trade OF Brian Giles to the Boston Red Sox in exchange for SP/RP Justin Masterson.
Toronto Blue Jays trade SP Roy Halladay to the Chicago White Sox in exchange for SP Jose Contreras, 1B/OF Nick Swisher and 2B Alexei Ramirez
New York Yankees trade Mariano Rivera to the Los Angeles Angels in exchange for Francisco Rodriguez
Thank you for reading - or skimming through it