10:56 AM ET 08.30 |
In this new series called Random Writings, I will be writing about anthing that has gone through my mind about the spoting world. From the Jets to the NHL youll never know what will be in hear so lets begin

First off NC State sophomore Nate Irving showed his potential in a 34-0 loss to South Carolina. Irving is the heart and soul of a NC State defense who may have given up 34 points in the opener but will do great things this season. The whole game this guy hustled his but off. Even when they were down in the fourth he still put his best effort into every play. Irving ended up with 10 tackles, two for loss and to top it all off a pick which he returned nine yards and give his offense great field position which thy could do nothing with. Anyway every tackle that he made he hit the ball carrier hard, its amazing how they were able to hold onto the ball once Irving jacked them up. Watch out for Nate to be a Butkus Award finalist real soon
Now im wondering about a few things with the Orioles. Since we have no shot at first place why dont we bring up some of our younger talent to give them experience for years to come. Roberts is near the end of his career and we have a great 25 year old second baseman in Eider Torres who is beating up triple league pitching. Torres is the next Brian Roberts, hes fast, plays good defense and is a clutch hitter. With runners on hes hitting .330 which is better then some of our starters hit now. Also since we are very weak at shortstop Torres has the range to throw to first and is a better hitter then the players we have now. Also why not bring up Matt Wieters now, he is hitting .358 with 11 homeruns and 28 rbis in only 57 games. Plus he has been walked almost twice as much as hes stuckout and with Ramon doing so good in the majors hitting around .240 and not getting hits when we need him to theres no reason why Matt shouldnt be with us now.
Again the Bobcats made another bad decision. Kyle Weaver is the kind of lockdown defender that weve been missing ever since we lost Brevin Knight. He didnt average the best numbers coming out of college but he always was a threat to score and was a clutch player. The Bobcats took Weaver with theresecond round pick this year but have recently traded him to Oklahoma City in exchange for the Nets second round pick next year. As much as I hate the trade the Nets will be very bad this year and have first pick potential so it could end up to be a good deal down the road though right now it looks like OC got there future sixth man.
Thomas Jones will not be the Jets starter by midseason. If preseason means anything Leon Washington will have a breakout year this year rushing for over 600 yards and receiving for another 700 yards. Washington has the rare combonation of speed and power though they say hes a little to small to be a full time back. Everytime I watch Leon I think to myself this is the next Brian Westbrook simply because there both small backs with great speed and can even power it up the middle when they need to, hopefully the Jets will give Washinton more chances this year and with Favre at the helm he'll be seeing a lot more passes coming his way.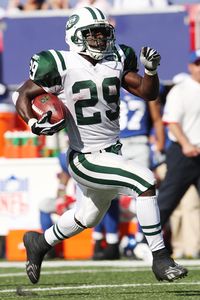 Also I drafted a fantasy hockey team a few days back, since I dont know much about it can someone tell me how I did
Evgeni Malkin
Thomas Vanek
Eric Staal
Henrik Sedin
Patrik Elias
Nikolai Zherdev
Zach Parise
Ryan Malone
Mike Fisher
Braydon Coburn
Brent Burns
Brent Seabrook
Ed Jovanovski
Andrej Meszaros
Mikko Koivu
Cam Ward
Pascal Leclaire
Niklas Backstrom
Christopher Higgins
Vaclav Prospal
Ales Kotalik
David Legwand
Thanks For Reading, NY