03:56 AM ET 09.02 |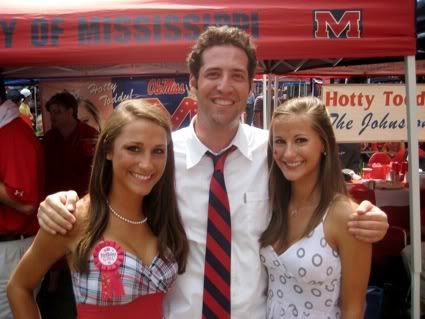 There's no easy way to say this, but Ole Miss is now the best place I've been. As far as I'm concerned, there's now Ole Miss and then everything else. Sorry, fans of other teams, your campuses and fellow fans are a good time, but you're coming up a little short. Alright, enough of the semi-arrogance, I'll elaborate.
The Grove is the area on the Ole Miss campus where everyone sets up their extremely proper tailgate. There are bouqets on tables, finger sandwiches, and the Walk of Champions, the brick path that the team walks through while surrounded by some of the SEC's most patient fans. To use Andrew Reed's term, the "eye candy" at Ole Miss is pretty much beyond compare. It seems like there are thousands of girls in sundresses roaming around aimlessly, each prettier than the last. On top of that, you've got to try pretty hard to leave The Grove Hungry. I think over the course of my afternoon in Oxford, I probably had roughly 6 1/2 reasonable meals. Plus all the non-alcoholic beverages any respectable, professional video host could ever want.
Basically, iron your clothes, clean up, and figure out some excuse to go. It's almost painful how great it is under the shady trees of The Grove.
Now, let's dive into actual photographic proof that I took the worst job in sports media on the road to Oxford: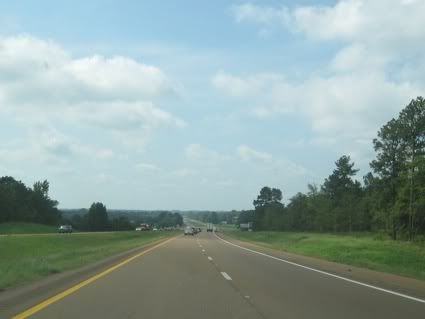 The drive from Memphis to Oxford. Pretty short, I remember listening to more gospel than I normally do and then having Camera Guy Kris talk about all the new country smells he was picking up. Sorry Kris.
We got to campus at about 11:30 for our shoot, with kickoff at 6. Parking was suspect, but somehow we found a spot that took a good four minutes to parallel park into. Just how I roll.
The very first group of people I interviewed. I have no idea why the guy to the far left looks like he wants to kill Kris. Always gotta be ready to throw down, I guess.
Sweet potato sausage balls (left) and a bacon cheese dip. I have no idea why people think all southerners are fat. Boggles the mind.
Boggle still in progress.
The Walk of Champions sign and entrance. Part of me hopes that there's a Chinese restaurant in Oxford named "Wok of Champions." Just because, you know?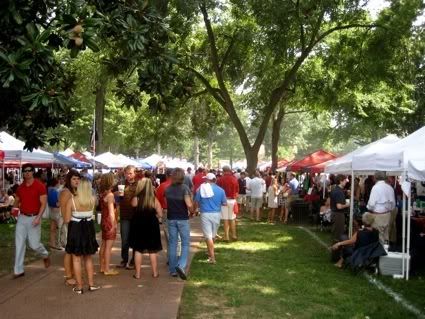 A view of the walk. I could've easily been entertained just watching people all day on the walk. In dark glasses. Behind some bushes. Ok, I'll stop.
Kris's first SI shoot. He took approximately zero guff. All business.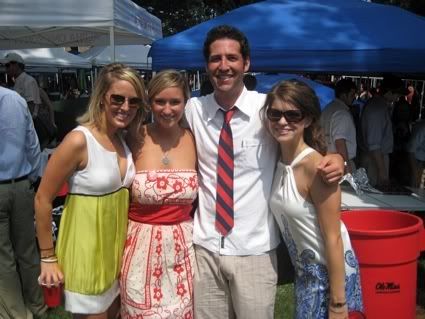 I took all sorts of guff, especially from those dressed like these lovely people. I don't even know what that means, it's just time to stop saying "guff."
Food. I had a brat with some chili, cheese, and mustard. If you look closely in some shots here and in the video, you may notice chili on my shorts. All I'm saying is let's see Costas do a shoot with a chili stain.
The ocean called and they're running out of shrimp. My apologies if you don't get the reference, but the jerk store called and they're running out of you.
Flowery and potentially offensive. What a combo.
A girl who recently graduated from Mississippi State baked the cake on the right. Was she trying to poison Rebel fans one by one via Funfetti? We may never really know, but I've had a gross cold since I got back. Pretty solid evidence if you ask me.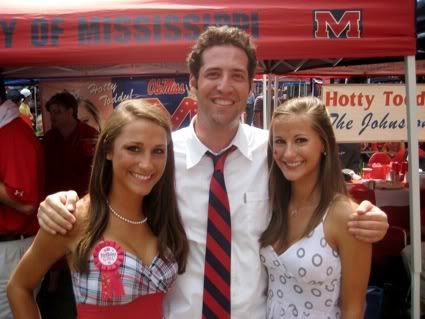 Miss University 2008 is on the right, her sister on my left, and "Mr. What Doesn't Belong Here" in the middle.
Players on the Walk of Champions. I'm not going to go as far saying that "Champions" should possibly be replaced with something more like "Walk of Those Who Try Pretty Hard," but...oh wait, actually that sounds fairly accurate.
I'll get right down to it, I just had a better Saturday than you*.
*Unless your name rhymes with Fim Febow. Then every day is better for you.
More flowers. I know other SEC teams like to say The Grove is soft and dainty, but there are other tailgates that are much more blue collar. I saw one that had uneven petal trimmings on a lazily thrown-together bouqet. Pretty harcore.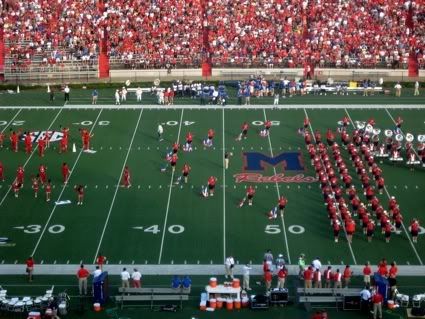 Pre-game band show. Not bad, but I could always go for more high-steppin'. I promise you that sooner or later I'm going to a Grambling game. Watch out.
That's all I got. It's not the most intense, not the loudest, not the most passionate, but simply the best. Ok, even I'm getting sick of the compliments.
Another cross country flight to the South awaits me on Friday, hope you enjoyed the episode.
--

Email:
Links:
Tour Guy Road Notes (permanent link)
The SI Tour Guy (archive of all videos, including from 2006 and the Pac-10)
SI College Football channel on Veoh
Windows Media Player 9 (for Mac)
Flip4Mac (to watch SI Video on a Mac)