11:05 PM ET 09.03 |
Badgers are 1-0 after taking down Akron last weekend. The game went pretty smooth overall. We obviously proved we could run the ball, which was supposed to be the game-plan going into the game. We reached our goal of dominating the ground game by rushing for more than 400 yards, which is a very good mark to reach.
P.J. Hill, Zach Brown, John Clay and Allan Evridge get all the hype since they are the ones that actually touch the ball and score the points, but without the O-line in front, those guys wouldn't get anywhere. Just think if I was the only guy there, after the ball was snapped Allan would get killed every play. Those guys show their dedication every play but they don't get the hype that the other players do. Well, that's all I got to say.
To sum it up..... the Wisconsin Badgers can RUN THE BALL!
^^ P.J. Hill ^^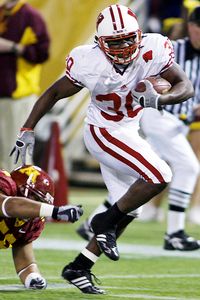 ^^ Zach Brown ^^
^^ John Clay ^^
^^ Allan Evridge ^^