12:10 AM ET 09.06 |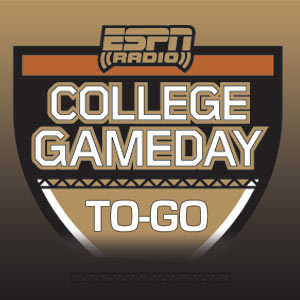 Lakers- Welcome to the 2nd week of Fannation College Gameday. With me as always is Porkins

Porkins- Today we're coming to you LIVE, ON LOCATION! Ok, it's not live. And the location is the Internet, which isn't really a location. But aside from that I'm totally right...Fine. Bite me.

Lakers- Maybe later. For now, let's jump right into the show. The first week is over in College football, and we had some upsets. Porkins what team do you think is in the most trouble after the first week?

Porkins- Well, I think the high expectations with regard to Pitt and Clemson were a little too lofty. Clemson burned me last week, though in my defense I did say that they do the same thing every year- get hopes up and then fail to deliver. Alabama thoroughly dismantles the Tigers, especially that vaunted running game. You can't win a BCS conference playing the way Clemson did. What did you take away from week one? Who's on your watchlist?


Lakers- I think it is Michigan. Losing the season opener at home for the 2nd consecutive season and there schedule doesn't get any easier. This could end up being a tough season for the Wolverines.

What team do you think proved the most in the first week?

Porkins- The flipside of the Tiger's flop was Alabama's domination. But honestly, I have to go with UCLA. Before the season even began they were already decimated by injury, losing their top two quarterbacks to injury. Transfer Kevin Craft had a shaky start, but played his guts out in the second half. He really showed my something.


Lakers- No doubt I'm going with the Tide. They came out and knocked off the consensus best team in the ACC and the game was never in doubt. Bama completley dominated the Clemson, and showed the world that they are on there way back to prominance in College football.


Porkins what did you think of USC jumping Georgia in the AP poll for the top spot?

Porkins- I'm fine with it. Polls at this point are a joke anyway. Both coaches can use this to motivate their teams- Richt can say they got disrespected while Carroll can say they're back where they belong. Neither of them played a real tough opponent though.


Lakers- I think polls right now are pointless, but after week 1, USC is deserving of the top spot. They beat a BCS team in Virginia 52-7, while Georgia beat Georgia Southern 45-21. As of right now the Trojans deserve the # 1 ranking.

In week 1 what player impressed you the most Porkins?

Porkins- I'll tell you, I was wrong on the Illinois game, but Juice Williams blew me away. Yes he made some bad decisions, but 451 yards and 5 TDs against a top-10 team just can't be ignored. Missouri's star returner Jeremy Maclin stole the show in the end, but Williams proved to me that he can get it done against quality teams. The Big Ten should be on alert.

Lakers- The player who impressed me the most was Kevin Craft the young QB from UCLA. His poise in the second half was great to lead them to a rally and knocking off Nationally ranked Tennessee. He had a terrible first half throwing 4 INT's and then came out in the 2nd half and played great and lead UCLA to a big victory.

I know this is something that your concerned with, what is your take on the Beanie Wells injury?


Porkins- It's a serious injury or they would be downplaying more than they are. However, the reality is that they don't need him against Solich and the Bobcats. I'm hopeful that a week off will get him in shape to at least contribute in Pasadena on the 13th.


Lakers- Right. I think it was a smart move by Jim Tressell keeping him out of the game this weekend against Ohio, to make sure he is ready for the big matchup with USC next week.

Porkins who is on upset alert this week?

Porkins- Oklahoma needs to be very careful with the Cincinnati Bearcats. Despite losing their leader Ben Mauk, Cincy is a talented team that would be easy to overlook. I think the Sooners have the talent to handle them, but I also know OU's history of handling out of conference opponents has to be in the back of Coach Stoops' mind. If he gets overconfident, it could get scary.


Lakers- I'm putting West Virginia on Upset Alert going up against East Carolina this week. ECU is pumped up coming off the big win over Virginia Tech, and could they pull off another big win over a BCS team?


There has been news circulating about Tommy Bowden calling Nick Saban asking for tips what do you think Porkins?

Porkins- It's not a big deal, but it does speak to Bowden's state of mind. I'd like to see a little more confidence from the head coach of a team that was supposed to roll through its schedule.


Lakers- I really don't see a problem in it. Bowden knows he was out-coached and his team was out-played and he doesn't mind going and asking the man who handed him a butt whipping some things they need to work on.

Porkins what do you see as the most intriguing matchup this week?

Porkins- I'm excited for the Canes-Gators game. These two are renewing an old rivalry that was once as hot as it gets. True, Miami isn't as good as the teams of old, but you never know. At the very least, it makes for a dramatic weekend. How about you?


Lakers- I think it is the matchup of Boston College and Georgia Tech. Paul Johnson gets his first real test as the head coach of Georgia Tech in what should be a pretty good matchup between Tech and BC.

Give me an off the radar game that should be fun to watch

Porkins- I'll go way off the radar to the matchup between SMU and 1-AA Texas State. This could be June Jones' first victory with the Mustangs, and the first step toward restoring the program.


Lakers- My game is Ole Miss and Wake Forest. Ole Miss is a decent team, and could cause some problems for the favored Demon Deacons. Watch out, maybe this should have been my upset alert pick, but too late.


Porkins give me a player to watch out for this week.

Porkins- I'm going with Pitt's LeSean McCoy. The Panthers have a lot to prove this week, and McCoy is a ridiculous talent. I know Wannsted wants a big game from his stud running back.



Lakers- My player is the little man from West Virginia, Noel Devine, going up against ECU. West Virginia is going to need a big game from him to make sure this game isn't close. You saw what happened last week when Virginia Tech let ECU hang around too long and they were beaten.


It's the part of the show you all have been waiting for. Time for the picks.

Boston College Vs. Georgia Tech


Lakers- This is a game I'm really looking forward to seeing this week. Should be a fun game to watch, but I think in the end BC will be too strong for the Yellow Jackets.

Porkins- It takes time for a new coach to implement his system. I have a lot of faith in Paul Johnson, but I think BC has enough talent to take this one, even without Matt Ryan.


Final Picks

Porkins- Eagles
Lakers- Boston College

Wake Forest Vs. Ole Miss


Lakers- This is a game a little off the radar, but I'm looking forward to seeing it. Ole Miss looked pretty good in the opening week against Memphis. Can they carry that over to this week against Wake Forest?

Porkins- News flash- Riley Skinner is good. And Coach Jim Grobe is one of the best in the country. Granted it's easy to look great against Baylor, but Memphis wasn't all that tough a test for Ole Miss either. I think this will be close, but I'll go with Wake.


Final Picks

Porkins- Deacons
Lakers- Ole Miss

East Carolina Vs. West Virginia


Lakers- ECU is coming off the big week 1 victory over Virginia Tech, but can they knock off another powerhouse in week 2? I personally don't see it happening. I think West Virginia is just too tough.

Porkins- As I said, I love the Pirates, but I don't see lightning striking twice in a row. WVU is considerably better than Tech.


Final Picks

Porkins- WVU
Lakers- West Virginia

Washington Vs. BYU


Lakers- With every loss Ty Willingham's seat gets hotter. They were beaten by Oregon in the first week and will have to play a great game not to start off 0-2. BYU seems to be everybody's pick to be the BCS Bowl buster this season, so we will see how they fare against a BCS Team.

Porkins- Like I said last week, the Huskies have astar in QB Jake Locker, but BYU is a really strong team. I think Bronco will have his guys ready for a Pac 10 opponent.


Final Picks

Porkins- BYU
Lakers- BYU

Washington State Vs. Cal


Lakers- Cal is coming off a close victory over Michigan State, and now is going up against Washington State. Wash. State is coming off a blowout loss to Oklahoma State. I think Wash. State is just overmatched in this one.

Porkins- Agreed. The Cougars are probably going to get rolled in this one.


Final Picks

Porkins- Cal
Lakers- Cal

Florida Vs. Miami


Lakers- This is the big game of the day, and both of these teams had a good start to there season. Miami QB Robert Marve was suspended in the season opener and now gets his first start against Florida. Florida just seems like too much for the Hurricanes.

Porkins- This isn't the 80s or 90s, and these days the state of Florida is being dominated by the Gators. I'd like to see a close one, but honestly, I expect Tebow and company to handle things pretty easily.


Final Picks

Porkins- Florida
Lakers- Florida
Porkins- This week is just a tune up for me- I admit I'm looking ahead to my Buckeyes traveling to USC. But I can afford to do that. The teams on the field cannot. My final thought is this- take note of Louisiana Tech, ECU, Bowling Green, Utah, and the other "surprise" teams from last week. If 2007 taught us anything, it's that college football is a wild ride. The power teams would do well to pay attention.
Lakers- Agreed, you can never fall asleep or look past the team your playing, if you do that there is a good chance you will have an unexpected loss. That is what makes college football so great. That is it for this week. Porkins and Lakers signing off, see you next week.
Porkins- So long everybody. See you in Pasadena.