03:21 AM ET 09.09 |

***Subscribe to The Solid Verbal (iTunes) college football podcast (done with SI on Campus's Ty Hildenbrandt)***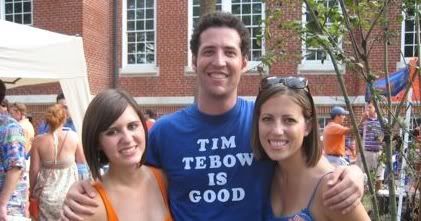 This week I made my way to The Swamp to see Florida play Miami. The Gator fans seem to be a mix between really good-looking girls, fratty dudes, and questionable characters that may or may not reside in a backwoodsy location. That is to say it was a typical SEC crowd, which is pretty awesome, at least from a comedy standpoint.
Here's what you need to know about going to a game at Gainesville in September:
1. It's hot enough to make you want to reconsider your stance on powdering intimate areas. Really, really gross.
2. The tailgating is informal and pretty unorganized. The majority of the people we saw tailgating were doing so along the main street near campus either in tents or at bars. Minus points for retail tailgating.
3. People seem to enjoy this Tebow lad.
4. Joakim Noah is really gangly and doesn't seem like he's fully aware of everything that's going on around him. Not that he's at every game, but I feel this is relevant.
5. The atmosphere in the stadium is second to none. I don't know if it's the best, but I haven't seen better. It's 90,000 people that know every cheer, song, and that standing and making a ton of noise makes a college football game awesome.
Recommending places seems to be getting old, especially since so many of these places I go are uniquely great. The tailgating was disappointingly average, but as for an experience inside a stadium, The Swamp is as insane and loud as it gets.
Below are some non-moving pictures snapped during game day: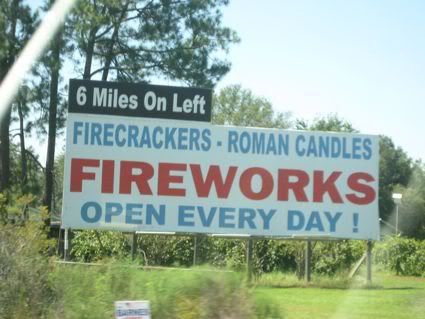 I'm not sure I can more adequately describe the drive from Jacksonville to Gainesville than this picture can. Not pictured: signs advertising this stand every mile for about eight miles.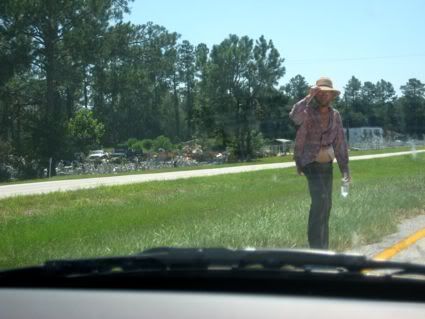 Ok, this picture also does a pretty good job.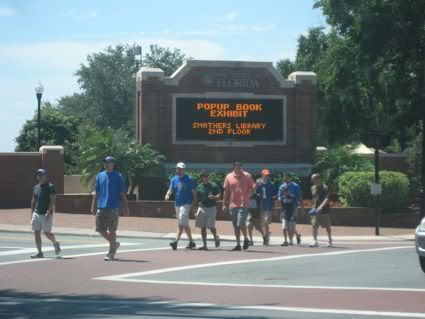 Welcome to the University of Florida – Home of Championship Athletics and a Pop-Up Books. I'm just disappointed we were too late for the traveling diorama exhibit.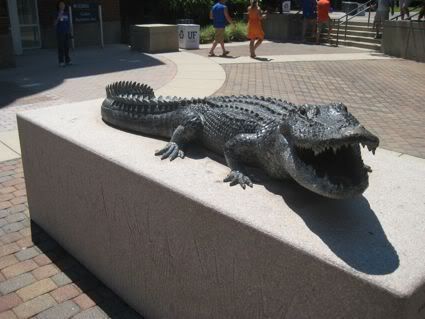 Rawr.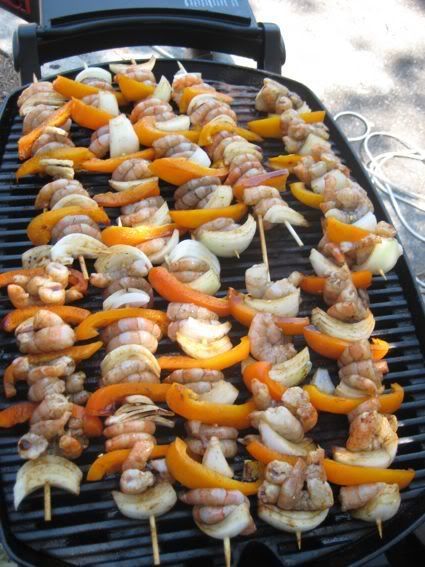 Shrimp skewers with "gator peppers." I usually don't even have to ask to sample the local tailgating food, but I was so hungry that I put on the full-court press to try to get some of this ie "Man, that smells great. Mmm, looks delicious." Didn't even get a bite.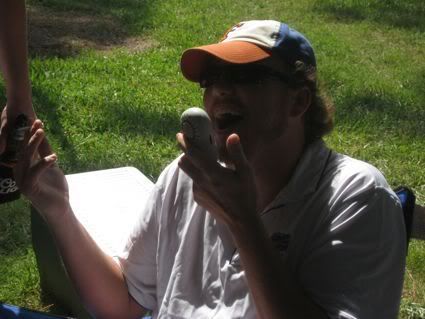 Nice dude but he interrupted two interviews with his megaphone. Note to tailgaters everywhere: don't be that guy. Yes, we all hear you and your megaphone, congrats.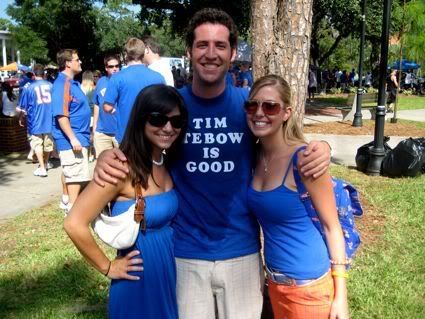 This was right after my emergency weather report. I was going to complain that Dave threw too much water on me, but it felt fantastic and brought these ladies over. Victory!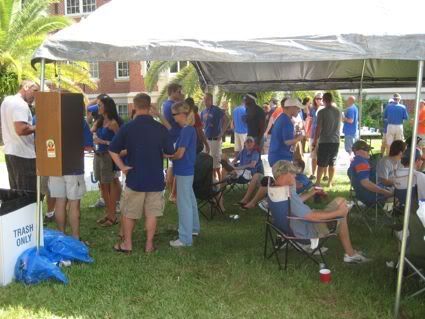 A lot of people like to make fun of the jean shorts at Florida (myself included), but it's pretty overstated. Really, an underrated phenomenon in Gainesville is the camo baseball hat. I enjoy it because it lets me know immediately that such a person probably won't think twice about punching me in the face if I go too far.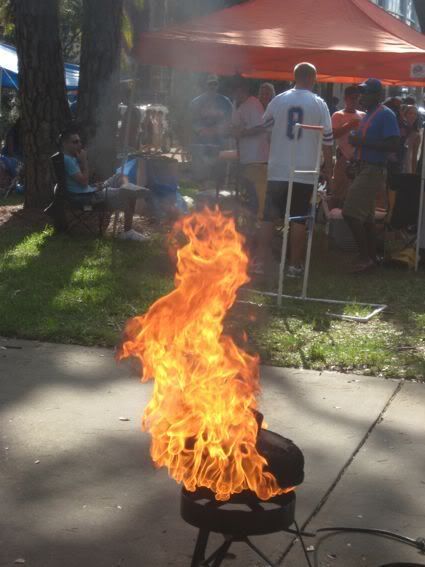 Aaaaand we have our first uncontrollable barbecue fire of the season. Somehow this warranted a trip from the Gainesville Fire Department. They seemed less than thrilled.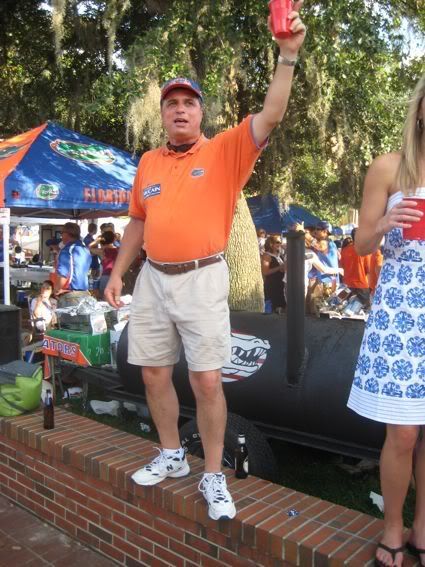 This guy was up singing and dancing to Sweet Child O' Mine. In a related story, his red cup seemed pretty empty.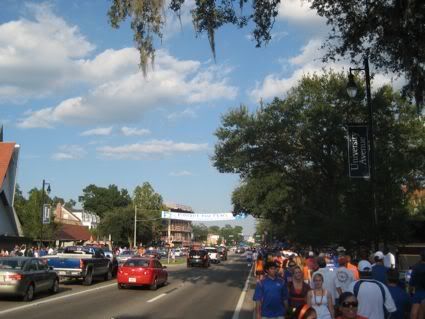 The scene on University. While walking down, I was told by no less than 10 people that my shirt should've said "God" instead of "Good." I was also offered $5 on the spot by a girl for my shirt. After deciding to forgo a somewhat creepy response for when a female offers you money to take off your clothes, I politely declined. Total gentleman.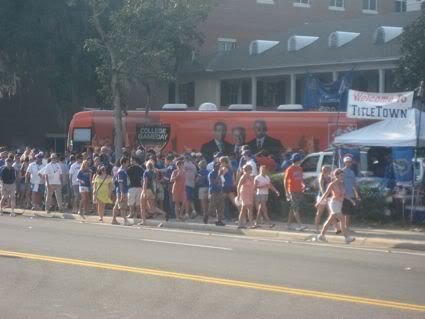 Fans crowding the College Gameday Bus. This was nothing compared to the number of people swarming and climbing on top of the Tour Guy gulfstream. Ok fine, luxury bus. Limo. Hummer. Rental car. And it was just me and Dave. Whatever.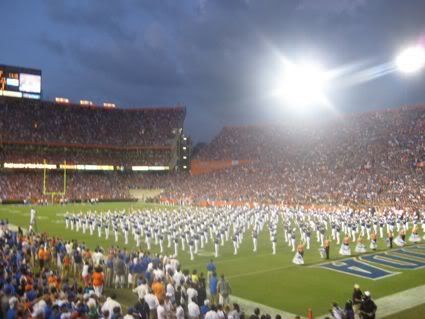 Game time. We avoided a major storm, but even more importantly, I narrowly avoided a major collision with a group of bandos. This is why I work outside the stadium.
Camera Guy Dave, making movie magic. He's among the best videographers that I've worked with. At The Swamp.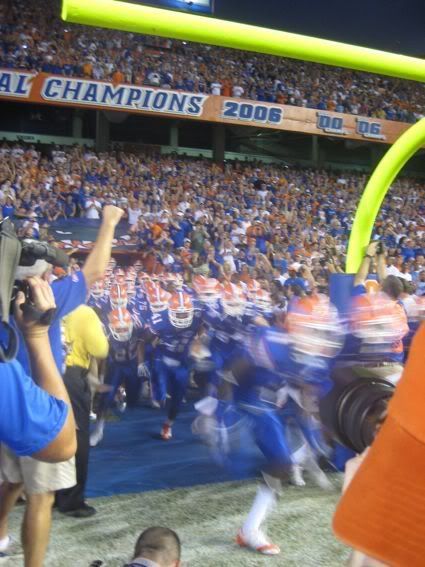 These people were big and fast.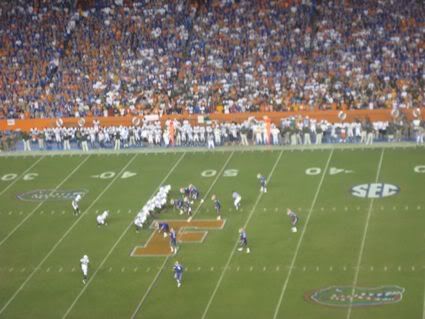 The view from the top of The Swamp. Even though it was fairly gross out during the game (heat and humidity), I feel like that's Florida football, in the same way that cold fall mornings are Big 10 football. Loud, hot, and fast - a good time in SEC country.
Next week - out of the South, into the Midwest...
--

Email:
Links:
Tour Guy Road Notes (permanent link)
The SI Tour Guy (archive of all videos, including from 2006 and the Pac-10)
SI College Football channel on Veoh
The Solid Verbal college football podcast (w/Ty Hildenbrandt)
Windows Media Player 9 (for Mac)
Flip4Mac (to watch SI Video on a Mac)