03:36 AM ET 09.16 |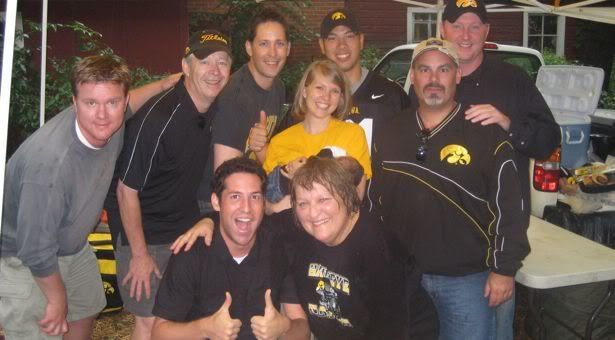 ***Subscribe to The Solid Verbal (iTunes) college football podcast (I co-host with SI on Campus's Ty Hildenbrandt)***
This week I got out of the SEC (briefly), and headed north to Iowa. I'm not gonna lie, I've been to better places than Iowa. The people were friendly, generous, and passionate football fans, the stadium seemed to be a solid-enough place to watch a game, but there was just something about how everything fell victim to the weather on game day that really brought down the experience in Iowa City.
The majority of people seem to tailgate in fields and lots along streets in the Kinnick Stadium neighborhood, that, due to a slight monsoon the night before and that morning, were covered in mud. I suppose it's always sort of disappointing when fans are scattered on side streets instead of in a giant, designated area to form more of a pre-game community. Also, similar to Wisconsin, the main street (I believe Melrose) that runs along Kinnick is covered with cheap-looking concessions and souvenir tents. Psh, weak.
Anyway, despite all the mud and rain, I managed to meet some pretty excellent Hawkeye fans and tailgaters. Somehow my camera survived and was able to spit these out: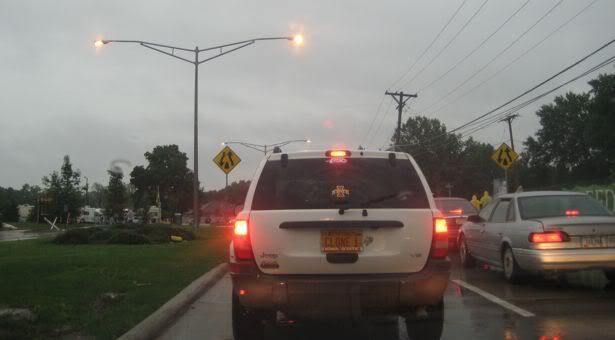 I recognize that I have a pretty amazing job, but sitting in rainy traffic on the one road going into Iowa City at 7 AM is less than thrilling. As hilarious as custom license plates are, it takes a little more to get me excited this early.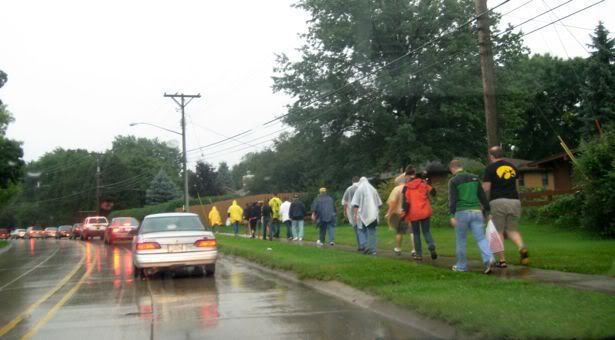 These fans may possibly agree with me. Hm, people seem to be a little more tan in Florida...
Pieces of chicken wrapped in bacon. If this doesn't appeal to you, I'm not sure how much we have to talk about.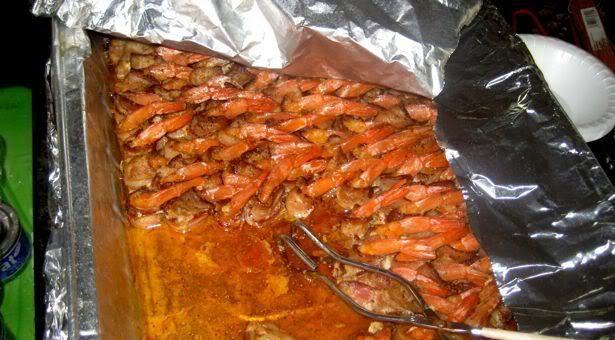 Bacon-wrapped shrimp. At a certain point in Iowa, the "bacon-wrapped" part becomes pretty redundant.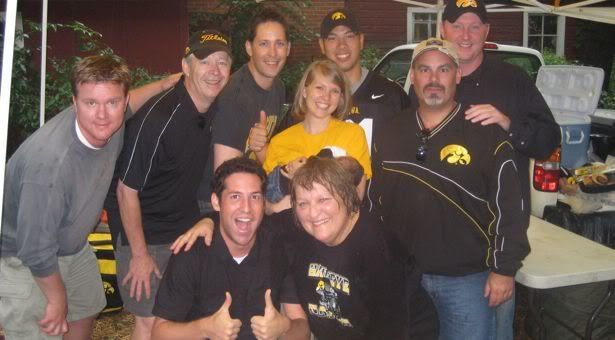 Thumbs up to the Hawkeyes. What I always like about these pictures is that everybody generally looks excited, except for one guy who always seems angry at the prospect of photography. See: salt and pepper goatee.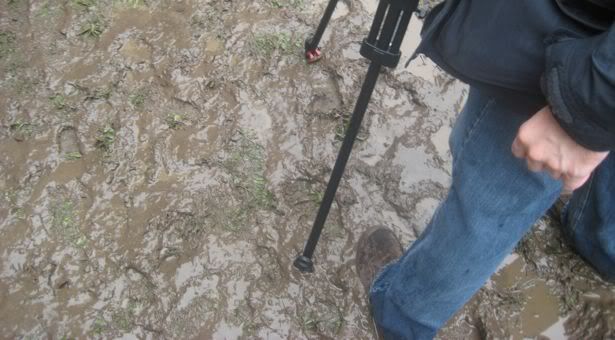 Mike in mud. Damn, look how veiny his knuckles are. Looking at him, you can see he's always ready for a fight.
Tots, straight up.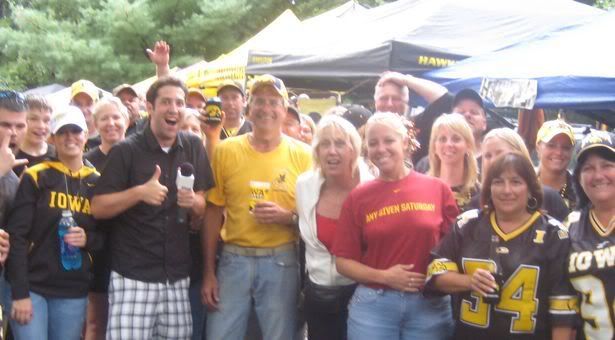 This large group started chanting "Let's Go Hawkeyes!" when we walked up to them with the camera and microphone. After every chant, the ladies in red shouted "Cyclones!" It seemed kind of stupid, but I guess they got the last lau..oh wait.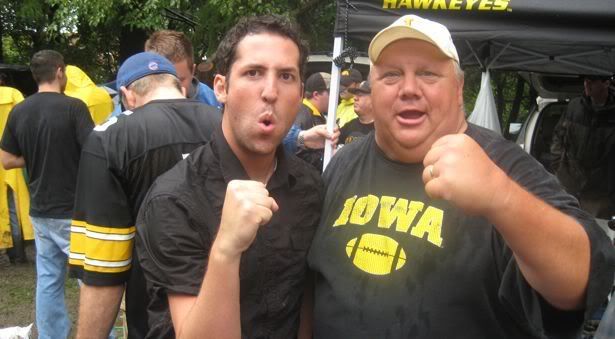 This is Carl. He gave me a great interview, a great prime rib sandwich, and a great picture. I'm pretty sure that if I ever need a co-host, Carl's resumé shoots to the top of the pile.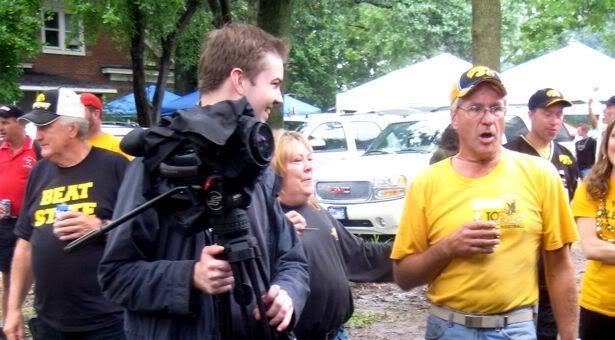 Mike sharing a laugh with an Iowa fan. What you can't see is that Mike isn't wearing pants here. Frankly, it was unprofessional and uncomfortable. I think we'll have to have a powwow re: pants.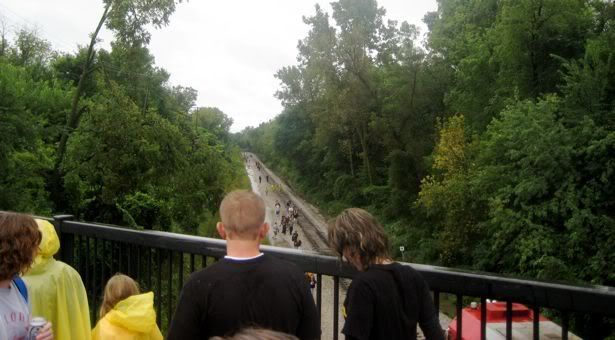 This was taken across from the stadium. People walk on the train tracks to the stadium, staring down a train in the process. The logic here seems flawed at best.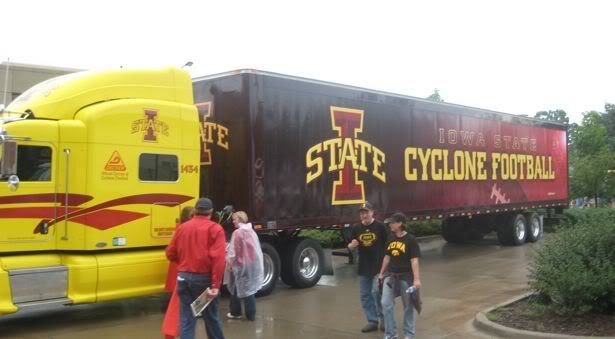 All that gear for a safety and a field goal. Really makes you think, huh?
The outside of Kinnick, a completely ideal place to see a college football game, staffed with a ton of old ladies who will yell at you and try as hard as possible to make your time there forgettable. I won't go into details, but it involves hot dogs, a bathroom visit, and a long staredown. True story.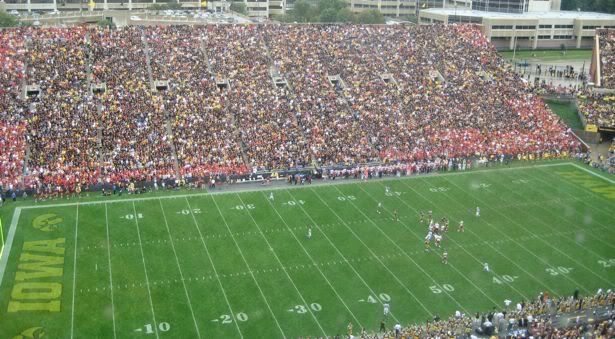 The view from up top. Old lady personnel aside, it really is a great stadium. The presence of loud, knowledgable fans are almost able to overcome the fairly lousy game unfolding above.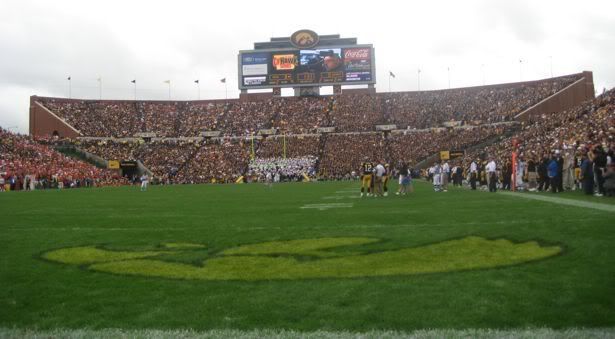 This is obviously from down low. Mike keeps refusing to streak with all relevant Tour Guy links painted onto his naked body. Psh, not what I call a team player.
I like that the guy on his cell phone looks so ashamed to be standing next to Cyclones. Either that, or he's bummed that his head has grown to the point where he needs to get a new hat.
Weeeeeeak. You lose me on this, Big-10.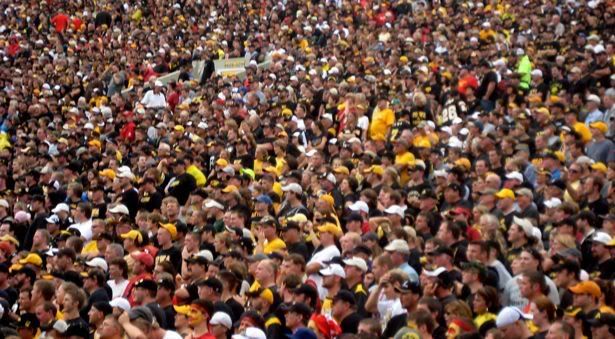 People paying attention to the game. Clearly they didn't realize just how close they were to Camera Guy Mike or else we would've seen way more eyes. Like four or something.
Fun Fact: Not one person I spoke to knew about this incident, which pretty much killed my favorite question.
Anyway, I'm sure Iowa and Iowa City is a completely different place to see a game when it's not muddy and wet, but that's all I can go by. I'd say good, but by no means great.
--
Next week - mmm, South...

--

Email:
Links:
Tour Guy Road Notes (permanent link)
The SI Tour Guy (archive of all videos, including from 2006 and the Pac-10)
SI College Football channel on Veoh
The Solid Verbal college football podcast (w/Ty Hildenbrandt)
Windows Media Player 9 (for Mac)
Flip4Mac (to watch SI Video on a Mac)