02:09 AM ET 09.23 |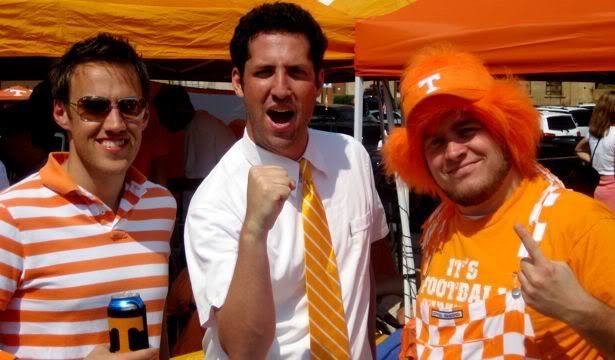 ***Subscribe to The Solid Verbal (iTunes) college football podcast (I co-host with SI on Campus's Ty Hildenbrandt)***
This week, despite the best efforts of an unnamed airline that begins with a "U" and ends in a "nited", I had the pleasure of spending a Saturday in Knoxville, TN. Here's what you get: lots of Orange, an adopted fight song that's looped until you give in and love it, pretty girls in sundresses, Southern hospitality, conference arrogance, tailgating on yachts, and enough BBQ to keep the majority of the eastern seaboard fed.
I always like to try and schedule rivalry or games that appear as if they'll be important weeks in advance. People are obviously more excited (and in some cases hateful) and there's a certain energy that's really kind of cool to be around. Florida-Tennessee is obviously one of those games, despite the fact that Tennessee has been struggling of late.
Lastly, Neyland is huge, in every sense of the word. After years of renovation, it sort of resembles a pro stadium, but somehow still maintains a great college atmosphere, 109,000 strong. The checkerboard endzones are impeccable, the sea of orange is loud, Rocky Top is always on loop, and the team is, well, only ok. Anyway, I'm almost positive I got the complete Vol experience, save for, of course, a good game. Ah well, good ol' Rocky Top...
The Fall 2008 premiere of Camera Guy Casey. Here he is standing next to the tripod that United decided wasn't important enough to make it the day before. Notice the Oregon pin on his collar, there's a true Duck right there.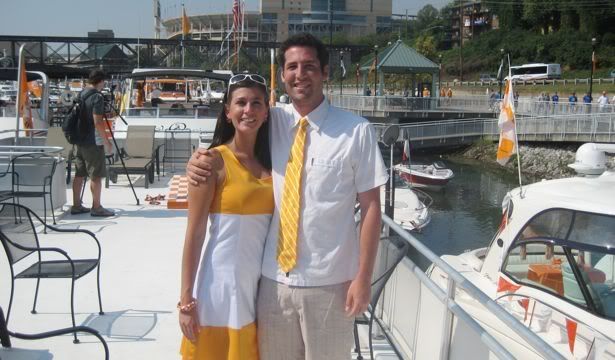 My first interview of the day was with her and her tailgating party on a giant boat. Like Ice Cube says, it was a good day.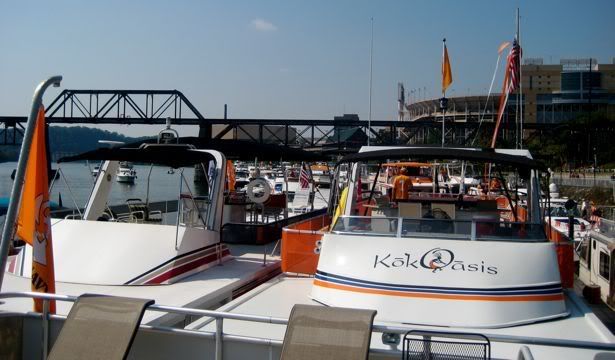 I won't even pretend to know what a Kok Oasis is. Casey and his pin may say this boat should be parked at Husky Stadium in Seattle, but I never would. Never.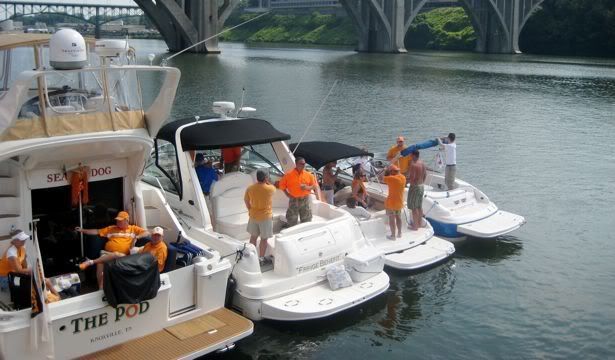 Part of me says tailgating on boats like these is sort of hoity-toity (not to be confused with hotty toddy), but it really is just too damn cool to hang out on a boat, eat homemade food, and enjoy your favority non-alcoholic cocktail (psh, I'm a pro).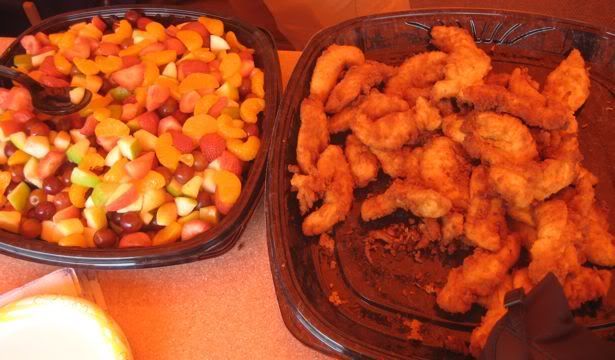 The Admiral (if you saw the episode you know) had fruit salad and fresh chicken fingers out. Needless to say, I had zero fruit salad.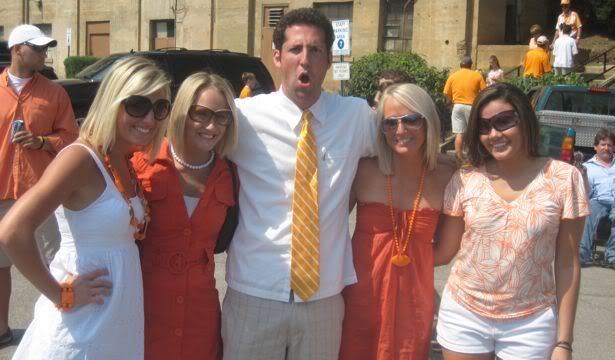 Arg, I fell back on one of my go-to poses, "Shock and Anger that Somebody is Taking my Picture." I apologize, but I clam up around southern girls and take terrible pictures.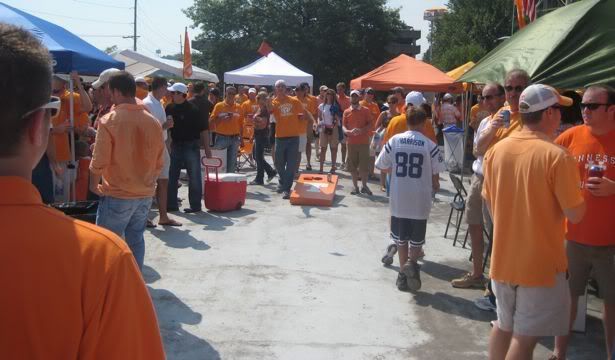 And they said a picture containing a Marvin Harrison, a game of cornhole, and significant backsweat would never happen. I'll leave the line open, Smithsonian.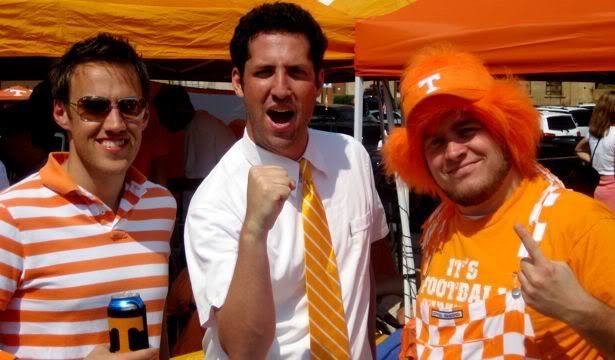 With dudes, I can play around with new pose ideas. I like this, it shows confidence and power, but reveals my shortcoming on the bench. Can't win 'em all.
(Also, I'm not sure why I appear to be even more tan than Kirk Herbstreit on the Gameday bus...)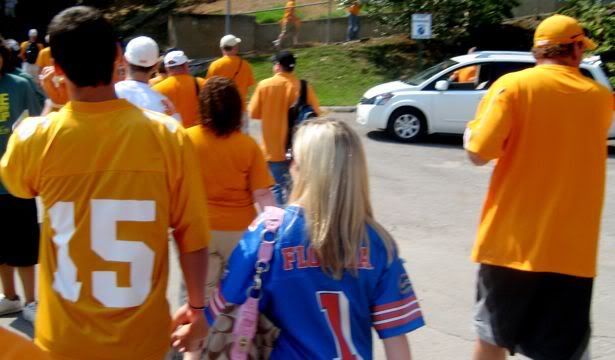 So many people will probably find this to be so wrong. Really dude, there are a ton of girls in the South. Trust me.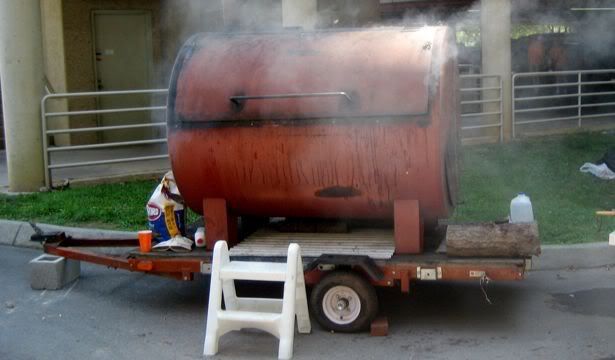 You could smell this bad boy from the Vol Navy. Spare ribs, pork shoulder, hot links, oh my!!
Casey making his plate. We didn't go hungry.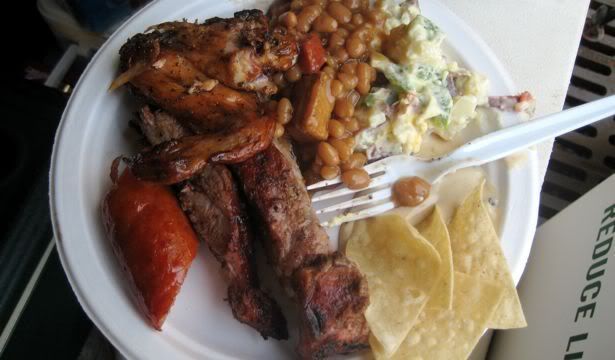 See? I'm not usually a dry BBQ guy (no sauce), but it all worked pretty well for me.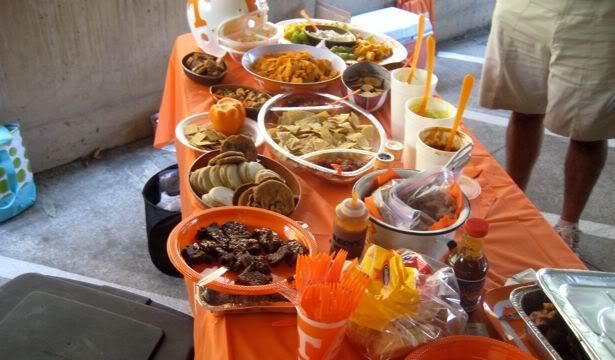 Boom, there's a dessert spread. Not gonna lie, I quasi-hit on a married woman who made the lemon cookies next to the brownies. Yea, that good.
It also seemed to work well for these guys. My guess is that it's been working well for quite some time.
These girls volunteered (get it?) to kiss me for the picture. Why would I lie? But seriously, they did. Yeah.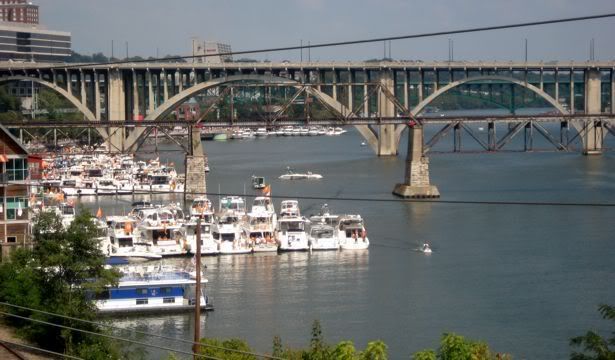 Vol Navy from afar. Unfortunately, I can't pick out the Kok Oasis. Casey still insists on looking near the docks of Husky Stadium.
Sea of orange outside of Neyland. I dare you to try to take a wide shot at a Tennessee game and not get good looking girls somehow in the frame.
Bruce Pearl without body paint and wearing a shirt. Booooooring.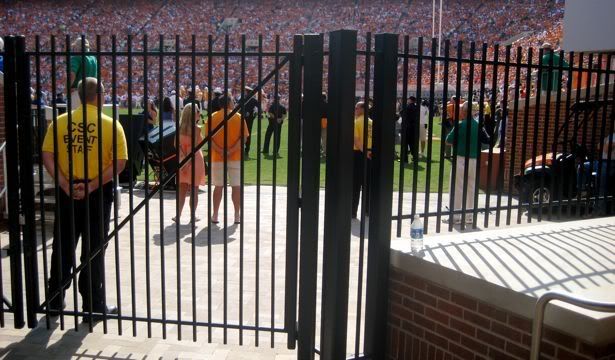 Bruce Pearl with an unbelievable looking young-ish female in a sundress. Not so boring.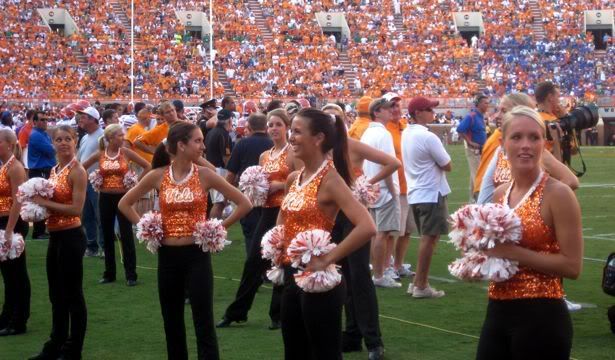 I talked to the cheerleaders and they said the one thing they all had in common was that they were all desperate to meet and date Tour Guy Road Notes readers. You guys should try to meet up sometime.
--
Next week - screw it, more South. But then I move on...
--

Email:
Links:
Tour Guy Road Notes (permanent link)
The SI Tour Guy (archive of all videos, including from 2006 and the Pac-10)
SI College Football channel on Veoh
The Solid Verbal college football podcast (w/Ty Hildenbrandt)
Windows Media Player 9 (for Mac)
Flip4Mac (to watch SI Video on a Mac)