02:42 AM ET 09.30 |

***Subscribe to The Solid Verbal (iTunes) college football podcast (I co-host with SI on Campus's Ty Hildenbrandt)***
There are very few things that can be annoying about this job - bad weather, travel issues, and early kickoffs. This week was pretty pain free, except for item #3. Noon kicks sort of suck the life out of tailgating, as everybody sort of wanders around like zombies for awhile, until finally getting into the swing of things before it's almost too late. This, of course, isn't an actual problem to have in life, but I feel like giving you some insight into my non-problems.
Anyway, I came away pretty impressed with Clemson, despite the overcast skies and noon kickoff. It was more of the usual Southern hospitality, coma-food, sun dresses, and football crazy fans of all ages. It's one of those situations where people tailgate wherever they can near the stadium and all over campus, including scattered lots, huge fields, and a large student area in the Greek quad.
I've got to assume that, alongside Florida State and Virginia Tech, Clemson has the best in-game environment in the ACC. The stadium is built up and not out, every last person is in orange, and you get a wall of sound that's pretty close to rivaling the best (LSU, PSU, UF, and Oregon). There's a lot to like about the Death Valley traditions, from Howard's Rock and the grassy hill, to the dozens of cheerleaders, huge band, tiger roar, and multiple tiger mascots. I don't know why, but Clemson just felt more like college football than any place I've been in awhile.
Now, I will do my best to make fun of everything via the still photograph: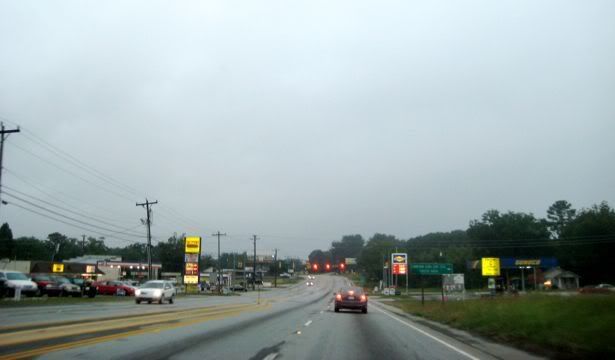 Approx. 7:41 AM EST, somewhere between Greenville, SC and Clemson, SC. I don't know how everyone doesn't move to this very neighborhood. Oh wait, yes I do.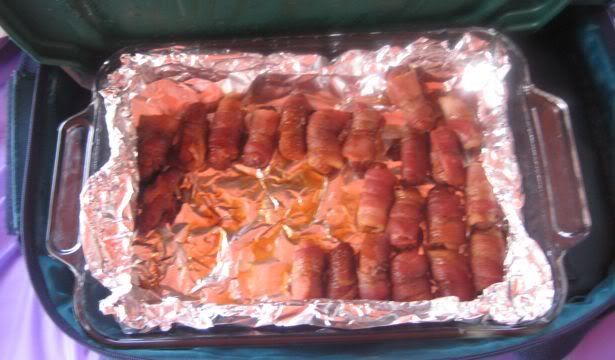 First tailgate of the day. These are smokies wrapped in bacon, then immediately dipped in syrup and brown sugar. If suddenly a video doesn't appear around week nine, blame the bacon maple brown sugar smokies...
...and the sausage balls. I'm already feeling the damage I've done to myself in five weeks. It may be time to transition to doing the segment Senior PGA style and carting it.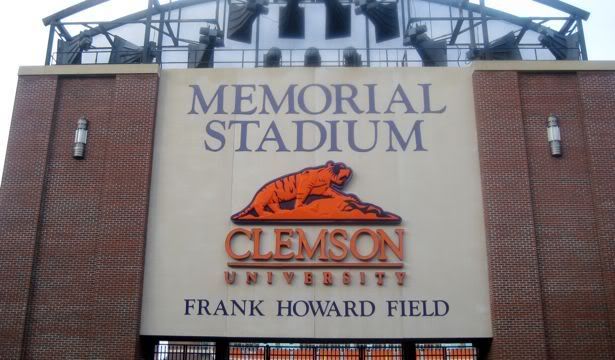 The big wall sign outside of the stadium. On a side note, Clemson now owns the season lead in Most 12 Year Old Scalpers. If a story breaks about a pre-teen ACC ticket mafia getting busted in northwest South Carolina, don't say I didn't tip you early.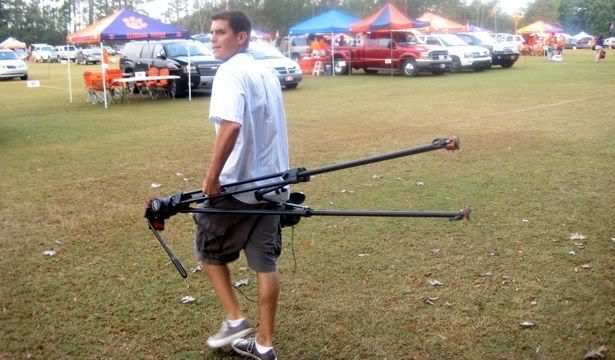 Dave getting it done with Tripey the Tripod©.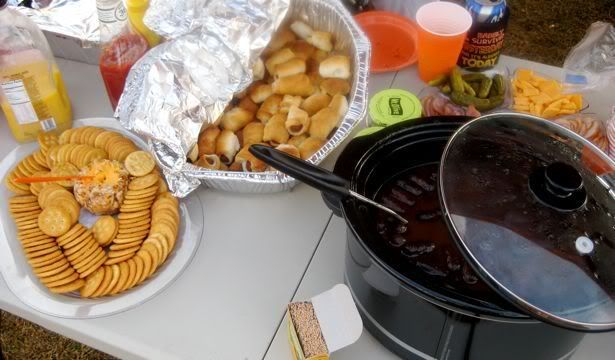 More mini-tubed meat. I suppose it's some sort of unspoken theme of the day. As far as I can count, I had bacon wrapped smokies, sausage balls, potato salad, pigs in a blanket, BBQ smokies, chips, candied pecans, hot dogs, and cookies within five hours of being conscious on Saturday.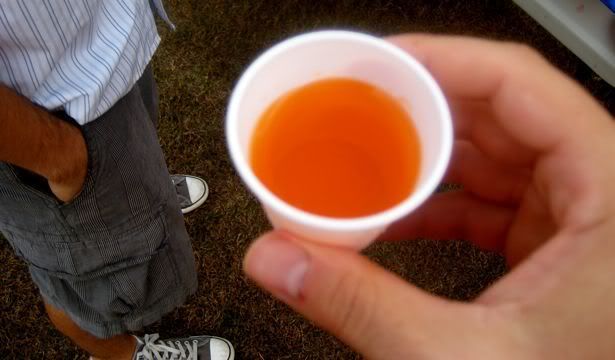 Let's call this cough syrup.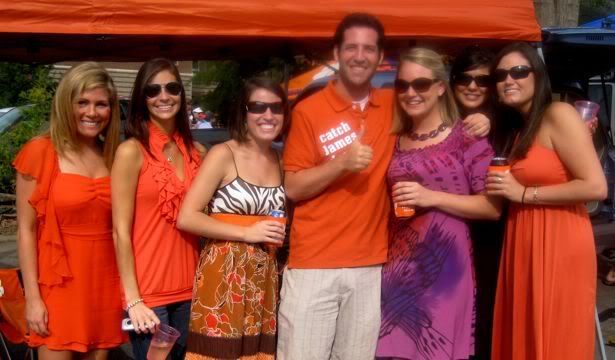 Life is good.
All I think about when I look at this picture is how crazy-comfortable that chair looks. Damn.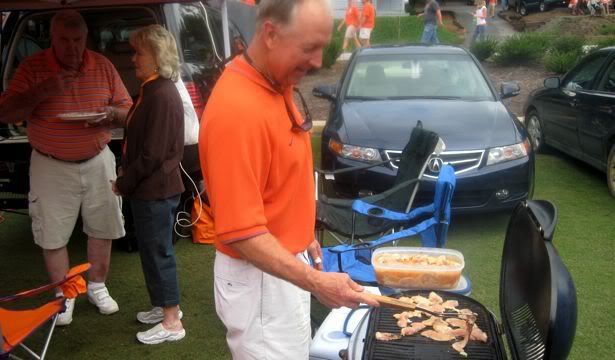 Pollo.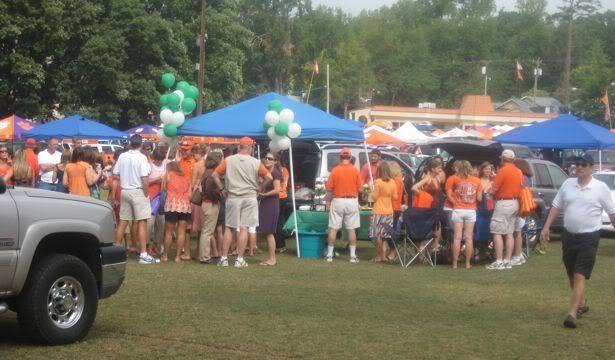 I just wish more dudes at Clemson wore khaki shorts.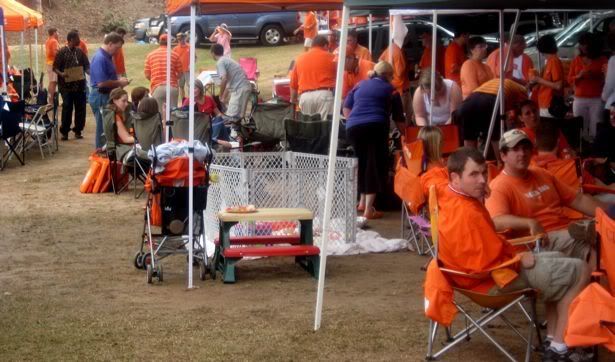 Gettin' the stink eye from Male Pattern Baldness Guy and Overcurved Hat Guy. Yikes.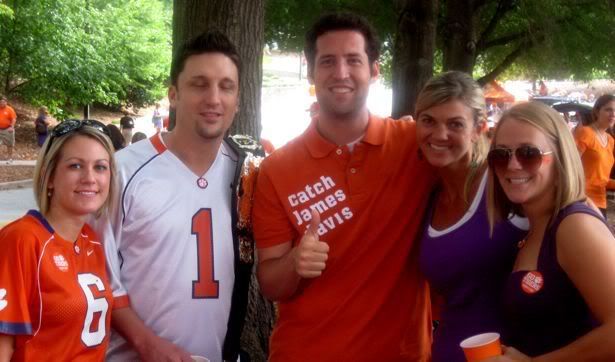 I can't fault this guy for accidentally blinking when the shot was taken because he rocked the starting lineup intro to the video. If he hadn't, though, rest assured that he'd be shamed in front of hundreds (thousands?) of loyal Road Notes readers.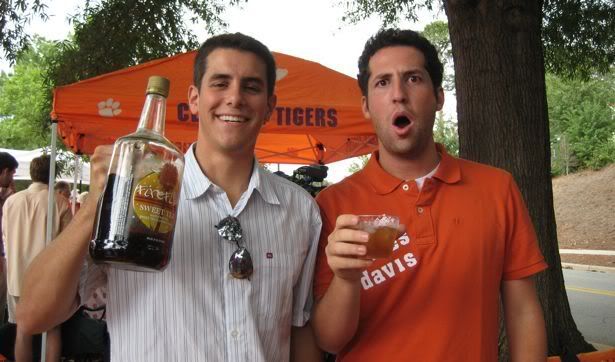 Dave is holding sweet tea infused vodka. Don't worry, though, I'm holding an unrelated cup of, um, apple juice. Yeah.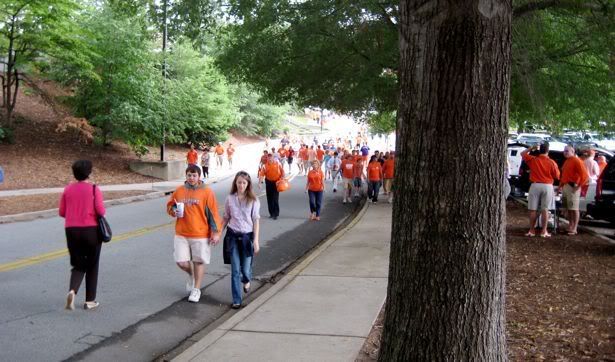 A road on campus. I still dare you to find dudes not wearing khaki shorts. It was like I was the only one not told about a gigantic Dockers photoshoot immediately following the game.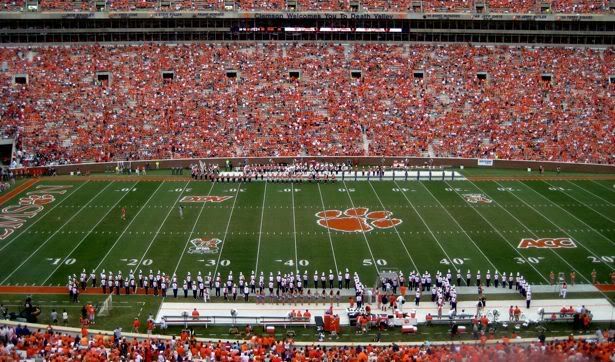 The view of Memorial Stadium from the top. I should've sent this picture to the Clemson coaches for the second half to give them a better idea of where the endzones were. It can get confusing.
It got pretty loud until, well, it didn't.
Crickets. And foldable padded seats.
I was going to roll down or run down the hill, but I didn't want the day to end in being itchy or tearing an ACL. I know, I know.
All things considered, I had a pretty fantastic time. It always makes it better when the ranked home team doesn't crap the bed, but perhaps that's asking for too much. Anyway, Clemson's great - tradition, noise, food, orange, purple, tiger roars, cheerleaders, everything.
--
Next week - moving up North...

--

Email:
Links:
Tour Guy Road Notes (permanent link)
The SI Tour Guy (archive of all videos, including from 2006 and the Pac-10)
SI College Football channel on Veoh
The Solid Verbal college football podcast (w/Ty Hildenbrandt)
Windows Media Player 9 (for Mac)
Flip4Mac (to watch SI Video on a Mac)