12:34 AM ET 10.07 |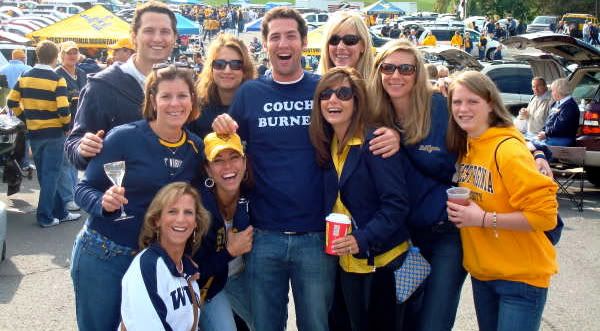 (photo courtest of T. Kriss)
You know how sometimes you do something like take a bunch of interesting-looking pictures in Morgantown on a great West Virginia tailgate morning and then inexplicably leave your camera in the hotel, even though you do a weekly photoblog about said tailgating scene? No? Anyone?
I blame it on waking up at 5 AM after four hours of sleep and in general being somewhat (up for debate) forgetful. But whatever, I'm just hoping the hotel staff or cleaning person doesn't "accidentally" not find it. We'll see, if I get it back, I'll give the masses the photoblog that they demand. In the meantime, though, I'll try to go through my day with nothing but the written word as my weapon.
Friday
Camera Guy Casey and I flew in to Pittsburgh Friday night and I had the distinct pleasure of waiting for his two and a half hour delayed flight in the baggage claim area. Woo.
When he finally came, we decided to get something decent and local for dinner and settled on Tessaro's, whose customers claim has the best burger in Pittsburgh. A short drive, top-notch parallel parking job, and minimal wait later, we eat. The burger at Tessaro's is really pretty good, but not all that interesting.
After dinner, we make the hour forty-ish drive down to Fairmont, WV – a city (town? village?) about twenty minutes south of Morgantown. We go to sleep fairly immediately because of the early wake-up call that awaits us. Bleh.
Saturday
After getting up at the crack of 6:30 AM (remember I'm still on west coast time), we eat a quick continental breakfast (in lieu of a sketchy-looking nearby 50s diner). We then make our way to Morgantown, where things are underway at around 8, and park in a lot that overlooks the main stadium lot (think Pride Rock from the Lion King, but not nearly as many awesome singing meerkats).
We then walk down a giant set of steps down to the main lot to start filming. At this point, I'm positive that when we're done walking around and hanging out with people for four hours, I will likely tear something crucial as I try to make my way back up.
Anyway, the interviews and shoot went great and West Virginia wasn't nearly as backwoods or hillbilly as its reputation would have you believe. People are extremely friendly, loud, and excited for WVU football, no matter the kickoff time. I was told that the noon kickoff is probably for the best because the 3:30s are "complete mayhem" when you give Mountaineers that long to alter their blood-alcohol levels. Sounds about right.
Even though I've done the episodes for a little while now, I'm always surprised at the creativity and sheer amount of drinks consumed on gameday. It may sound like typical West Virginia, but we managed to see a giant margarita machine (blender isn't the right word, this thing was huge) being operated out of the trunk of an SUV. I imagine that if I were unprofessional, I would've sampled the offerings here, but alas, I must maintain a certain level of integrity, for the segment's sake.
(If I did get a taste, though, I imagine it would've been a good ice-blended strawberry flavor, with a liberal amount of tequila, albeit a little cold for that early on a West Virginia morning. This is, mind you, if I actually did try it. Which I absolutely did not.)
As for food, Casey and I managed to eat chili dogs, breakfast sausage, cinnamon cake, egg and cheese casserole, egg and sausage casserole, potato and cheese casserole, muffins, BBQ chips, and cookies. At this point, I'm just surprised I still look somewhat similar to what I did six weeks ago and don't have to do the episodes via satellite from my room, where I weigh 850 lbs and am washed by the same giant brushes zookeepers use on walruses.
After four hours of questions, groups singing "Country Road," eating, not drinking, and having a good time with Mountaineer fans, we went into the game. The stadium, with no apparent huge flaws, is fine. Milan Puskar Stadium is built into the ground and is fairly vertical, which seems to keep a lot of the sound in – always a plus. The band had a good playlist (some rap, Elvis, etc), the cheerleaders looked as though they haven't skipped an ab workout in quite some time, and the Mountaineer was out and about shooting his rifle on WVU scores. Most importantly, the fans never took a play off, with most standing, making noise, and offering up coordinated cheers on first downs, etc. It appears that, despite a disappointing opening to the season, the team will be somewhat competitive for years to come, and the West Virginia faithful looks to be a great crowd to keep the heat on during home games.
That afternoon, after walking the giant staircase and downgrading my appearance in the Midwest to "probable," we made our way back up to Pittsburgh, mostly because we had early flights back home Sunday morning, making it fairly impossible to go out and see the Morgantown nightlife (will or won't couches be charred thoroughly?!?!)
Following a nap that was constantly interrupted by big plays in the Michigan/Illinois game, Casey and I went out to the south side of Pittsburgh to catch the USC/Oregon game to watch our non-traditionally-costumed Ducks attempt to pile on the seemingly-down Trojans at Mario's, a great bar on Carson St. We ate wings and potato skins as we watched Oregon jump out to an early lead, only to see the clearly charged-up USC team turn it on in front of their usual army of fans consisting of long-timers, bandwagoners who would be hard-pressed to name a back that played there between OJ and Reggie Bush, former LA Raider fans who need something to do between not having a job Friday and not having a job Monday, and members of frats and sororities far more concerned with their hair than whether or not USC's linebackers are overrunning misdirection plays.
(You see, the USC team was on fire and Oregon was overplayed everywhere, so to make myself feel better, I just point out irrefutable truths about one of the most inconsistent, least knowledgeable fan bases in sports.)
At the same time as the Duck massacre, we also were lucky enough to see an ugly Big 10 game (OSU/Wisc), a lopsided Big 12 game (Mizzou/Nebraska), and THE LOS ANGELES DODGERS clinch their series over a dazed Cubs team that had the same blank look in their eyes that Mike Bellotti had from the second quarter on in LA. Admittedly, I'm more excited now about the boys in blue (the winning ones) than I was after Oregon done got blowed out. A very weird sports night for me.
Sunday
We then left to terrible traffic on Carson St, thanks to the giant fireworks display over the rivers celebrating Pittsburgh's 250th Anniversary. About an hour later, we finally made it back to the hotel, where we promptly passed out for the better part of four hours, before making our way to the airport for early flights back to LA and New York.
Nothing too exciting today – some lady dropped Robin Williams' name in line, saying that she much prefers traveling VIP with him instead of waiting in commercial lines with us common folk. See, even when you're not even in LA, people start acting like it in the airport preparing to go back home.
I'm now writing this somewhere past the Grand Canyon on my flight home, let's hope for a safe return of Cammie the Friendly Digital Camera.
Hope you enjoyed the episode that I haven't begun editing yet.
Update: My camera was found under my hotel bed. Photoblog when it arrives…
--
Next week - Midwesty
--

Email:
Links:
Tour Guy Road Notes (permanent link)
The SI Tour Guy (archive of all videos, including from 2006 and the Pac-10)
SI College Football channel on Veoh
The Solid Verbal college football podcast (w/Ty Hildenbrandt)
Windows Media Player 9 (for Mac)
Flip4Mac (to watch SI Video on a Mac)