05:26 PM ET 06.29 |
As hard as he tried not to, Aaron Cook became THAT guy.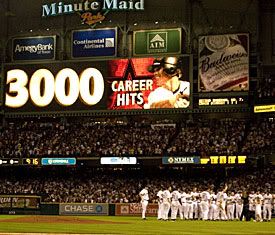 Craig Biggio made sure the fans didn't have to wait any longer than absolutely necessary to witness what they came for. With only three hits to go to join only 26 other major league players in one of the most exclusive "clubs" in baseball history, Biggio had to find "the zone". After a hasty first at-bat, Biggio finally got into the zone and began to turn things around--fast--knocking out five consecutive hits, all singles. Among them, his milestone 3,000th in the 7th inning, which tied the game. In achieving both feats, Biggio became the first player in baseball history to have five hits on the same day as his 3,000th hit. Scoring the tying run on Carlos Lee's 11th inning, walk-off Grand Slam made an unforgettable day truly one to remember.

Had Biggio not been in such a hurry to reach his milestone (and help the team actually win one) on June 28, he would've had a shot at hitting #3,000 exactly 19 years after hitting #1 on Friday, June 29.
Nonetheless, Thursday, June 28, 2007, was a bigger day than neither Biggio nor any Astros fan could imagine. It has to be, arguably, the biggest game he's ever had and the biggest the fans have ever witnessed. Here's to 1,000 more hits, Mr. Biggio.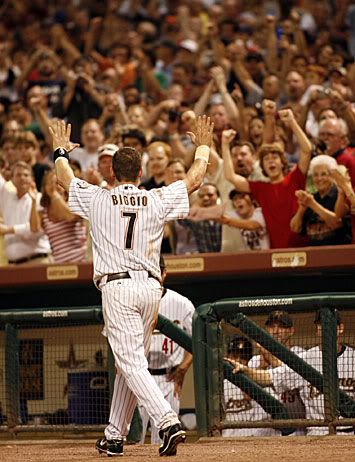 The 3,000-Hit Club Trivia:
Only 27 major league players have 3,000 hits or more in their careers. The first man to accomplish the feat was Cap Anson on July 18, 1897, his last season in professional baseball. Among the 3,000th hits, one has been a home run (Wade Boggs), one has been a triple (Paul Molitor), seven have been doubles, and 18 have been singles. The youngest player to reach 3,000 was Ty Cobb, at age 34. The oldest was Cap Anson, at age 45. The "Club" consists of 13 infielders, 13 outfielders and 1 designated hitter. The "Club" includes 13 righties, 12 lefties, and 2 switch hitters. While he played the majority of his games at shortstop (2,302/3,001), Cal Ripken, Jr., recorded his 3,000th hit as a third baseman. Only 9 players have hit all 3,000 hits with one franchise. Of the 23 eligible players with 3,000 hits or more, 21 have been inducted into the National Baseball Hall of Fame, and 2 will be inducted this year (Tony Gwynn & Cal Ripken, Jr.). Only Craig Biggio and George Brett made outs immediately following their 3000th hits--Biggio was thrown out at second, Brett was picked off first.

June 28, 2007 became the first day in MLB history in which the feats of 500 career home runs and 3,000 hits had been accomplished on the same day (Frank Thomas & Craig Biggio).
Sources: mlb.com, baseball-almanac.com, baseball-reference.com, basebalhalloffame.com