02:47 AM ET 10.14 |

***Subscribe to The Solid Verbal (iTunes) college football podcast (I co-host with SI on Campus's Ty Hildenbrandt)***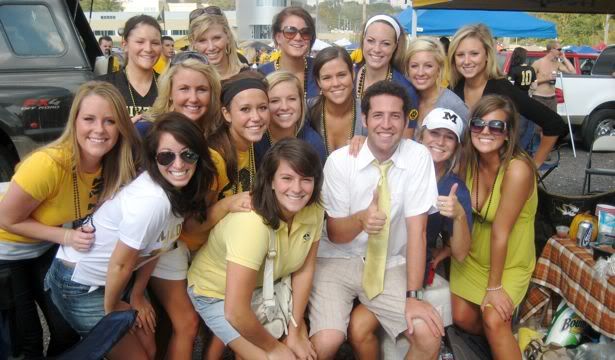 Shocking. Unexpected. Unbelievable.
All three of these words could easily describe #3 Missouri's loss at the hands of Oklahoma State Saturday night, but I'm just going to go ahead and move on from the game and use the words to describe what I saw outside of the stadium.
I came into Columbia expecting it be, you know, nice. It seemed Mizzou had come out of nowhere to contend for an increasingly difficult Big 12 title and I figured the town would be excited, if not a little unprepared. Once again, I guessed wrong.
What I walked into was a sea of yellow (old gold) fans spread all around the stadium, plus a field of loud, crazy students down the hill from Memorial Stadium. Basically, I can't say there's much of a difference between walking around before a big Tiger game and a Florida, USC, or Nebraska tailgate. The grills were hot, the girls were SEC pretty, and the general energy was that of what people would consider to be an A1 program. I just hope (for their sake) that the fans keep coming no matter the team's record. That's always seems to be a good test of a program's worth (see Nebraska, don't see USC).
Downtown Columbia, by the way, is fantastic. Great bars and restaurants, clean streets, and tons of UM students make it a top 5 college downtown.
Enough gushing, let's scoot: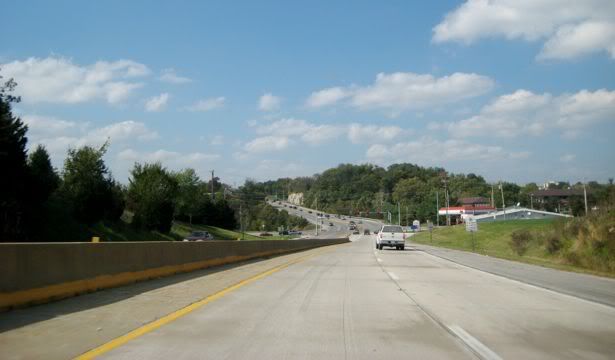 The drive into Memorial Stadium and campus. Seems like a normal, nice day, until out of nowhere...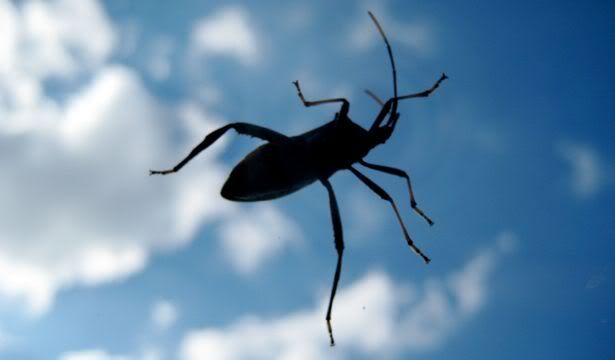 ...a mutant cricket showed up on the windshield. Methinks I need to do a better job of remembering that a lot of the time I'm out in the middle of nowhere. We settled on not putting on the wipers, not out for any humane reasons, but nobody wanted neon bug guts crusting on the windshield all day.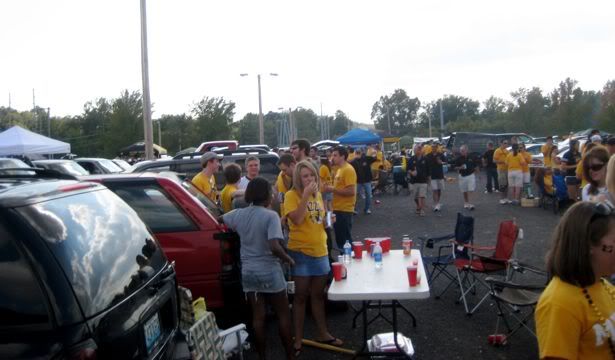 You may have noticed from the interviews, but we spent almost the entire day at Reactor Field, populated mostly by students, making it the biggest student lot I've encountered so far. By the way, it gets that lovely nickname because it sits right in front of a power plant. If I show up with an extra eye or nostril week 11, you'll know why.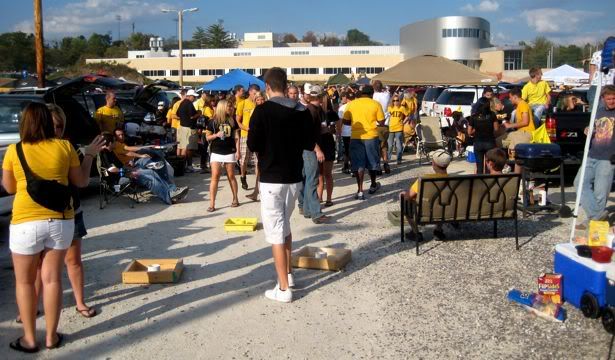 Better view of plant.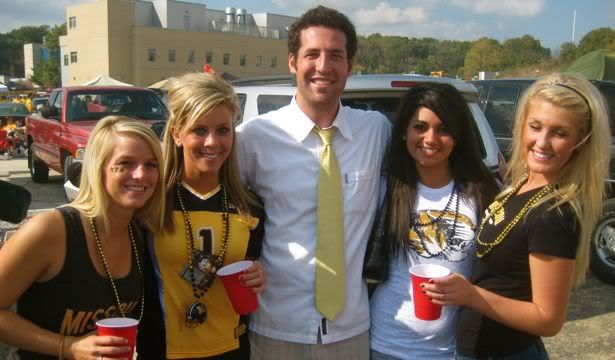 The girl on the far right didn't believe that I was really from SI, no matter some very convincing evidence. She did the interview and took a picture (including one in which she didn't blink), but I feel like this should be proof enough.Thanks for the support, enjoy your terrible picture.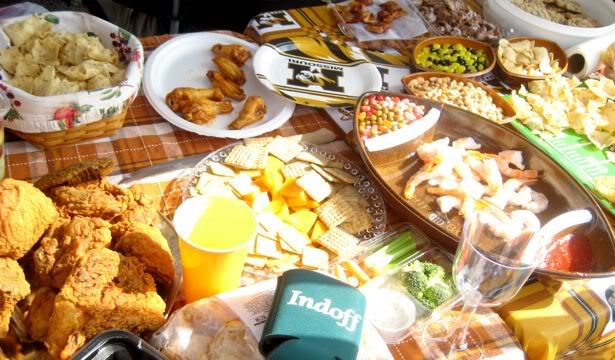 Mmmm.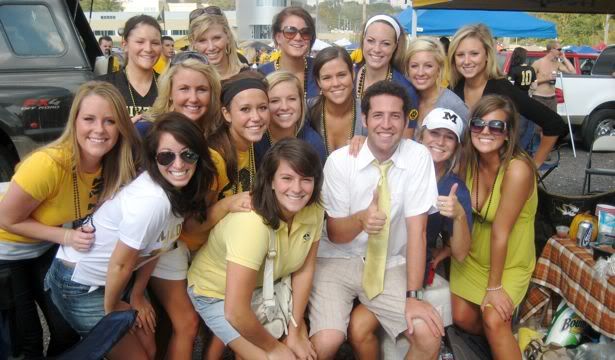 Again, mmmmm.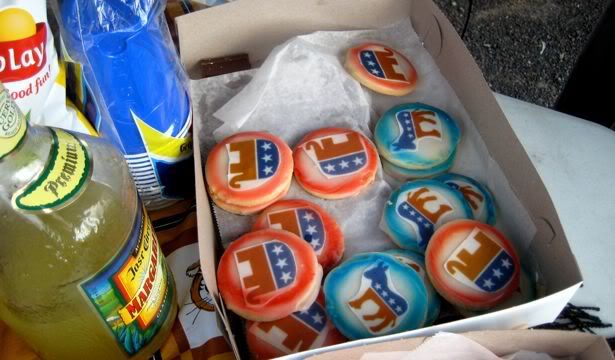 The Libertarian and Green Party cookies are always the first to go. Oh well.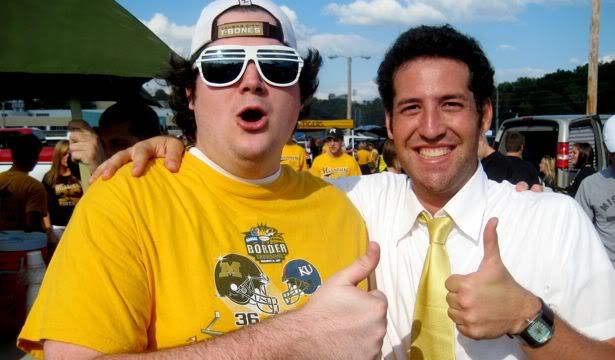 This guy was excellent. I actually enjoy the glasses (never understood the full shutter look, but the semi I'm cool with). Also, I'm really not even that tan, but luckily the fine folks of the Midwest make me look like I'm somehow related to George Hamilton.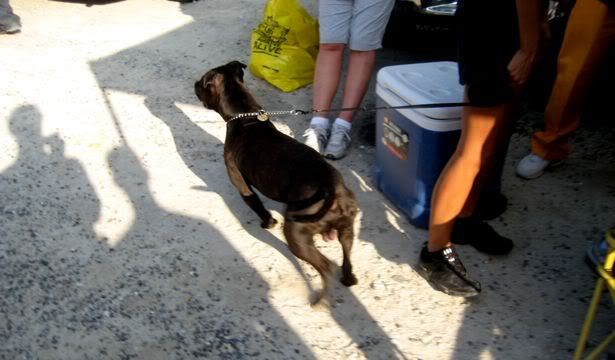 Dog Nuts.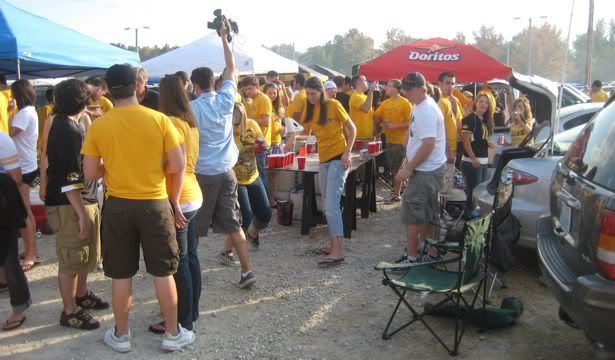 Camera Guy Dave: Invading Tailgater Personal Space Since 2008.

I ate very (very) well at Mizzou, but I gotta say, the homemade bread with strawberry jelly was outstanding. I'm never really one to partake in the softer foods at tailgates, but it was good to take a break from BBQ for six minutes or so.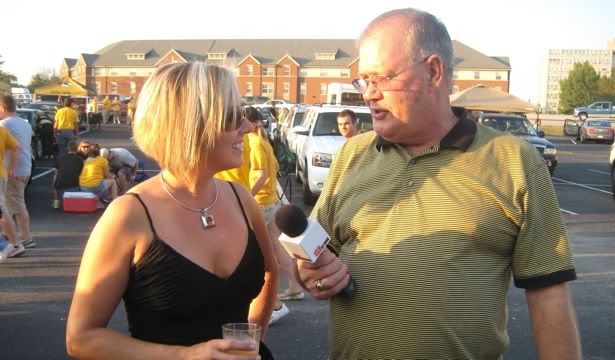 I actually have video of this encounter, but I didn't have enough time to get it into the episode. This guy asked if the woman was interested in being in the swimsuit issue. She seemed confused and possibly weirded out, which actually makes it a fairly close to one of my interviews.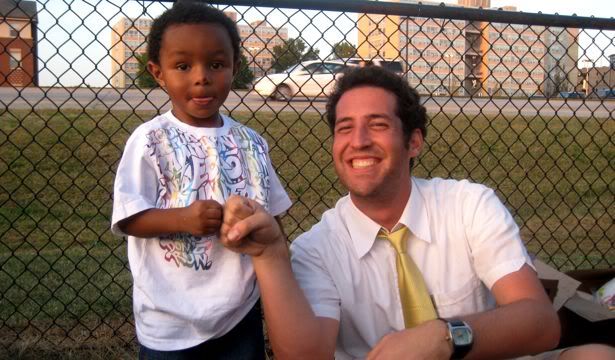 This little man clearly out-danced me in the episode. Yes, I got served.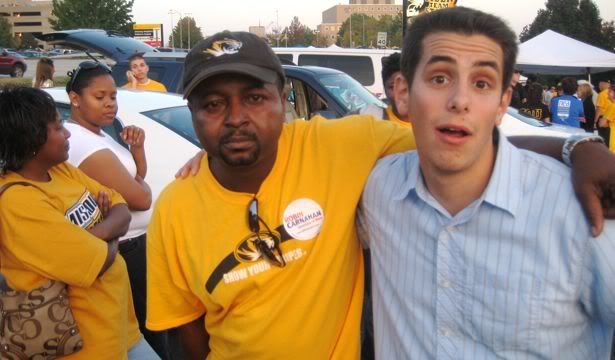 Speaking of which, here's Dave with a guy who served us "Kool Aid" after we finished with the shoot for the day. The quotes are because his brand of the beverage tasted like a mixture of turpentine, varnish, rubbing alcohol, and the slightest droplet of Coke. Dave was clearly down for the count here.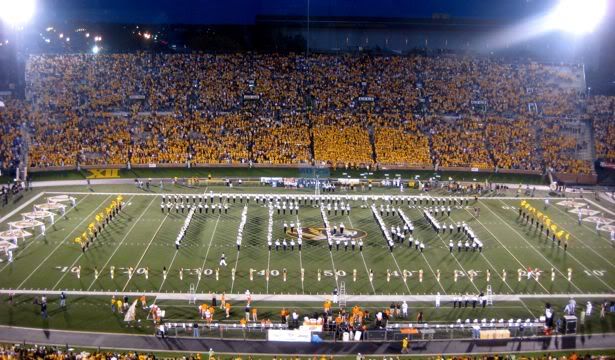 The last shot.The crowd was not only loud, but also in a weird type of frenzy, sort of like an expanded high school game. It made for a particularly dramatic experience. We don't need to get in to what happened for three hours immediately after the pre-game band show.
(My current record for home team wins and losses is 4-3, which somewhat disputes the SI curse, although two of those three losses were ranked home teams losing to lower-ranked schools. Sorry.)