05:49 PM ET 10.15 |
As an Orioles fan, it is only natural to constantly look forward to "next year". Next year for the Baltimore Orioles should be a very interesting one, hopefully for the good. Here are your top 5 things to look forward to in the 2009 season.
5) Emergence of another MVP Candidate
Last year, the Orioles saw a player put up MVP type numbers while playing in the orange and black. Aubrey Huff put up a total of 32 homeruns, drove in 108 runs, and batted for an average of .304.
Huff's Stats
Rank in AL
Leader
Homeruns - 32
8th
Miguel Cabrera - 37
RBIs - 108
6th
Josh Hamilton - 130
AVG - .304
12th
Joe Mauer - .328
SLG - .522
5th
Alex Rodriguez - .573
Hits - 182
10th
Ichiro/Dustin Pedroia - 213
2Bs - 48
3rd
Dustin Pedroia - 54
OPS - .912
5th
Milton Bradley - .999
Aubrey Huff put his name into the MVP hat with a dominating 2008 season. In just about every statistical category imaginable, Huff was near the top 10. Huff's season was a blanket that covered up the Orioles' forgettable past of Miguel Tejada. Huff became the first Oriole to hit 30 homeruns in a single-season since Miguel Tejada did so in 2004. He also became the first player since Miguel Tejada in 2006 to bat over .300.
In 2007, we were entertained by watching Erik Bedard pitch himself amazing games. Whether it was striking out 15 on July 7th in Texas or just getting a win, everyone tuned in to watch him pitch. Now, Aubrey Huff has us under that same spell for the 2009 season. We saw him perform to the best of his abilities in 2008, and we can only expect it again in 2009. If his numbers do improve, his name should be considered more heavily for MVP since it appears that he will be playing 1B if the Orioles do not sign Mark Teixeira.

My Predicted 2009 Stats for Huff:
35 Homeruns, 113 RBIs, .310 AVG, 52 Doubles
4) "Baltimore"
Ever since 1973, the Orioles did something that just about any MLB club did not do. They put the word "Orioles" on the front of their road jerseys instead of the tradition city name. However, the Baltimore Orioles took steps to bring back the word "Baltimore" to the front of their jersey's on road games in 2009. Baltimore fans have been asking for this for the longest time, and it is finally done. It instills the value back into the players. As they suit up before the games in the visiting locker rooms, they see "Baltimore" just before they put their jersey. It shows them that they in fact don't play for the Orioles, nor do they play for the paychecks or the fame. They play for the city of Baltimore. They play for the people of Baltimore who support them no matter what and they play for the good name of Baltimore. Some of the players in recent years needed to realize that. Miguel Tejada constantly asked for a change of scenery. He wanted to leave the city. Aubrey Huff made a more obvious statement. He called Baltimore "a horseshit of a town." Maybe these players would have had pride in their cities if they saw the name Baltimore on their jerseys for 81 games.

Old New
3) Late Innings
The Baltimore Orioles' only All-Star did not come from a potent offense. Yet, it came from the pitching staff that had an ERA of 5.13. The All Star was George Sherrill who finished the year with a 4.73 ERA pitching in the closer spot for the first time in his career. To find the reason why Sherrill was the closer, you have to look no further than the injury list. Both Chris Ray and Danys Baez were out for the entire year with various arm injuries.
Now, the best pitcher the Orioles had was not George Sherrill; but it was the man who acted as the bridge to Sherrill. Jim Johnson had a great year with a 2.23 ERA and a 1.19 WHIP in 54 games. The talk for Jim Johnson in the offseason is that they may turn him into a starter, something that the Orioles desperately need. However, he may also stay in the late inning role.
If he was to stay in the late inning role, the Orioles have an interesting situation. Danys Baez, Chris Ray, George Sherrill, and Jim Johnson all are late inning pitchers that the Orioles will be caring next year. The Orioles would have a pitcher for the 6th, 7th, 8th, and 9th inning if it is needed. Also, another option would be to go the entire year with 2 closers, something that is close to unheard of in today's MLB. However, George Sherrill is against this idea and he says that "it would mess with the mental abilities of both pitchers." That is completely understandable.
Whatever the Orioles decide to do, they will defiantly be strong in the late innings.
2) Tex-Nological Fix
The term "technological fix" refers to fixing a problem by using technology. In today's society, we are all guilty to doing this sometime or another. The Baltimore Orioles have a problem of their own. They cannot draw fans, wins, nor do they have a superstar player. The fix to this problem is simply Tex. The 28 year old switch hitting first basemen from Severna Park, Maryland is taking over the game of baseball by storm. In 6 MLB seasons, Tex has a total of 203 homeruns to go along with a .290 average. However, the only part of Tex's game is not offense. He is a 2x Gold Glove winner at first base. Teixeira can bring that superstar-type talent to the Orioles and be around for a long time. He can also provide the protection needed in the line-up for Nick Markakis, Brian Roberts, Aubrey Huff, and Melvin Mora.
The Baltimore faithful have gone as far as to sign an online petition to get Tex into an Orioles uniform. Only time can tell if that will prove true. But my guess is that Tex will be on first base in Camden Yards on April 6th. Whether he is a visiting player playing in a Yankee uniform or if he is a hometown boy is still left to the imagination.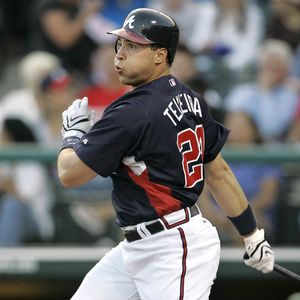 1) Wieters!!!
When Kyle Boller stepped onto the campus of Cal way back when, he was praised. Heck, they call him Jesus in Cleats. The Baltimore Ravens drafted him in hopes of him being their savior. Now, Jesus in Cleats Part Two may just take its toll. This time, Jesus will be stepping foot on the diamond and not on the football field. Hopefully, this one ends better than part 1.
Who is this Jesus in Cleats? It is Matt Wieters, the twenty-two year old switch hitting catcher is quickly rolling through the minors. In AAA and AA last year, Matt hit .355 with 27 HRs and 91 RBIs that resulted in a .600 SLG% and Minor League Player of the Year Award. His comparisons include Joe Mauer and Jason Varitek. However, unlike both these players, Matt has more power.
It was just about a guarantee on paper to see Matt Wieters starting behind the plate on April 6th in an Orioles uniform. But, the business side of baseball may get in the way. The Orioles barely signed the superstar catcher before the deadline because of his tough agent. The Orioles have never been able to deal with agent Scott Boras. That worries the Orioles for the future. If they do decide to play Matt next year, he would become a free agent a year before than if he would play next year in the minors. If the Orioles had a hard time coming to an agreement when Wieters was just drafted, then they will certainly have a hard time signing him after his contract is up. The last thing the Orioles need is another Mike Mussina incident.