03:44 AM ET 10.21 |

***Subscribe to The Solid Verbal (iTunes) college football podcast (I co-host with SI on Campus's Ty Hildenbrandt)***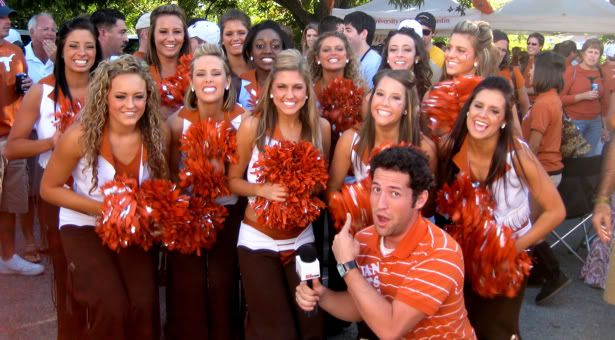 You didn't think I wasn't going to go to Austin, did you?

First of all, downtown Austin and the area near campus are ridiculous. More bars, clubs, and Tex-Mex and BBQ restaurants than you know what to do with. At night, sixth street is essentially shut down so people can roam from bar to bar without having to worry about following any sort of pedestrian regulations. It's fantastic.

That being said, you'd expect the tailgating to be great with Austin's social, party atmosphere, but the way the area around the stadium is laid out, you get pockets of tailgating, with some of the pockets being great, loud, smoky (hickory, etc.) scenes, and others lame corporate commercial BBQs. Everyone's gotta make a living, but it cheapens the fun that is pre-game college football by having a Toyota tent or crappy beer logos on every other piece of equipment. I don't think I'm exaggerating when I say that half of the lots along MLK were commercials.

Despite that, though, Texas fans were pretty fantastic - loud, knowledgable, good-looking (female-wise), and did a good job of toeing the line between excited and obsessed.
The stadium is clean, somewhat loud for its size, and has the biggest scoreboard I've ever seen. Beyond the blatant tailgating commercials, nothing disappoints about UT.
Still images and still captions: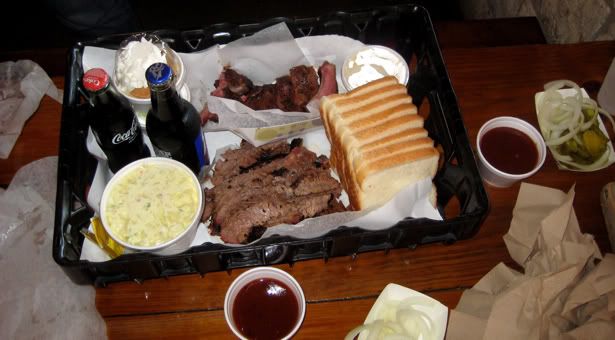 This isn't from the tailgate, but this is how our eating day started. Eating pounds of BBQ before a giant tailgate in Texas? Probably not the smartest thing to do, but nobody accused this operation of being particularly forward-thinking. No regrets, the creamed corn was ridiculous.
The view on MLK. Texas Memorial Stadium is right off I-35 and is amongst hospitals and other buildings. Very different than the usual smaller, rural environments we're used to. The lot you see was easily the biggest commercial tailgating offender.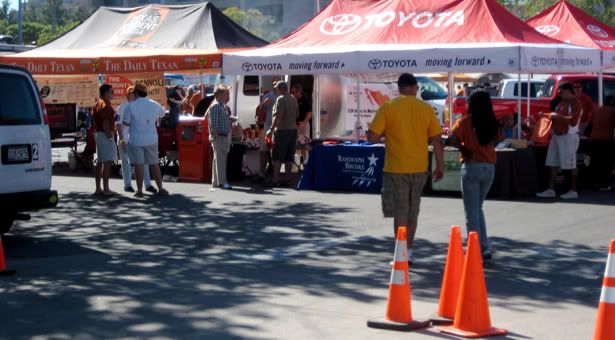 You know what's really fun to do at a college football tailgate? Speaking to marketing reps and perusing pamphlets!! Huzzah!!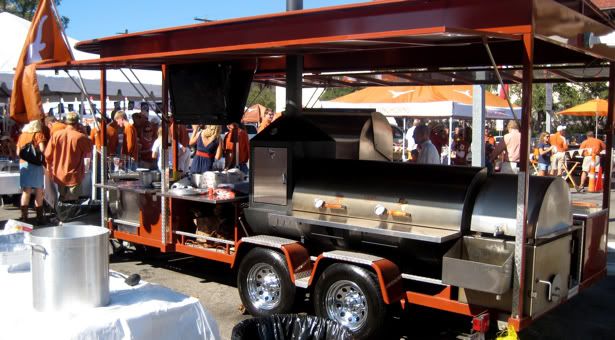 This thing appeared to be all business, but who knows, it may just be some sort of weird Toyota prop.
It seems like everywhere we go, people are painting and customizing old school buses. It's fairly awesome to have on hand at a tailgate, but I can't help but wonder what's done with these things on the other 359 days/yr. Does it just sit there? Do you convert it to a generic party bus? Who parties enough to warrant a personal party bus? I must know.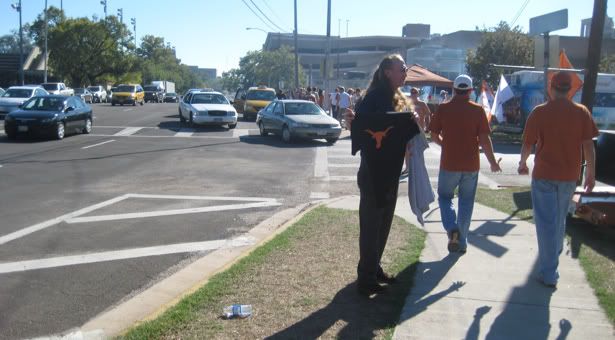 Would you buy a bootleg shirt from this guy? Didn't think so.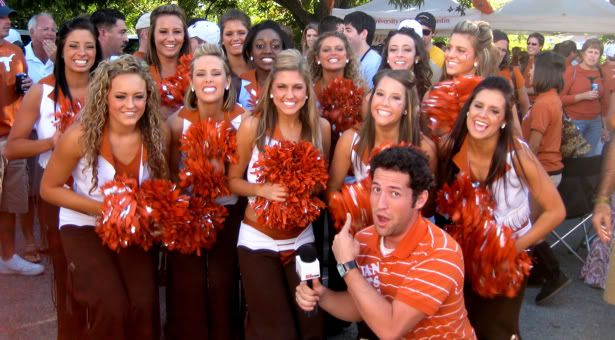 Frankly, I wouldn't buy a shirt from this guy either. Ok, no more third person. This is the pom squad, who are all exceptionally-better smilers than I am.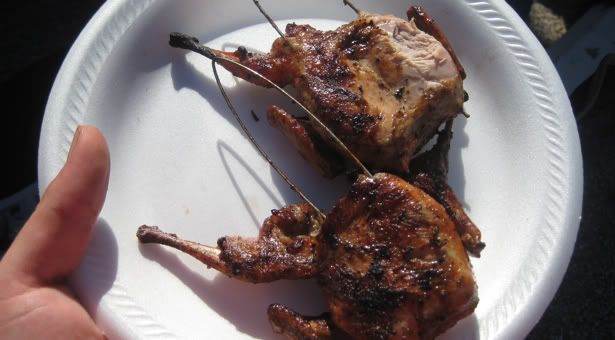 Grilled quail. You can see that I took a small bite, mainly because I was operating at 109% capacity after that BBQ-in-a-Crate meal. No regrets.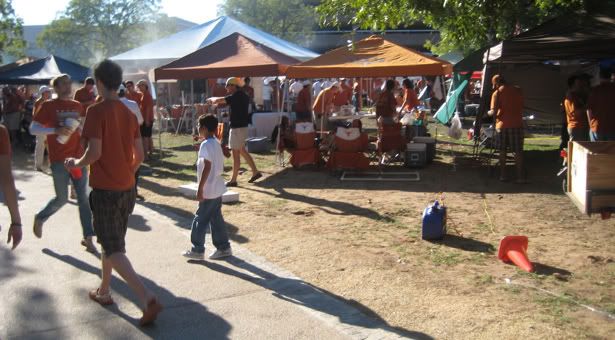 One of the better lots. At this point, I began to wonder why more tailgates don't go up in flames. The formula of fire + gas generators + alcohol seems to be the perfect storm for a seared eyebrows story, but I'm yet to see or hear anything of the sort. It'll happen.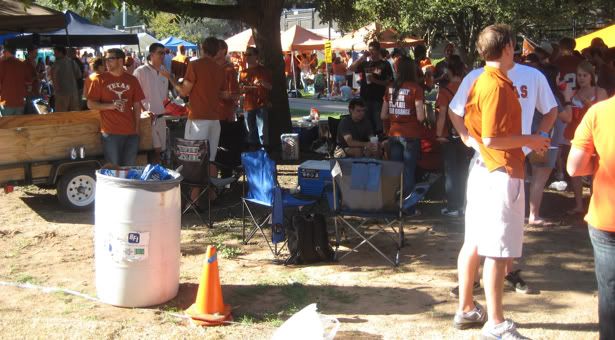 I'm sure this guy is thrilled that his bald spot is now featured in front of literally hundreds of people. Let's get it to four figures, people!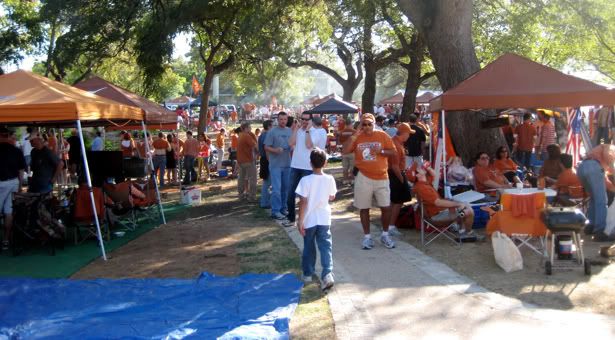 I know it looks like it may be one, but the blue tarp is in no way a slip 'n slide, although if somebody were to ever combine tailgating and recreational aqua sliding, I don't think my life would ever be the same.
Two guys playing beer shoes because, well, why not?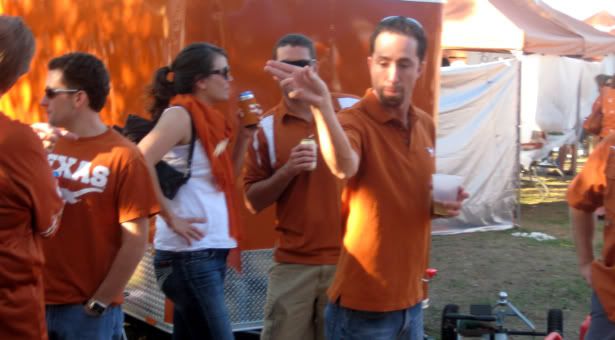 Not his most masculine moment.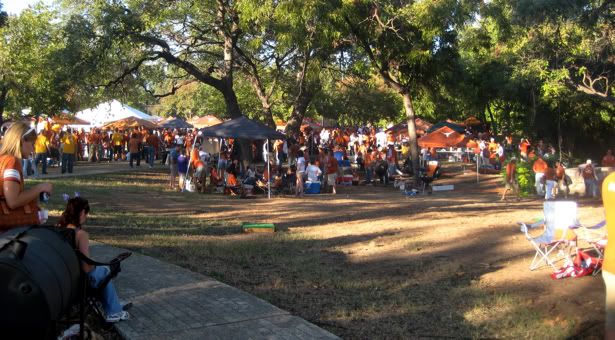 One of the good pockets. Decent shade, a lot of grilled meat, and one beer-shoer with questionable form.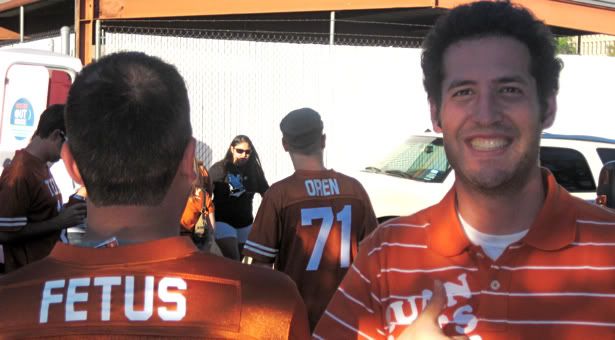 I'm not sure what to think here. Custom jerseys are almost never cool, although he probably has a fairly decent story to why he's called fetus. I'm just spitballing here, but maybe this isn't the bravest dude on the planet.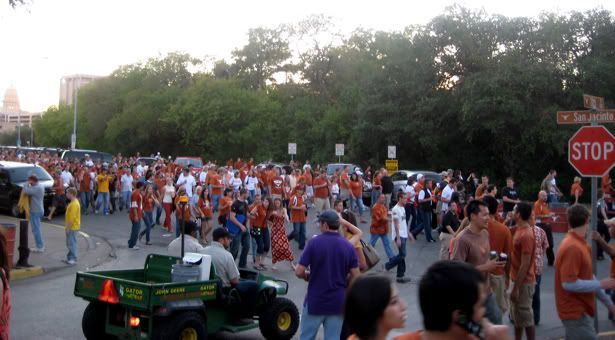 The walk to the stadium. I know this is some sort of operations cart, but on a tangent, I must say that the Houston Airport has 10x more courtesy carts than any other airport I've been to on my travels. Between the old people and the obese, the walkways are being completely monopolized by the unabled.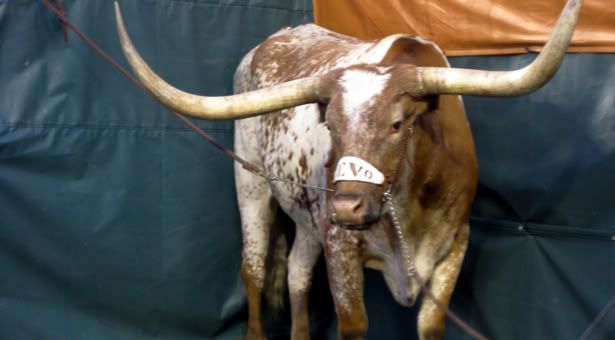 I was not at all comfortable with how safe I felt around Bevo. He was strapped into the bleacher railing, which if provoked enough, he could clearly demolish. I took one picture with flash before deciding it probably isn't the best idea to flash a bright light eight feet from a gigantic bull. I'm very bright.
Inside the stadium, obviously. Do you think the video screen is big enough? I'm not sure that the fans in Corpus Christi can fully see each and every replay on this thing. My eyes are terrible and I was catching hangnails and zits from across the field. Awesome.
Despite pushing my body to every conceivable eating limit, I had a memorable time in Austin. I have nothing bad to say about the stadium experience or the town itself. If you go, make sure to stay near campus or downtown to fully take advantage of everything without having to deal with the screwy Texas highway and roads system. Austin is basically the best college town that happened to evolve into a cool city. Basically, if your team ever ends up here, GO.
Oh, and, um, sorry Mizzou. We'll go our separate ways now.
Next Week - Brutus Country.
--

Email:
Links:
Tour Guy Road Notes (permanent link)
The SI Tour Guy (archive of all videos, including from 2006 and the Pac-10)
SI College Football channel on Veoh
The Solid Verbal college football podcast (w/Ty Hildenbrandt)
Windows Media Player 9 (for Mac)
Flip4Mac (to watch SI Video on a Mac)