03:46 AM ET 10.28 |

***Subscribe to The Solid Verbal (iTunes) college football podcast (I co-host with SI on Campus's Ty Hildenbrandt)***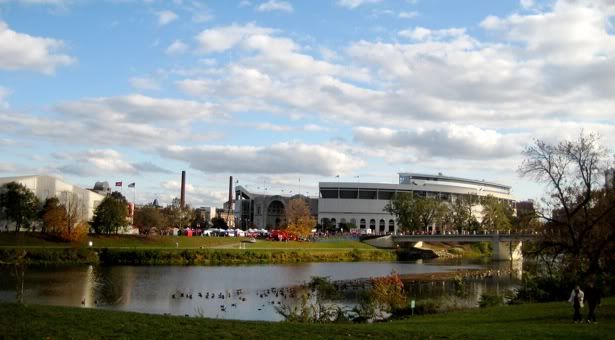 It's been a long time coming, but I finally made it to Columbus for this week's episode, and I must say, good times all around. Not that I wasn't expecting a great pre-game scene, I had just heard stories about Buckeye fans being particularly out of control. I was expecting the worse, too, considering the 8 PM kickoff, allowing OSU fans all day to drink themselves stupid before the big game. What I found were pockets of over the top groups, but mostly just loud fans living it up without giving anyone too hard of a time.
Since 105,000+ fans need to fit into Ohio Stadium, you can imagine how far-reaching the tailgating was. I made my way through the lots near the new basketball stadium and Ohio Stadium itself, but saw people spread all around the campus area in every direction - pretty neat. With these bigger schools and stadiums, there's no way I can hit every lot and talk to every demographic of fans, especially since I waste so much time hanging out, talking, eating, and not drinking (that'd be unprofessional).
That said, though, the Buckeye female population was severely lacking. You may notice the episode is overwhelming male, and if you've seen an episode before this one, you know that this is definitely not my goal. I'll just chalk it up to me completely blowing by or not knowing about the secret pre-game hangout of every good-looking college age female in Columbus, but something seemed odd. On the other hand, I suppose such a population just doesn't exist, but I'd like to believe I'm just wrong.
(By the way, please don't hesitate to send photographic proof that I'm wrong to sitourguy@gmail.com)
Anyway, I ate extremely well, had a great time with a ton of long-time fans, and thought Ohio Stadium was a fantastic place to see a somewhat terrible, overly-conservative game. Whenever you go over six digits as a crowd, it's hard not to impress.
Fotos:
Right away, we got to see a pig weighing over 100 lbs on a giant grill. I'm certainly no expert, but we'll go ahead and call this one finished. And delicious.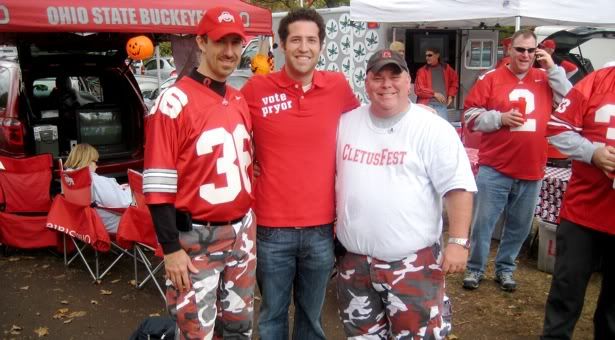 I can't remember seeing any camo hammer pants before this season, but this is school #3 with fans rocking the CHPs. CHP acceptance is just another reason why college football can't be touched by any other sport. Sorry.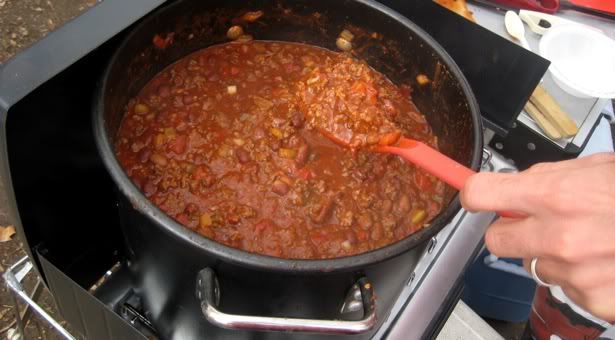 Chili (corn bread off camera) from the CletusFest tailgate. I didn't eat anything better all day. I'm not sure anything is better than a great chili on a crisp fall day before a college football game. Ok fine, maybe great chili with Marissa Miller seems slightly superior.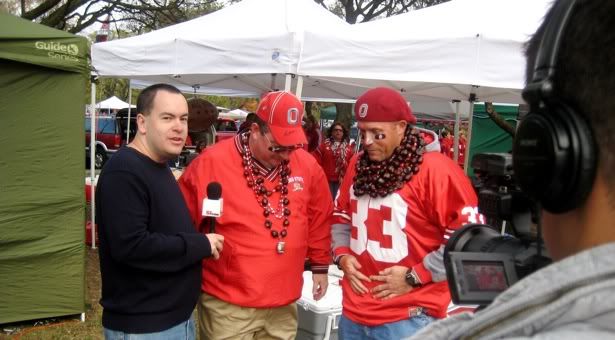 There he is. Stewart Mandel making his Tour Guy debut. I gotta say, he pretty much knocked it out. Two takes for the intro and he did well with the fans and the eating, although it's hard to screw up enjoying a good brisket sandwich.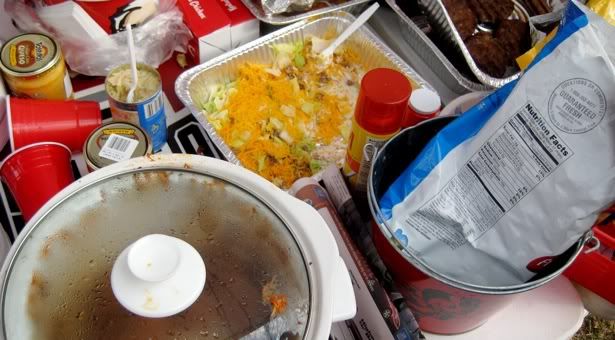 Random food. Camera Guy Dave started aimlessly swiping chips through the taco salad before realizing it wasn't dip. That pretty much sums up our whole operation - we just roam around disturbing perfectly good tailgates without any general regard.
Somebody else also cooked a huge pig. I'm on the fence over whether or not this looks appetizing, but I'm leaning in the direction a definite YES.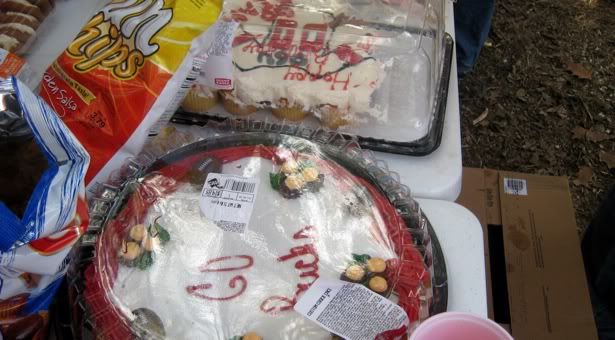 Reason #178 why I'll probably need to run a few marathons in December to get back to my fighting weight: Cupcake Cake. Yes, somebody iced over a series of cupcakes, so you just break yours off and enjoy. And don't worry, that I did.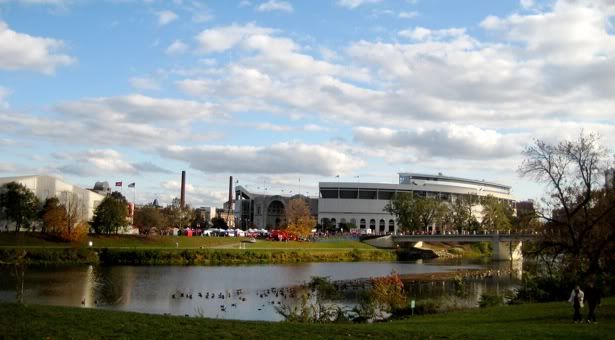 A pretty good view of a pretty great stadium. I've got to say, if you want to hit a top 10 list of college football stadiums, this is undoubtedly there.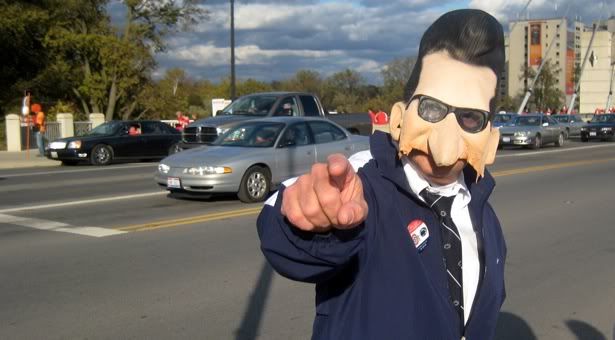 The best novelty mask in college sports, no question.
If you're dead-set on buying buckeye beads before the game, I still say avoid this guy at all costs.
To nobody's surprise, Ohio State fans either played cornhole or that ropey-ladder game. At this point, if I see a different yard game in November, I'll be pretty shocked.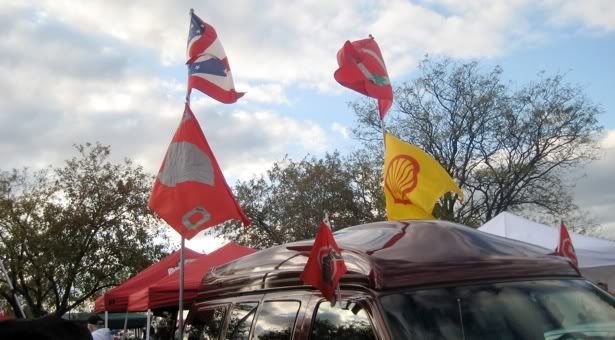 I get showing Buckeye pride. I get showing state pride. But pride in your local fuel provider? Dubious.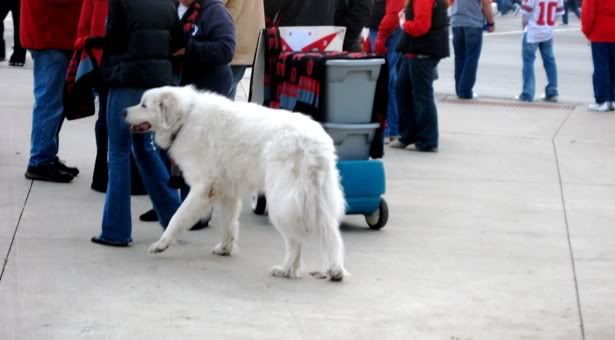 Dave was convinced this animal was slightly closer to polar bear than it was to canine. He then started making Neverending Story jokes and screaming "Atreyu!! Atreyu!!" Dave is...odd.
Some sort of Columbus radio upstart "ESPN". Seemed OK, but they've still got a ways to go before catching up to the high-tech Tour Guy operation. Nice try, fellas.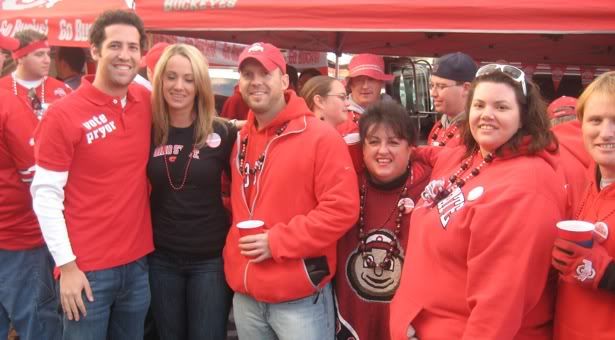 Fun fact: the girl to the far left with the white sunglasses started interrupting my interviewing by yelling semi-coherently about how the Buckeyes would've beaten USC with Beanie Wells and how they were clearly the best team in the country. Another fun fact: only one team in the Top 25 has failed to score a touchdown in their two biggest games this season. I'll let you figure out who it is.
Damn, I kind of hold a grudge...eh, oh well. Go Bucks!!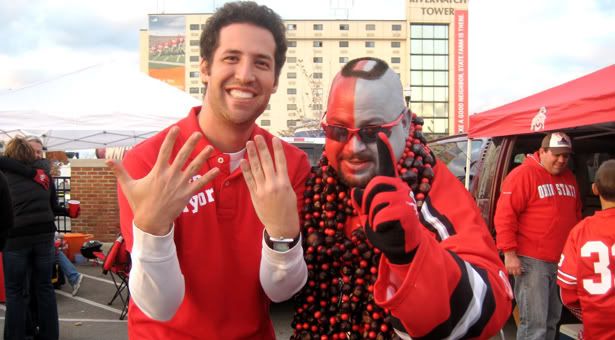 This dude was awesome. I always like picturing guys who do this to themselves at work a couple days later. Does he keep the "O" on his head? Does the paint completely wash off? We may never know.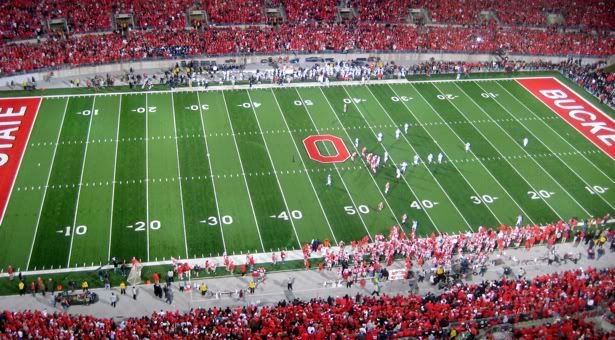 Here she is - The Horseshoe. It's loud, crawling with red (stadium record), and amazing on a cold fall night. Also, it's built correctly (steeply) to keep a lot of the sound in, making it an intimidating giant stadium, unlike The Big House or Rose Bowl, which instill all the fear that, well, Michigan or UCLA does.
Anyway, the experience at Ohio State is exactly what you'd probably imagine. Everybody cares about the Buckeyes to a probably-unhealthy degree, but it makes Saturdays as good as any place in country. The fans are passionate, loud, knowledgable, and have a genuine hatred for the state up north, which is always nice to see. Sure, the "talent" may be slightly lacking, but hey, the chili's good.
The SI and/or Tour Guy Curse is alive and well. Sorry, Bucks.
Next Week - Yell Country.
--

Email:
Links:
Tour Guy Road Notes (permanent link)
The SI Tour Guy (archive of all videos, including from 2006 and the Pac-10)
SI College Football channel on Veoh
The Solid Verbal college football podcast (w/Ty Hildenbrandt)
Windows Media Player 9 (for Mac)
Flip4Mac (to watch SI Video on a Mac)