09:02 AM ET 10.28 |
Thug remains on top but only by points due to the loss by the Jags. Other than that the standings havn't changed much.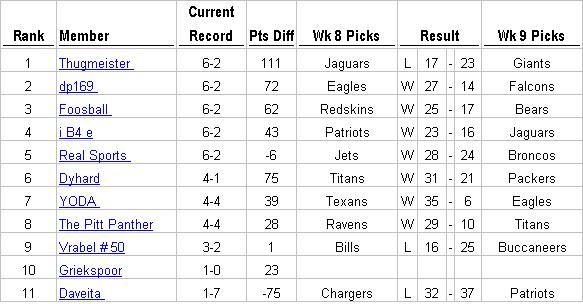 Teams with a Week 8 Bye are the 49er's, Chargers, Panthers and Saints.
Speaking of Byes... I have a bit of a conundrum...
On my Fantasy Football team my Starting QB is Drew Brees who is on a bye this week. My back-ups are Russel on the Raiders who play the Falcons this week and Joe Falcco on the Ravens who play the Browns this week. I'm 5-3 in that pool and doing pretty good (Top 5).
Who do I play? I'm leaning toward Flacco who had a good game last week vs the Raiders. What do you guys think? Let me know in comments.
Enter your picks below before kickoff on Sunday at 1pm EST.
Remember you can't pick the same team in back to back weeks.