10:53 PM ET 06.30 |
The last day of the third month of play marks the end of the first half of the 2007 baseball season. In case you've been afraid to look it up, the Astros are 34-47. Yes, folks, that's 13 whole games under .500, good enough for a meager 5th place in the NL Central--where one team is above .500. For you mathematically challenged lot, that means this team would have to have the EXACT OPPOSITE record in the second half to finish at .500 on the season. Thus, to have even a decent chance at placing first, or even topping the Wild Card race, they'd have to win almost 70% of their remaining games to put them safely above the .500 mark. That's just not feasible, folks.

If you're still hooked on the, "Well, look what they did in 2005!" mantra, let's look at what they did in 2005, shall we? I'm sure we all remember just how April and May 2005, went--going 19-31 after both losing months. By the last week in May, the team had already started to turn things around, leading to a 16-9 June. After that, they accumulated one more losing month, August, in which they went 13-14. As of the 2007 half-way marker, the Astros have had three consecutive losing months, not winning more than 12 games in any of them. And the near future is looking mighty bleak.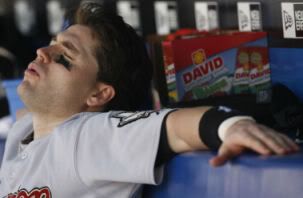 So, what was the 2005 Astros' second-half record? 45-30. Which means, they were one game over .500 by now (44-43). Now, granted, the NL Central is not exactly the hottest division in baseball this year, the Brewers and Cubs are threatening to run away with the division. If the Astros pulled off a miracle twice as great as the 2005 "miracle", it would be truly mind-blowing. Unfortunately, this team has only been a debacle this season. And you can't make miracles out of debacles. So, I guess what I'm trying to say is, look forward to a losing season for the first time in 8 years.
If you're still not convinced the Astros are on pace to miss another playoff berth, feel free to check out the "miracle season" and 2007 season stats on baseball-reference.com: 2005 vs. 2007
Agree? Beg to differ?...Comment.