12:28 AM ET 11.04 |

***Subscribe to The Solid Verbal (iTunes) college football podcast (I co-host with SI on Campus's Ty Hildenbrandt)***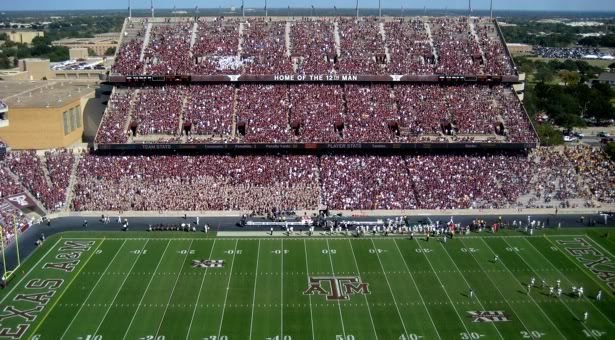 When making the schedule before the year started, I made a list of the schools that I personally wanted to visit, the schools that I felt I should visit, and any other schools that seemed convenient if nobody else was home. Texas A&M unquestionably fit the first two categories. Of course nobody could really imagine a season this disappointing, but the prospect of hitting College Station was still pretty exciting last week.
For my purposes, things were sort of stacked against a tailgate shoot, mainly because kickoff was relatively early (1:00) and college football excitement has understandably taken a small hit because of Mike Sherman's Aggies growing pains. This is what I saw, though: thoroughly optimistic fans partying, grilling, eating, and enjoying a perfect Texas November morning. It really was amazing to hear so many fans (all of them I spoke to) speak rationally about Mike Sherman and the time it will take to get the program going in a positive direction. Also, I enjoyed the tacos they gave me. Mm, tacos.
Anyway, there are obviously a huge variety of different traditions in college football that span the country. After spending Saturday at Texas A&M, I can say without hesitation that the Aggies tradition of coordinated cheers, among both the corps of cadets and civilian fans is easily the most organized and impressive I've seen out on the road. The whole stadium sways during the cheers between quarters while the yell leaders on the field keep the crowd's attention and constantly get them into the next cheer. Amazing.
I managed to click the button on my camera and imprint images onto my memory card: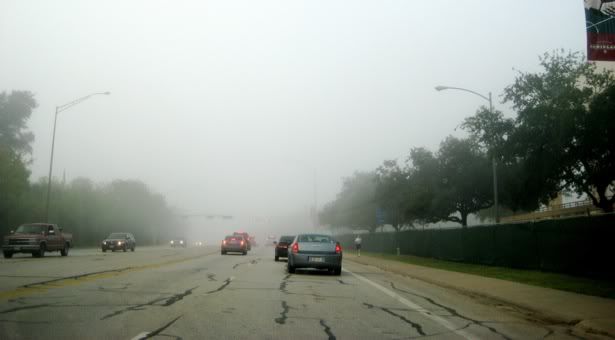 As glorious as the day turned out to be, this was what 8:22 AM looked like in College Station. It was bad enough that when we parked, we asked a security guard where Kyle Field was, when, in fact, it was roughly 82 yards away from the garage. Woops.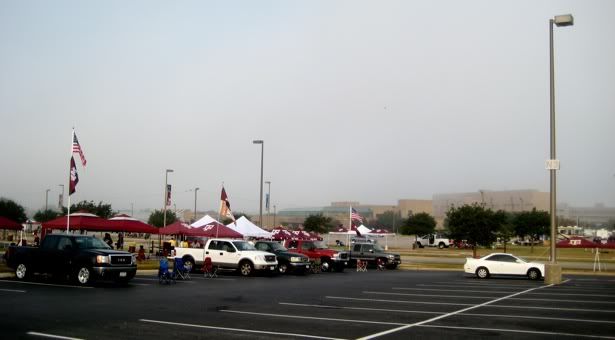 Nothing really doing at 9 AM. You will notice the more time you spend in Texas that there are generally more trucks than there are non-trucks, mostly so that they can transport...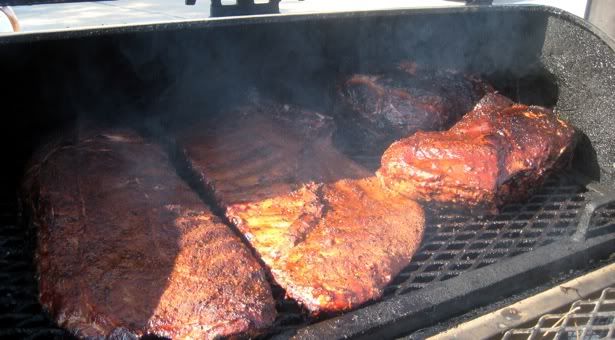 ...gigantic hunks of meat. Seriously, I've only been in Texas two weekends this year and I'm already trying to see if I can get Nutrisystem to sponsor the segment. I always end up leaving the state convinced I need to eat nothing but carrots for the next three days just to even out.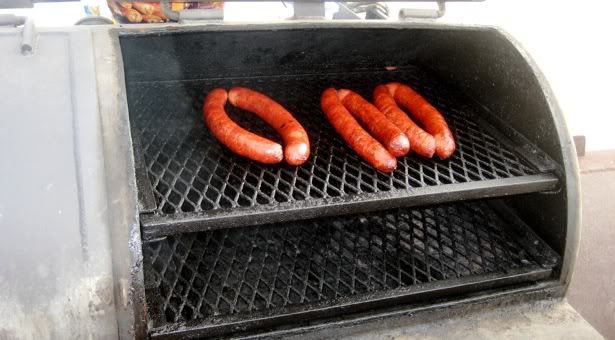 Kevin had one of these wrapped in a tortilla and is still talking about how good it was. In the short term, I feel that I made the correct decision in bypassing a giant sausage before walking around a tailgate filming for five hours. Trust me on this one.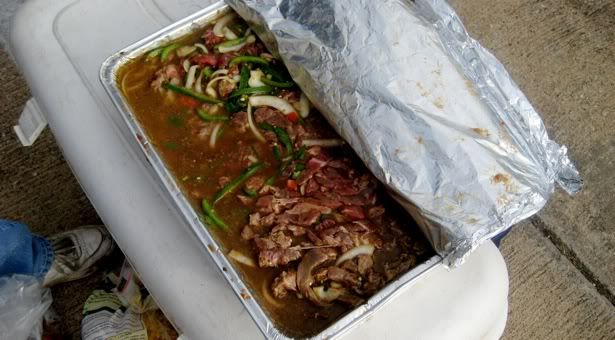 I was briefly tempted to eat these steak fajitas raw. There's no way these didn't turn out delicious. Not possible.
Bus of the Day. Someday, I'll start a new trend in the college football painted vehicle arms race. I don't know yet if it'll be tractors, steamrollers, or ice cream trucks, but whatever it is, I'll blow all you buses out of the water.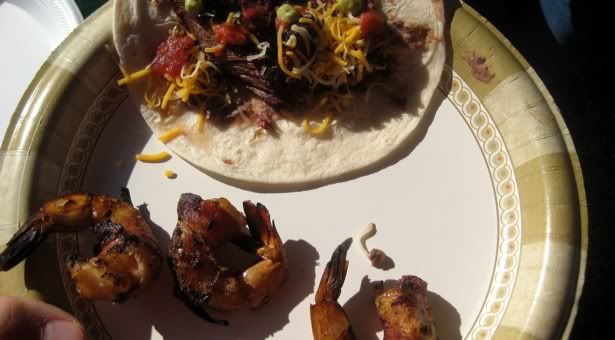 Sirloin breakfast tacos and bacon-wrapped jalapeño shrimp. Life is good.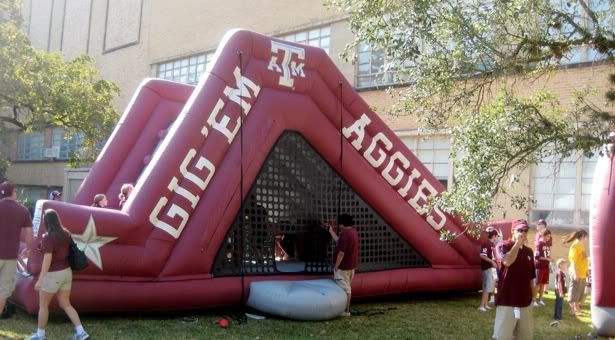 The first bounce house of 2008. I give my full endorsement, altthough I'm surely too heavy to get in. Despite being built like Miley Cyrus, Camera Guy Kevin also opted not to have a romp in the house.
*Side note - "Gig 'Em is my new favorite college catchphrase and I'm going to try to bring into the mainsteam. You'll be saying it in no time. You're welcome.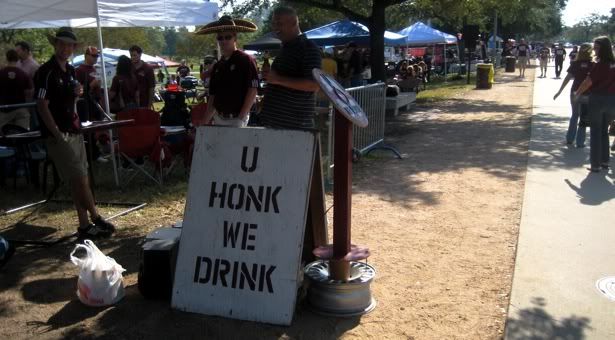 In case you're curious, they made good on their promise. Over and over again. Gig 'em!!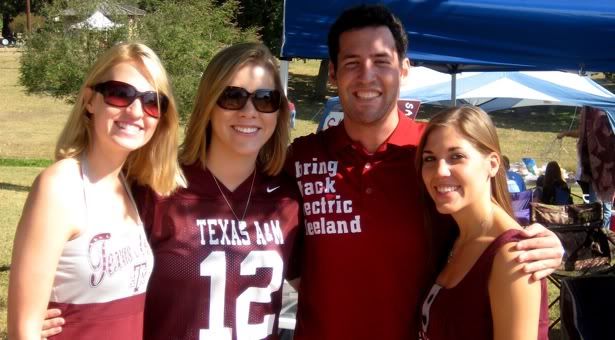 Always good to get some ladies involved. I'm pretty sure my right arm didn't make it around two girls, but if it did, check out that wingspan! Jay Bilas needs to put me in his '09 mock draft immediately, especially since he doesn't even know how huge my upside is.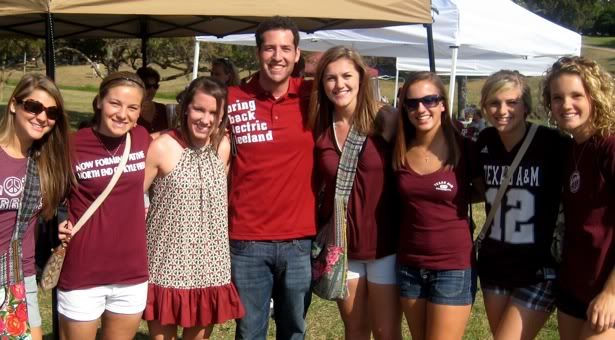 Aggie girls.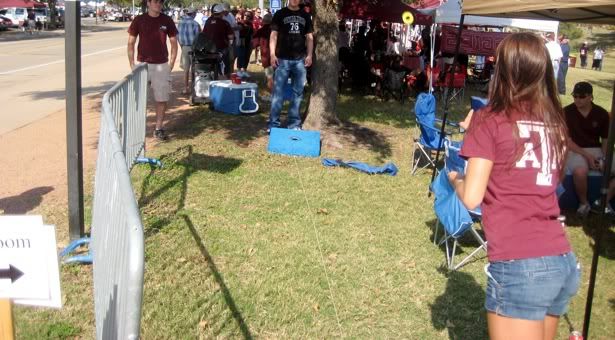 Apparently she's throwing some sort of disc at a board. Sorry, my mind must be elsewhere.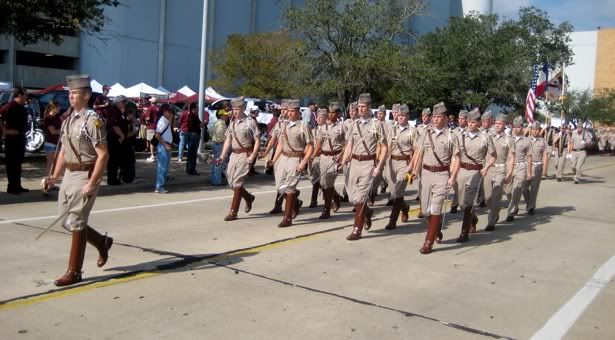 About an hour before kickoff, the Texas A&M Corps of Cadets marched next to Kyle Field. It was pretty cool until I realized that there were roughly 143,000 cadets marching. Needless to say, I'm probably not cadet material.
Great tailgate name. I can only assume apple juice is in the blue can on the right.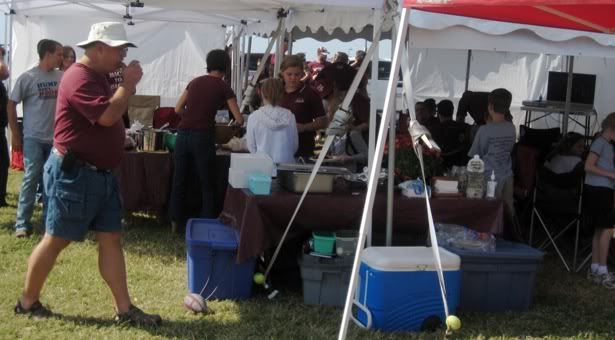 Aaaand we have Aggie Jorts!! Always nice to get an unexpected hello from an old friend. Miss ya jorts!!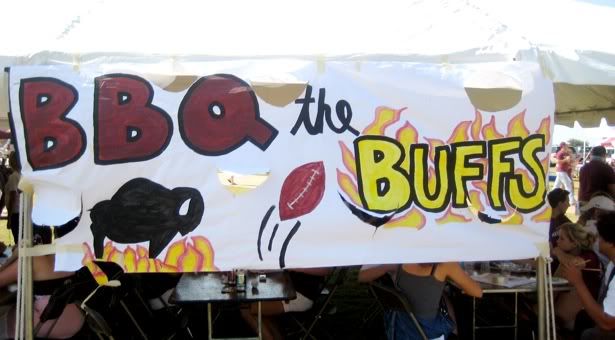 I understand the intention here, but buffalo burgers are actually quite good, and I believe even better for you than regular burgers, so who's getting the last laugh now? Oh wait, still the Aggies.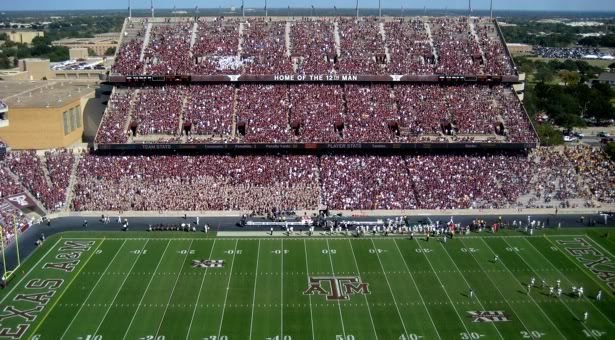 Here she is: Kyle Field. This whole side of the stadium is reserved for standing students yelling throughout the entire game. It's not the loudest stadium around, but the way everything is constantly coordinated, especially with the band and cadets right on top of you, it's still very intimidating. It's just too bad we couldn't get there for a big game.
When all was said and done, I was pretty happy with my time in College Station. We got a great day of hanging out with great fans before a well-played game, and hey, if nothing else, it appears that the Tour Guy Curse may be temporarily lifted.
Gig 'em!!
--
Next week: El Jueves, a las ocho.
Email:
Links:
Tour Guy Road Notes (permanent link)
The SI Tour Guy (archive of all videos, including from 2006 and the Pac-10)
SI College Football channel on Veoh
The Solid Verbal college football podcast (w/Ty Hildenbrandt)
Windows Media Player 9 (for Mac)
Flip4Mac (to watch SI Video on a Mac)