02:45 AM ET 11.11 |

***Subscribe to The Solid Verbal (iTunes) college football podcast (I co-host with SI on Campus's Ty Hildenbrandt)***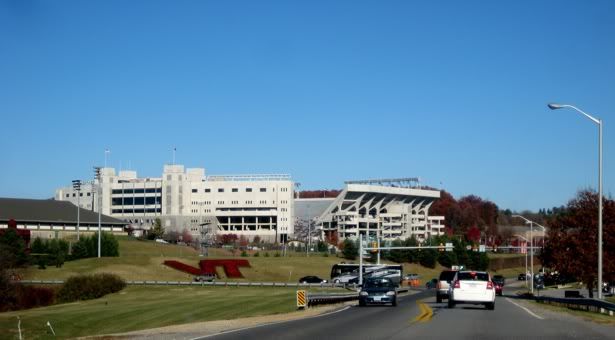 It was another week of going to a game that meant essentially nothing, but I've been pretty excited about going to Virginia Tech for awhile. I've gotten a lot of emails from students and alumni saying my tour wouldn't be complete without a visit to Blacksburg and Lane Stadium, so I was glad I finally made it out into the middle of nowhere in southwestern Virginia. I went into game day knowing things would be a little off, considering it was a Thursday night kickoff (8 PM EST). There are a few lots that didn't really fill up until around 5:30, but we encountered a lot of early tailgaters setting up and hanging out around 3:00.
Other than the giant smoked pig, there wasn't anything too unusual or specifically "Virginia Tech." You had your standard fare of burgers, brats, pulled pork, various cocktails, and, of course, desserts.
The biggest thing Hokie fans can lay claim to is Lane Stadium. It's a thoroughly vertical, imposing stadium that, to me, felt as loud as anywhere I've been (maybe, MAYBE short of LSU and Florida). It's right up there, though, with Oregon, Penn State, and Ohio State. From the opening riff of "Enter Sandman" by Metallica to every important (and meaningless) play, the crowd is on its feet and relentless. I'm completely convinced the Hokie crowd is worth more than your standard 3-point homefield advantage in an even matchup. The views are good, the fans love having a good time on game day, and you're usually going to get a Top-15 caliber team. Other than being fairly isolated, there's nothing not to like about Hokieville.
This is what showed up on my digital camera: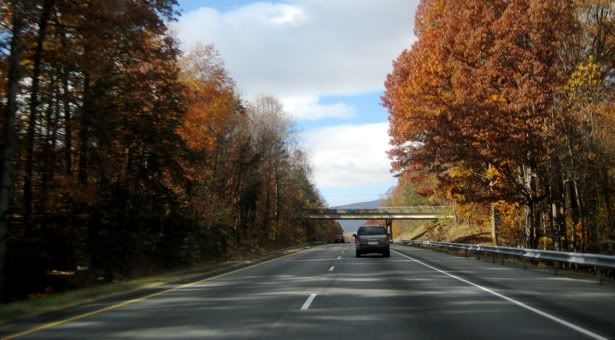 In case there's any confusion or curiousity, it doesn't look like this in LA right now.
We got a pretty ideal day. The cows were out, not having seen what they do to pigs around Lane Stadium. I'm yet to see a full cow being smoked, but if it'll happen anywhere, I'll put my money on Blacksburg.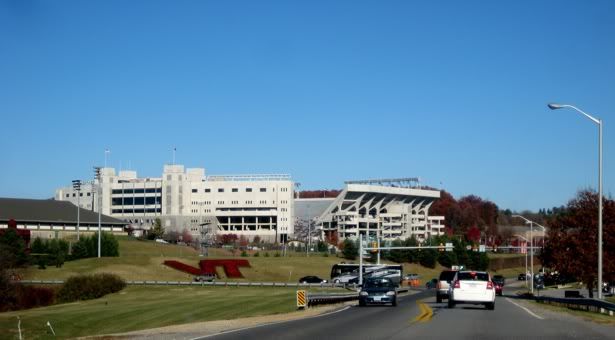 This is what you see nine seconds after getting off the freeway. The school founders almost had to put Virginia Tech in Blacksburg with that naturally-occurring VT growth in that hillside. Crazy.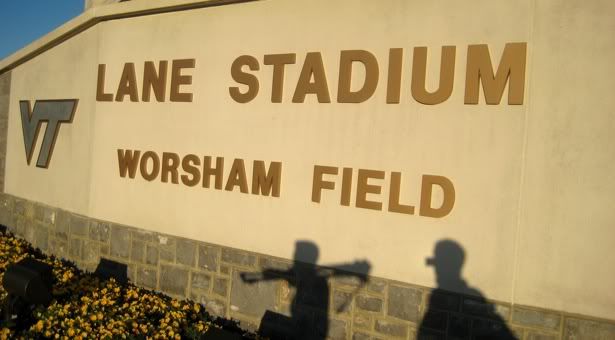 The shadow makes Camera Guy Dave look fairly powerful and makes me look like I'm wearing ridiculous virtual reality goggles. Which, of course, I was.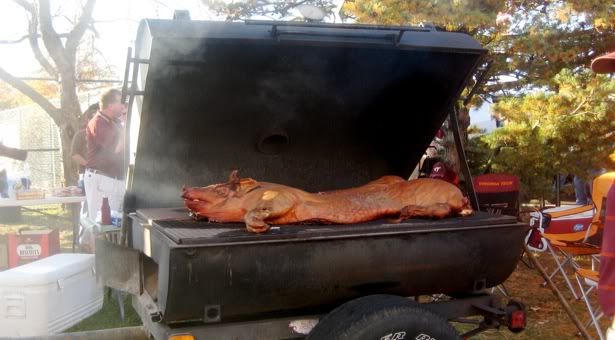 At Penn State last year, I had some pork fresh off the carcass, and honestly, it was amazing. Unfortunately, we didn't have time to stick around to try this bad boy. Good times and Ralph Friedgen jokes all around.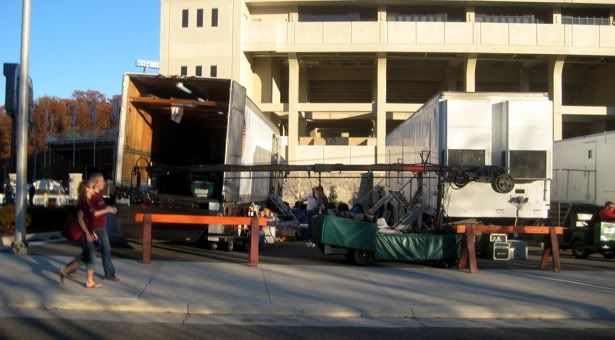 Tour Guy Production Behind the Scenes: This is the crane used to get all those breathtaking shots for the segment swooping around the tailgating landscape. Really, I swear.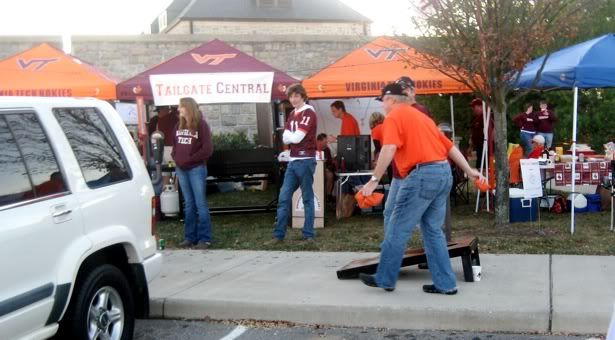 That right there is a confident beanbag thrower. You can tell already he's a pro just from looking at that sweet wrist action. Alright, I'll stop.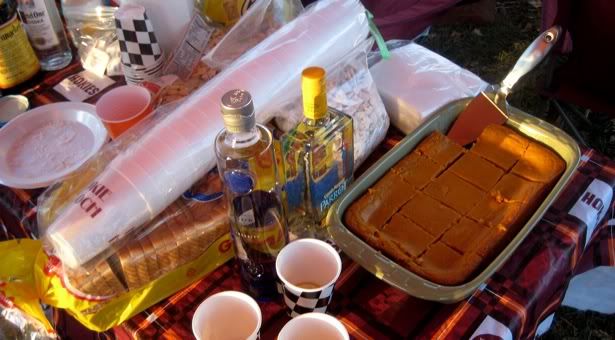 It's always an interesting standoff when we try to imply we'd like to try something. We don't want to be rude, but we want to try all the local, homemade food at the tailgates. This was called something along the lines of an "ooey-gooey pumpkin" something. Long story short, I can't testify to how delicious this may or may not have been. Sigggghhhh.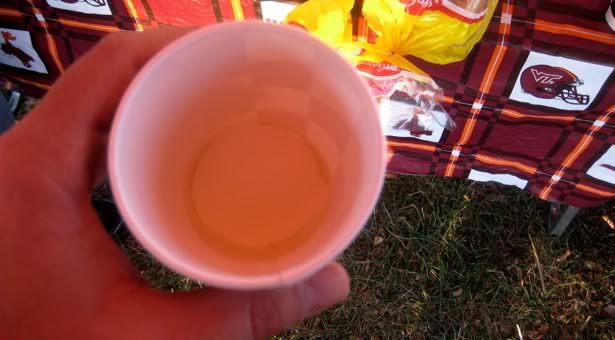 I was handed this cup, which contained something called a "chocolate cake shot." A lesser professional would've done a shot on the job, but I...whatever, it was for research purposes.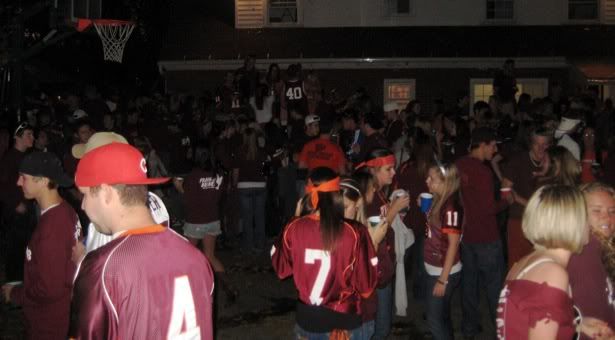 I got an email inviting me to a house party of a greek organization to check out the "tailgating." It was mostly a waste of time, until of course somebody (safely) fell off the roof. I think it's probably wise that we just move along.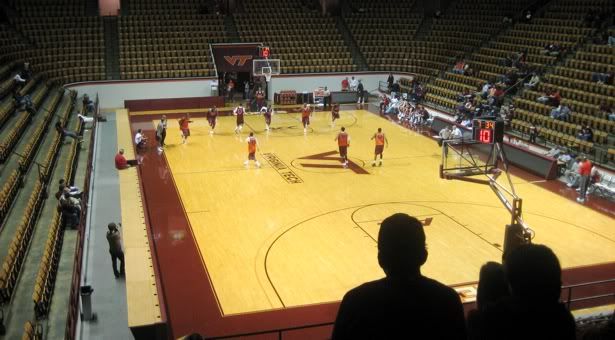 We stopped in for a second to watch the basketball team scrimmage. To everybody's surprise, nobody asked me to step down and give tips on how to run the point. I'm telling you, I was a significant contributor to my 8th grade team.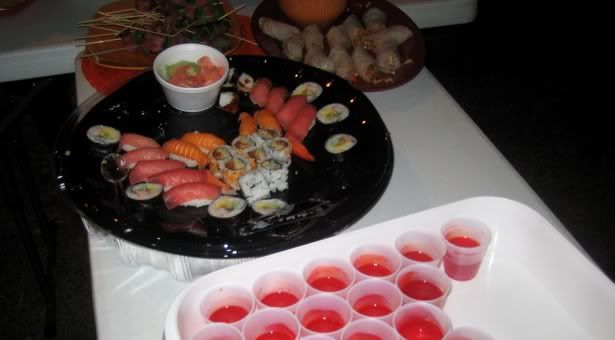 Jello shots and sushi. Somehow this made more sense when I was there than it does now.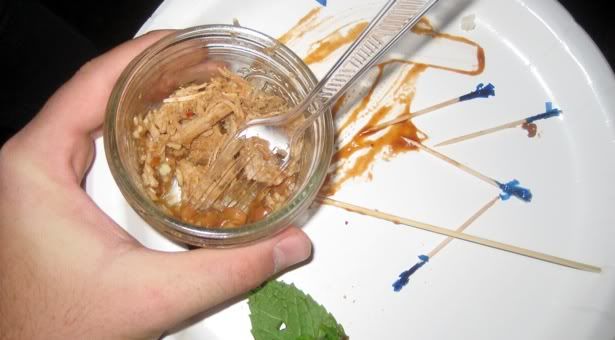 A BBQ sundae: pulled pork, BBQ sauce, beans, and slaw in a mini mason jar. Um, YES.
We finally got into Lane, and let me say, Hokies LOVE their fireworks. Before the game, at halftime, and after the game, they're all about it.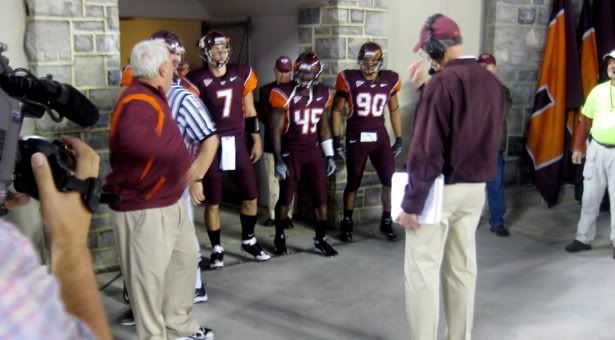 Frank Beamer is pretty tiny. I didn't realize it was him until he didn't walk away when the players came out. An inspiration to older, shorter, major college football coaches in southwestern Virginia everywhere.
(to see what "Enter Sandman" is like at the tunnel, watch here.)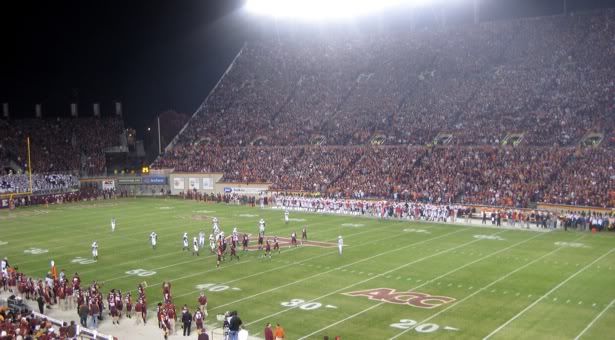 This place should ALWAYS be in the discussion with the best places to see a game. Sure it's kind of hard to get there, but if you can, soak it up. Great time.
Off for a little while, but I'll be back in Tall Firs country.
Email:
Links:
Tour Guy Road Notes (permanent link)
The SI Tour Guy (archive of all videos, including from 2006 and the Pac-10)
SI College Football channel on Veoh
The Solid Verbal college football podcast (w/Ty Hildenbrandt)
Windows Media Player 9 (for Mac)
Flip4Mac (to watch SI Video on a Mac)