10:06 PM ET 11.12 |
College basketball is back! Who doesn't like college basketball? Think about it. People who don't care about sports get excited over their alma matter, people who know nothing about basketball get excited over brackets, and people who want to watch basketball and not see players consistently showboating, consistently traveling, or consistently playing no defense, your anti-NBA is here! Whooooo!
Of course, where would life be without rankings? Corporate rankings, class rankings, game rankings, etc. College basketball is no exception, and rankings are prominent. So, here is what my pre-season top 30 ranking is looking like. Yeah, I did a top 30. So? Who else does a top 30? Ch-ching! Knowledge lies ahead of you, my friend.
1 North Carolina
2 UCLA
3 Connecticut
4 Louisville
5 Duke
6 Pittsburgh
7 Texas
8 Notre Dame
9 Michigan State
10 Purdue
Not your average top ten, is it? The Tar Heels are easily the number one team right now, but the disagreements probably begin at number two. Why is UCLA ahead of both UConn and Louisville? Coming off back-to-back-to-back Final Fours, they sure are under the radar in that matter. They bring back three key contributors in Alfred Aboya and Josh Shipp, and superstar guard Darren Collison. Along with those four comes the best recruiting class in the country, led by Collison's backcourt partner, Jrue Holliday.
UConn brings back A.J. Price and Hasheem Thabeet, Louisville brings back a core led by Terrence Williams and Duke brings back Gerald Henderson, Kyle Singler and more. Those three seem good to round out the top five as of now. Texas lost D.J. Augustin, but brought in a top recruiting class. Notre Dame brings back some key guys, led by All-America candidate Luke Harangody.
So far, the Big East looks pretty tough. Michigan State brought back a bunch of talent, namely Raymar Morgan. Purdue can counter with Robbie Hummel and E'Twaun Moore. The Cinderellas from last year that couldn't come up big when it mattered most, seem like they are ready to step it up. The Spartans and Boilermakers look like the two best Big Ten teams as of now. Crazy, isn't it? Indiana, Ohio State and Wisconsin are nowhere to be found up here.
11 Gonzaga
12 Marquette
13 Memphis
14 Tennessee
15 Oklahoma
16 Miami
17 Arizona State
18 Davidson
19 USC
20 Florida
And...here come the surprise picks. Gonzaga actually is one of these that makes the most sense, since they return a lot of players. Remember the trio of Jeremy Pargo, Austin Daye and Josh Heytvelt. If that name sounds familiar, that's because Heytvelt was past-arrested for shrooms. Yes, you read that correctly. Anyway, Marquette is at number twelve?!?!?! Yeah, they are. I can't tell you how high I am on Marquette (Josh Heytvelt joke can come in if wanted). Keep reading to find out why...
Next, we have defending runner-up Memphis. Some people have them near number 20. People, they bring legitimate contributors from a team that went 38-2! Others have them in the top 10. People, they lost Derrick Rose, Chris Douglas-Roberts and Joey Dorsey! Anyway, they bring back Antonio Anderson (keep reading to see more about him) and Robert Dozier, and have a good recruiting class led by new point guard Tyreke Evans. This team could be very good.
Tennessee brings back All-America candidate Tyler Smith (keep reading), Oklahoma brings back All-America candidate Blake Griffin, Miami brings back All-America candidate Jack McClinton, Arizona State brings back All-America candidate James Harden, Davidson brings back All-America candidate Stephen Curry, is there a pattern here? Great players + good supporting casts = good team. See: all of the above. USC and Florida round out the top twenty with good returning players and good recruiting classes. The Gators would be much higher if not for Jai Lucas transferring.
21 Georgetown
22 West Virginia
23 Baylor
24 Wisconsin
25 Kansas
26 Wake Forest
27 Villanova
28 Xavier
29 UNLV
30 Saint Mary's
And there is the end of my top 30. Georgetown lost Roy Hibbert, West Virginia lost Joe Alexander, Kansas lost Mario Chalmers, Darrell Arthur, and more. Do we see another pattern? Great teams from last year who lost key components are not in the same position they were in last year. However, they are in a position to still have success. Wisconsin looks good, and I would say to watch out for Marcus Landry; he is actually, like, pretty good. Still, the Badgers are...the Badgers, and I'm a Gophers fan. So they will stay at 24th for now, haha.
Wake Forest seems to be the trendy pick to make some noise this year, bringing back guys and bringing in a stud recruiting class led by Al-Farouq Aminu, but I'm not quite sold on them. Probably because I know next to nothing on them, but whatever. Here's why: their two best returning players are sophomores. Their two big newcomers are stud freshman; but they are freshman. Two weeks into the season, they could be the second best team in the ACC. But as of now? I don't think they are a top 20 (or 25, I guess) team. Still, 26th in the country isn't too shabby.
Finally, Villanova, Xavier, UNLV and Saint Mary's round out the top 30. Another Big East team is no surprise, and Villanova could be good with Scottie Reynolds running that team. Next up is some mid-major love! The Runnin' Rebels, Musketeers and Gaels (three great names, eh?) are all primed to show that small schools can do it big, as well. In an unrelated note, just missing was Kentucky, who could do some damage this year since nobody expects them to do anything.
Everyone knows about the biggest teams in the country. The North Carolinas, Dukes and Kentuckys of the world are always getting attention, but what about those other teams? There are plenty of teams to watch out for, and I'll give you my five.
Marquette Golden Eagles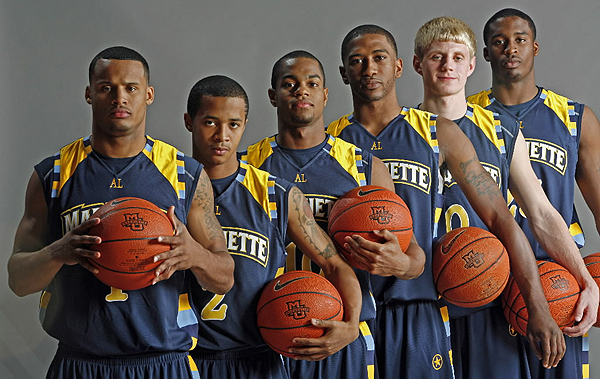 As I have previously stated, I think that they are the team most primed to make a run out of the teams that nobody expects to do so. Why? Let me explain. Coming back are six of the top seven scorers led by the best three-guard combination in the country (in my opinion, better than at UCLA, North Carolina or Duke).
Dominic James, Jerel McNeal and Wesley Matthews are all back. These guys can all run an offense, knock down shots, and make plays. If the frontcourt can produce, watch out. And I don't think that will be a problem. The bigs are still young, and they are older than last year (duh), meaning that they could very easily have come along a long way since then. If the Golden Eagles can just stay even down low, they can blow out teams. Guard play can win games (see: UCLA, Memphis, North Carolina or Kansas, the Final Four from last year), and they have the talent to do so.
James once looked like a certain lottery pick, and he could very well look like it, again. His stats are down, but that's because of teammates, and his turnovers are down. Brook Lopez prevented this team from going to the Sweet Sixteen last year, and he isn't at Stanford to do it again. In other words, Marquette can do some damage this year.
Louisiana State Tigers
LSU? This team went to the Final Four not too long ago. I think they could be poised to make another run this year, and I'll explain why. Just who are the LSU Tigers? A new coach and a new group of top recruits join a star that nobody knows about and a team with Final Four experience still there. Changes started at the top, with a new coach. Trent Johnson is the coach of the Tigers. He formerly coached at Stanford and guided them to a Sweet Sixteen appearance last year.
Gone is Anthony Randolph, but this could be like Texas last year. Kevin Durant left, and the team came together to replace him, and became a better team. On the other hand, the Tigers went nowhere last year, so it wouldn't seem to matter all that much now. Don't get me wrong, he's a great player, but if he's that great, why weren't they better? Anyway, in to replace him at power forward is top recruit Storm Warren. Coming at six foot six and 215, he can do some damage down low. If he is as talented as he is supposed to be, Randolph won't be missed much at all.
The senior leadership comes from Marcus Thornton, one of the most underrated players in all of college basketball. Last year, he averaged 19.6 points, 5.6 rebounds, 1.4 assists and 1.4 steals a game. Along with him, LSU returns formerly-Final Four starters in Garrett Temple and Tasmin Mitchell. Mitchell play down low, and Temple is a good point guard. With all of this put together, the SEC has a team of tigers just waiting to get loose.
Arizona Wildcats
Remember when this team was a prominent top ten choice every year? Retired is the great coach Lute Olson, last year's point guard Jerryd Bayless, and this year's point guard Brandon Jennings. So, what is here that makes them a team to watch? How about two potential first round picks in next year's NBA draft and good freshman class, even without Jennings.
While Bayless left, Chase Budinger and Jordan Hill came back. Those two players bring back 30+ points a game together, which could go up with Bayless not there anymore. Joining them are freshman who will have the chance to play; Kyle Fogg, Jeff Withey and Brandon Lavender. Even without some more good recruits that decided not to come after Olson left, they seem to have a good team.
They will be judgable after their non-conference schedule. With a tournament, they could face UAB, Purdue, Oklahoma or Boston College. They also have games against Gonzaga and Kansas. Of course, they also get to play UCLA, USC, Arizona State, and more. Time will tell how this team does, but for everyone writing them off, they have the talent to produce.
Southern Illinois Salukis
Remember when this team went to the Sweet Sixteen? Remember when they used to be the early season pick that would go even further? Remember when they were ranked in the top 15? And they deserved it? Well, those aren't the thoughts when most people think of Southern Illinois. At least, not anymore.
So, what really is up with this team? Gone are stars Randal Falker and Matt Shaw, among more than a few seniors that are no longer there. Who is back? Bryan Mullins, a senior who averaged 7 points, 8 assists and 4 steals a game last year, and Carlton Fay, a sophomore who played 25 minutes a game, and went for 16 and 11 in their opener. I know you are thinking that you don't know any of those people, and that isn't a problem.
Why? Because when they made their runs, you didn't know any of their players then, either. They are led by Chris Lowery, who is one of the best head coaches in college basketball that nobody knows about. With him, and some talented players back, the Salukis could do what they do best: win games when nobody expects them to.
Minnesota Golden Gophers
Come on, did you really think that they wouldn't get a mention in here? But they aren't in here out of popularity. This year, the Gophers actually have a team that can make things happen on the court. The knock on coach Tubby Smith at Kentucky was that he couldn't recruit, or so I've heard. In Minnesota, everyone could care less. Why? He's brought in one of the best recruiting classes in all of college basketball.
Led by Ralph Sampson III (yes, the son of you-know-who), Devron Bostick (a good player last year in junior college) and Paul Carter (an athletic guy who has had all the buzz at the Barn), they can contribute right away. Also in are Devoe Joseph and Colton Iverson, a guard and a big who can both play right away. With all of those freshman, who is coming back? Seven players who got playing time last year, that's who! Al Nolen, a point guard who led the Big Ten is steals and plays great defense is back to run the team. Blake Hoffarber and Lawrence Westbrook can both play shooting guard, and can both score in bunches. Westbrook could very easily score 15 a game this year. Jamal Abu-Shamala and Damian Johnson both come back at small forward, and both can contribute. Johnson is one of the most athletic players in all of the Big Ten. Last year, as a fourth and sometimes fifth option, he averaged 7.1 points, 4.7 rebounds, 1.7 steals, 1.4 blocks and 1.3 assists a game. He can play a little bit.
Down low, the only big guy back is Jonathan Williams. And when I say big, I'm not kidding; he's six foot nine, 285. In just over 13 minutes a game last year, he averaged three points and 2.5 rebounds a game last year. Down low will be the biggest weakness for the Gophers, but if they can put it together, they could be near the top of the Big Ten.
They went 9-22 two years ago, and 20-14 last year. With so many players coming back, a great recruiting class coming in, and Coach Tubby Smith at the helm, the atmosphere is great, and just remember; with only two seniors, you could be hearing about the Gophers for a few years to come.
Next off, I'm going to showcase some of the players that I think could make a big impact this year. Not the Hansbroughs, Currys or Griffins. But rather, some other guys that you might not know of. For the ones who will make the biggest impact, I'll give a possible first, second and third team All-America.
Jerel McNeal
If you have read anything above, you know what I think about Marquette. McNeal is the player that I can really see making some things happen. Last year, he averaged 14.9 points a game, 4.9 rebounds a game, 3.5 assists a game and 2.2 steals a game. Playing with James and Matthews, he still managed to show what he can do, and he could do even better this year. I'm convinced he has a legitimate chance to win Big East Player of the Year. I'm also convinced that he is this year's Russell Westbrook; someone that nobody knows about, who goes out and turns himself into a lottery pick. It sounds crazy, but did anyone see five freshman and a sophomore who hardly played two years ago going in the top seven?
Antonio Anderson
Another guy that I think will have another big season is Anderson. Playing with Rose, Douglas-Roberts and Dorsey didn't get him all that much attention. But I think he was one of the main reasons why Memphis did what they did last year. Why? Defense. Anderson plays light-out defense, and showcased it in the NCAA Tournament. What was missing last year was the offense (since he was the fourth option), and he could easily step up and score this year. Why? The leaders of that team will most likely be him and Evans, and Evans can't score 40 a night. If Memphis is going to have a season like last year's, Anderson is going to need to step up; and I don't see why he can't do it.
Tyler Smith
Possibly the most underrated star in college basketball. Very quietly last year, he averaged 13.6 points, 6.7 rebounds, 3.4 assists, 1.4 steals and just over two turnovers in 28 minutes a game. He also shot 37% from downtown, which isn't bad for a guy who is six foot seven. Those numbers don't seem all that impressive, but remember that he was on a team with Chris Lofton and JaJuan Smith, who are both no longer there. Smith came back to Tennessee, and has the opportunity. He is already a candidate for SEC Player of the Year, and even an All-America. Watch out, because Smith could be ready to take off.
Sherron Collins
There are two players who seem ready to make a big leap at Kansas: Collins and Minnesota native Cole Aldrich. People seem to be noticing Aldrich, but not-so-much Collins. So, just who is this guy? Last year, he came off the bench for the Jayhawks, and made his presence felt in the NCAA Tournament. In just over 24 minutes a game, he averaged 9+ points, 3+ assists and 2+ rebounds a game. Remember, that was playing with Darrell Arthur, Darnell Jackson, Sasha Kaun, Russell Robinson and Mario Chalmers. This year, all five of those guys are gone. It was Collins who came off the bench, and it is Collins who now has the spotlight.
B.J. Mullens
Rounding out the five guys to watch out for is freshman center B.J. Mullens. Remember the last two freshman centers at Ohio State? Someone named Greg Oden who went number one overall, and then Kousta Koufus, who went in the first round. Mullens is primed to be the next freshman star in the middle for the Buckeyes, and if last year is anything like this year, he could come up pretty big.
1st Team All-America
Guard- Darren Collison, UCLA Bruins
Guard- Stephen Curry, Davidson Wildcats
Forward- Tyler Smith, Tennessee Volunteers
Forward- Tyler Hansbrough, North Carolina Tar Heels
Forward- Luke Harangody, Notre Dame Fighting Irish
2nd Team All-America
Guard- Ty Lawson, North Carolina Tar Heels

Guard- Jeremy Pargo, Gonzaga Bulldogs
Forward- Raymar Morgan, Michigan State
Forward- Blake Griffin, Oklahoma Sooners
Center- DeJuan Blair, Pittsburgh Panthers
3rd Team All-America
Guard- Greivis Vasquez, Maryland Terrapins
Guard- James Harden, Arizona State Sun Devils
Guard- Jerel McNeal, Marquette Golden Eagles
Forward- Kyle Singler, Duke Blue Devils
Center- Hasheem Thabeet, Connecticut Huskies

Honorable Mentions
Guard- Eric Maynor, Virginia Commonwealth Rams

Guard- A.J. Abrams, Texas Longhorns
Forward- Marcus Thornton, LSU Tigers

Forward- Antonio Anderson, Memphis Tigers
Center- Jon Brockman, Washington Huskies
Finally, what would be complete without a prediction? My Final Four is looking like something along the lines of big teams like UCLA, North Carolina and UConn; and lessser known teams like Marquette, Tennessee and Baylor. But who knows? In the end, I think that the champions of college basketball will be...who?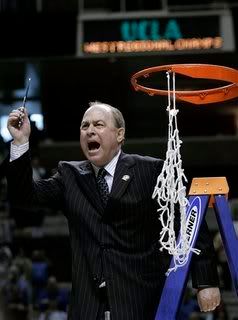 UCLA Bruins