02:02 PM ET 07.01 |
What's a guy gotta do to get a little run support around here?

Despite allowing only 15 runs over six starts, Roy Oswalt went 1-1 in the month of June. So was it droughts of run support or bullpen catastrophes that handed Roy four "NDs" for the month? Let's break it down.

In two of those no-decisions, Roy left with the lead. In the other two, he left with the game tied 1-1. The Astros won two of his no-decisions in extra innings, and made no effort to win the other two. Roy's only win came June 17 against the Mariners when he left with a 4-run lead. Roy's sole loss came his next start against the Rangers when he left with a 1-run deficit.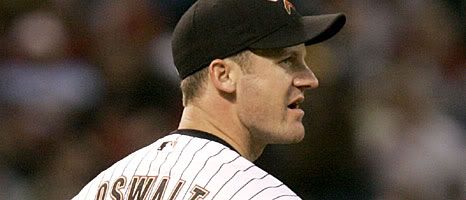 So, who blew it? In Roy's six June starts, he got 21 runs in support of his 15 allowed runs. In contrast, the bullpen gave up 19 runs in Roy's starts--more than Roy gave up himself. Can we say team effort? So, average run support per Oswalt start in June? 3.5. That's a tad less than his 3.55 ERA in June! As for the bullpen's run support in Roy's starts? Less than 2 per game. Team that with the bullpen's 8.95 ERA after Roy's exits, and that makes very little room for comeback wins.
So, ultimately, who really is to blame? I've given you the run-down. Decide for yourself. The not-so-pretty facts are, our ace is 7-5 by the halfway point, our starters are 21-30 combined, and a reliever has the 3rd most victories on the pitching staff.
Agree? Beg to differ? Comment.