12:24 AM ET 12.02 |
You may recall a recent blog of mine entitled The Worst Owners In Professional Sports History, in which I hinted that I may not be going to nearly as many Colorado Rockies games next summer as I have in the past. This came the day after All-Star left fielder Matt Holliday was traded to the Oakland Athletics for a package of reliever Huston Street, starting pitcher Greg Smith, and outfield prospect Carlos Gonzalez. Perhaps that blog was a little bit pre-emptive. I will say that I'm not upset that the Rockies traded Holliday. What upsets me is the fact that they could have gotten so much more for him. He was the Rockies' one trading chip that was a lock to land a front-line starting pitcher, the one thing that the Rockies have consistently lacked over the years, and Rockies GM Dan O'Dowd didn't land one in return for Holliday.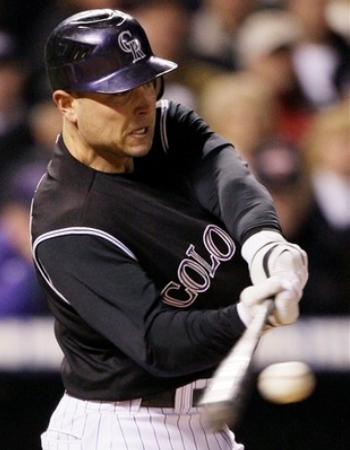 This has brought up the question in my mind of what I call "The Fan's Paradox": Do I support the players, or do I support the ownership of the team? Is it even possible to support one without supporting the other? For my entire life, I have believed that, as a fan, I support the players on the field, whether they are All-Stars or career minor-leaguers. It pains me to see a guy like Todd Helton, such a quality locker room guy, a loyal soldier, and a tremendous talent, spending his entire career for a team whose ownership group isn't dedicated to consistently fielding a contending team. Helton signed a long-term deal several years ago with the Rockies, and, with the exception of a magical 2007 season that saw the team win the National League Pennant, management hasn't rewarded his loyalty by building a consistent winner. Helton could have certainly gotten much more had he tested the free agent waters, although his contract with the Rockies is an incredibly lucrative one. I watch virtually every game, whether on TV or from the ballpark, and when I can't watch the game, I listen to it on 850 KOA. However, if I refuse, as a fan, to attend games, am I really supporting the players on the field? I'm not talking about not attending any games due to a lack of the financial means to do so, I'm talking about simply refusing to go to the games. If everybody refused to go to the games, I sure wouldn't want to show up to the ballpark to play in them. Part of me thinks that it simply isn't fair to the players that show loyalty to the fans of a team to not show up at the ballpark if I can.
The other side of the equation, though, is this: If I do pay my money for a ticket and show up to the games, am I not, then, saying to the ownership group that I approve of what they are doing? As a fan, and not an owner, I understand that the only vote that I have is my ticket. However, I am a baseball fan and a Colorado Rockies fan, not an employee of the team or a member of the team's ownership group. I want to support the team that I love so much, even though I don't approve of the direction that the current ownership group is taking it in. Is it a double-standard, then, if I begrudgingly pay for a ticket to go to a game?
This is a very difficult decision to make. When considering this question, it may be helpful if you don't take into account the fact that it is the Rockies that I am talking about. Imagine if this were your favorite team. What would you do? I am the self-proclaimed biggest Rockies fan of them all, and I have been since the team began play in 1993, when I was just 4 years old. I am in the stadium for a game on opening weekend every year. I attend the annual 4th of July fireworks game. I was in Coors Field for the NL Wild Card Tiebreaker game in 2007. I was there on April 5, 2008, when the 2007 NL Pennant was unveiled. I love this team, and I love going to Coors Field. It's a difficult decision for a fan to make, and it's one that I won't really have an idea about until baseball fires up again in 2009. It is also an unfair position to put a fan in, but it's one that is facing Rockies fans everywhere.