02:27 AM ET 12.02 |

***Subscribe to The Solid Verbal (iTunes) college football podcast (I co-host with SI on Campus's Ty Hildenbrandt)***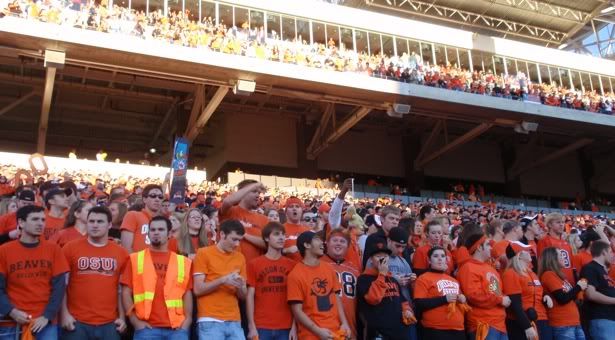 Finally...back to the west coast for a game. I've mentioned it one or two times in my episodes, but I'm an Oregon graduate and a big west coast/Pac-10 football guy, so it was nice to finally get to shoot at a huge game out here.
I had never been to Corvallis, despite living so close for four years, so beyond the significance of the game, I was excited to see a new city/stadium and have a new college football experience.
The town of Corvallis is fine, nothing all that special, but Reser Stadium is supposed to be at least a top five Pac-10 stadium, which it absolutely was. The stadium was recently expanded, and despite a lackluster end zone, the look of the crowd is pretty intimidating and it gets to be fairly hostile noise-wise on the field.
Things aren't horribly difficult for an opposing fan here, everything stays fairly respectful in the parking lots pre-game. The tailgating isn't overwhelming, and like most places, it gets better the farther you go away from the stadium. Off the top of my head, I can't really remember a tailgate that didn't offer food and some entertaining college football conversation. The only thing that disappointed was really just the lack of pure numbers. This was arguably the most important Beaver game since the Fiesta Bowl shellacking of Notre Dame a few years ago. The parking lots were only 75% full, with way too many supposed diehards showing up a half hour beforehand. Weak, but other than that, a genuinely good time, even for a hated rival.
Let's take a looksie: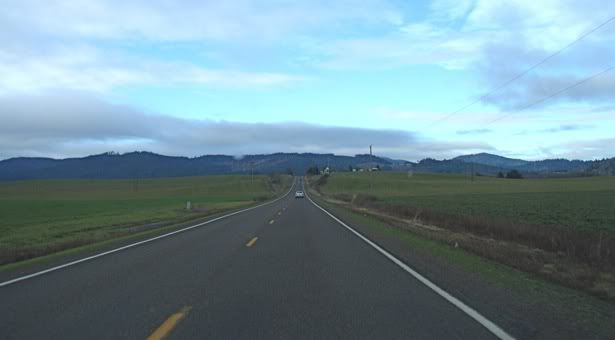 Some country road outside Corvallis. We stayed with Camera Guy Casey's mom about 20 minutes away, although it felt like a different planet. See how LA screws with your mind?
Beer Pong action late morning. Since everyone plays beer pong at every tailgate I've been to, I'm convinced that if I can come up with a game that combines tabletop gaming and getting drunk that rivals this, I could be making at least Saban money in no time. Beer Air Hockey? Beer Foos? Look out for the next big thing in '09.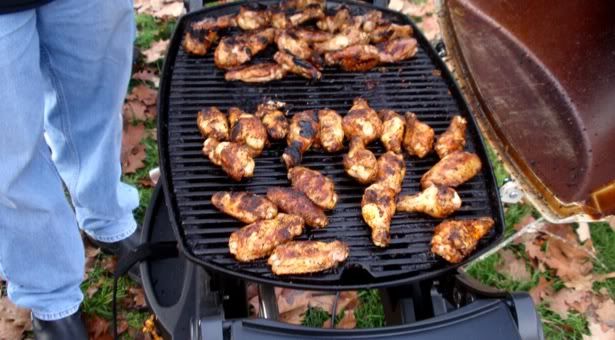 Asian-spiced chicken wings. Fantastic. As much as I love eating anything and everything around the country, there's not all that much variation (outside of maybe LSU). The menus become increasingly more interesting out here, especially in the Pacific Northwest.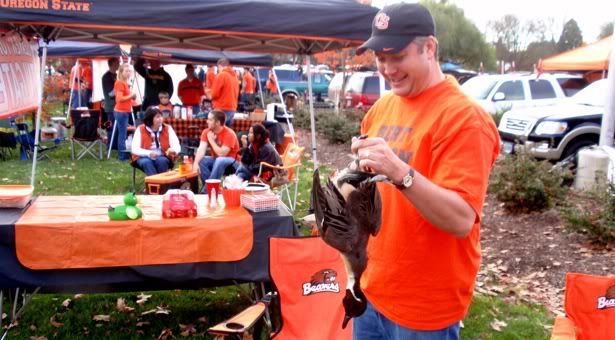 For what it's worth, this guy claims they are not wasting a game bird and will eat the breasts. My personal highlight was watching and listening to his two young daughters become thoroughly disgusted with their dad. Always fun.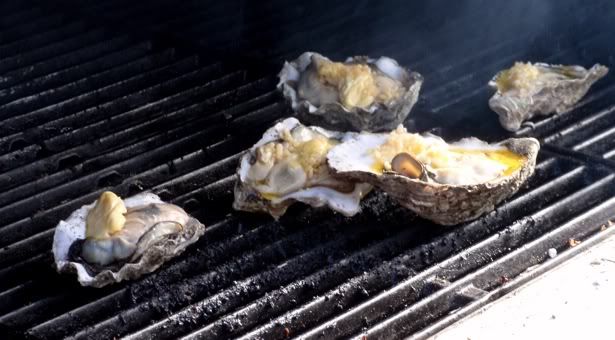 The oyster meat was approximately the size of an infant's fist, and no, I have no idea why that was the comparison I immediately am coming up with. These were unreasonably delicious.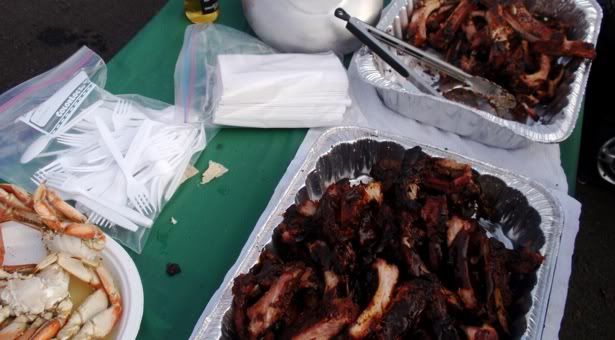 "Hey, do you guys want some food, we have crab legs and baby back ribs?" are 15 of the sweetest words that have ever been arranged together.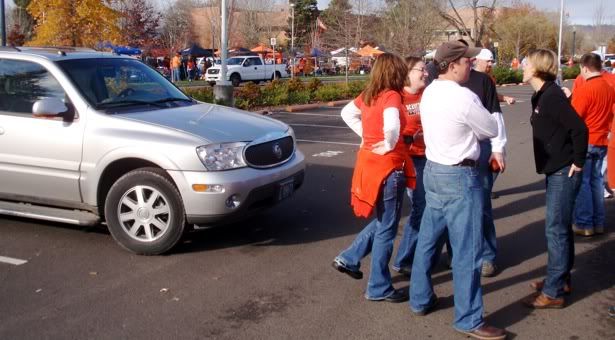 I looked at the information attached to this picture, and this was taken two hours before kickoff. Rows and rows of spots in the stadium lot. This is why SEC people don't take the Pac-10 experience seriously. Get on it, Beavers.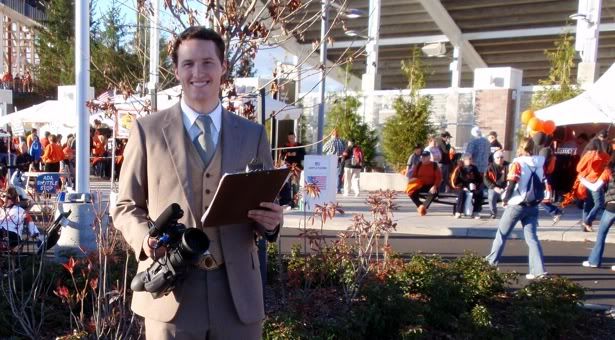 I still have no idea why Casey dressed up like a banker from 1973. As the story goes, he bought this suit for roughly $4 in college at a thrift store and relishes any opportunity to bust it out. I'm not sure how walking around with a fairly-heavy tripod for four and a half hours qualifies as an opportunity, but to each his own. To Casey's credit, he didn't complain once. I've come to the conclusion that it's equal parts awesome and strange.
OSU cheerleaders. Not bad, but with the Oregon cheerleaders on the other side of the end zone, it was like competing against the 1927 Yankees. Seriously, if you ever run in to any male who works for SI, they'll back me on this to their grave. I never knew how many like-minded Oregon cheer fans I would come across within one company. Terrific and slightly spooky.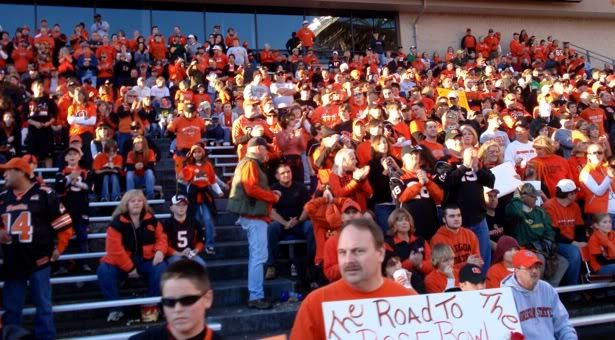 Here's the short end-zone. Let's figure something out here, guys, 23 rows or so isn't enough. By the way, I have received few looks as creepy as the one Sign 'Stache Guy is giving me here, and I've received my fair share.
Never in my football fandom, have I ever let loose like Random Yankee Hat Wearer, especially not before kickoff, when this was taken. Good for you, though, YHW, good for you.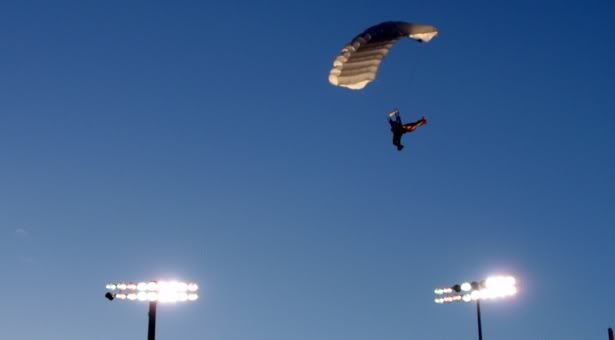 I believe this was only my second game with parachuters flying in, but it's already my favorite pre-kickoff event. By far. It's not even remotely close.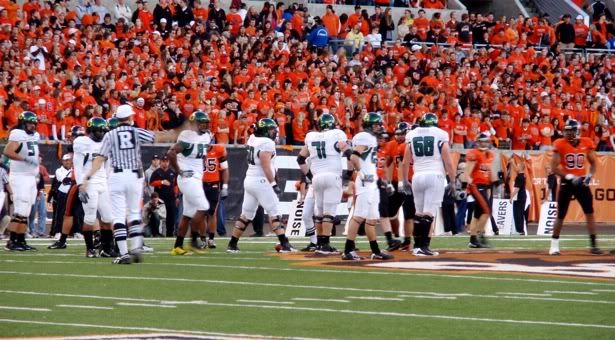 After 11 weeks of begging and pleading bartenders in tiny college towns across the country to find that week's Oregon game on their cable package, I finally get to see them up close, albeit in a sea of loud, passionate orange. Seriously, it was a stellar fan performance in the first quarter. Hat's off.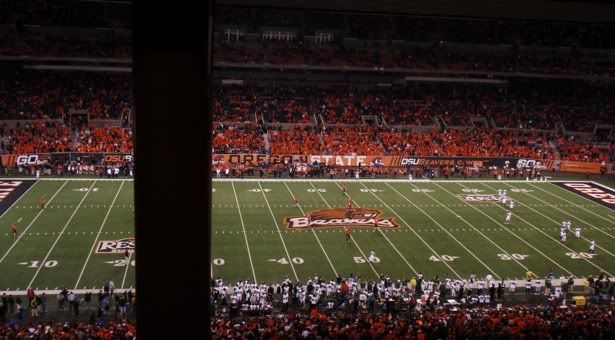 The view from our seats. No real complaints, especially because the pillar only blocked a millisecond of Oregon's breakaway runs.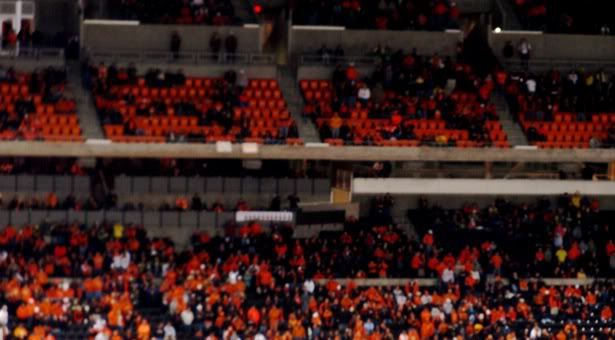 Fan's leaving and already gone halfway into the 4th. I can see how it would've been fun to be in that atmosphere had they won, but I regret nothing.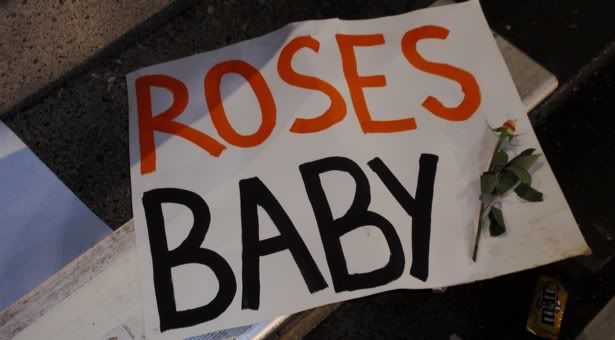 Aww.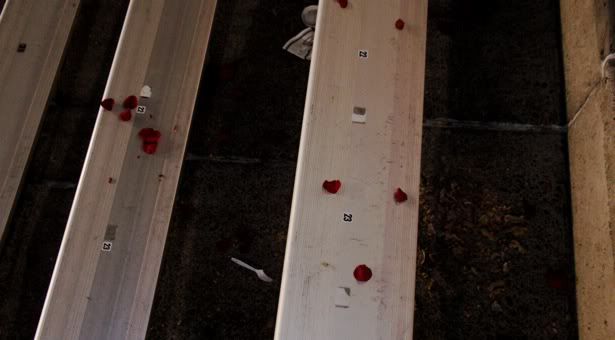 Awwwwwwww.
I must say, I wasn't expecting an atmosphere that could compare to some of the bigger schools I've been to, but there were definitely pockets of tailgaters and times during the game where I could've closed my eyes and been anywhere. For the sake of the Beavs and the rest of the conference, let's hope they build on how close they got and stay near the top of the conference.
Last episode of the regular season, but I'll have something new up here soon, and then before bowl season. See you soon...

Email:
Links:
Tour Guy Road Notes (permanent link)
The SI Tour Guy (archive of all videos, including from 2006 and the Pac-10)
SI College Football channel on Veoh
The Solid Verbal college football podcast (w/Ty Hildenbrandt)
Windows Media Player 9 (for Mac)
Flip4Mac (to watch SI Video on a Mac)