03:27 AM ET 07.04 |
The (possible?) future ROY wins it Tuesday with his first career walk-off HR as Roy (Oswalt) nabs his seventh...no-decision.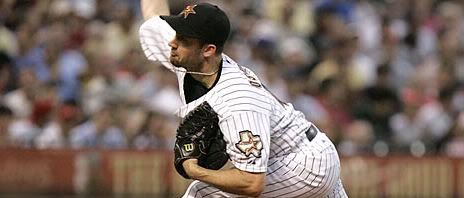 Roy "ND" Oswalt now officially has as many no-decisions as he does wins. That's got to count for something, guys. This no-decision, however, was a little different than all those others. For the first time this season, Roy left the game on tap for the loss and didn't lose. As many of Roy's games as the bullpen has blown, all five relievers used looked superb in the end. The extra inning affair became the longest single-game outing for the Astros bullpen this season in Oswalt's starts, with 6 innings of work. And in their longest single-game outing in Roy's starts, the formerly struggling BP didn't allow one run.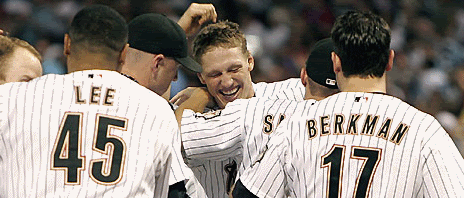 So what about that other ROY? That is, Rookie of the Year--candidate. With 7 plate appearances in Tuesday's game, Pence should either qualify, or be very close to qualifying for the official league leaders in offensive categories. Batting .345 in the NL is good enough for 2nd, behind the on-fire Matt Holliday. Only rookies Troy Tulowitzki (COL) and Chris B. Young (ARI) in the NL currently have enough PAs to qualify for the league leads. So how will Pence measure up? The Astros' #9 is batting over .100 points better than the Rockies' rookie shortstop, and over .150 points higher than the D'Backs' Young. Pence has more triples than Tulowitzki & Young combined and has more RBIs than either, leading all rookies in both categories. Pence's .963 OPS is good for 7th among the NL leaders, and no other qualifying rookie even comes close to a .900 OPS. Once this guy's numbers start popping up at the tops of the leader boards, the BBWAA will really start to take notice, if they haven't already.
I think they're starting to call him Roy Hobbs around these parts--he already has the uniform number--and there's a rumor that his bat is made from a tree struck by lightning. No definite word on the bat's name, yet. Though, some say it's "Wonderboy".
Agree? Beg to differ? Comment.
Photos: mlb.com