11:35 AM ET 12.26 |
If you're a regular reader, you've probably noticed that I haven't exactly been on my game lately in the blog. I think I've mentioned before that occassionally I like to take some time off from the poker world and get my head straight. Well that's where I've been the last couple of weeks. I've played small games here and there, but nothing much other than that. No reading, no real discussion, no big money. Heck, I've even been avoiding lunch with Jonesy in places that have the NTN poker. There have been a couple of weekend games, but I spent most of those games trying to see how much I could drink rather than actually play poker. As I like to say, it is possible to take a break from poker and still play the game.
Now I've even considered continuing the vacation through the New Year....since its only another week. This might be good for my game, but there is a fine line between a legitimate break and just quitting. For example, my son told me this weekend that he was just quitting. He was strong into poker in Hawai'i, but lately he has been calling with more angry stories than he has fun ones, so I can certainly see why he is ready to give it up. When bad beats bother you, that's fine. When bad beats just make you mad, its time to rethink the "pleasure" you are getting from playing. The good thing is that he will be cashing out his online account for a really nice profit, and he has banked a ton of money from the live games he played out there. If you are going to quit anything, it is better to quit while you are ahead, right? Besides, his first child is due next month, and he'll have far more important things to spend his money on, as well as someone to spend his time with.
For me....quitting isn't an option. I love the game too much. So I think now is the time to get serious again. And talk about perfect timing. I opened my presents yesterday and there in a box from Hawai'i is the book "Poker Wisdom of a Champion", by Doyle Brunson.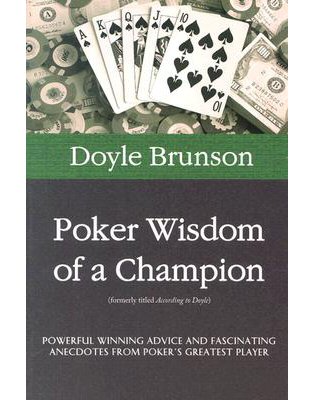 He may be quitting the game for awhile (or forever?) but he certainly knew what daddy needed right now. So tonight I'm back to the grind in a 4 table, $40 buy in tournament, followed by what is traditionally the most profitable cash game in the city. A friend of mine once sat at this cash game until noon the following day. People asked him how he could do that, and he simply replied "Because they were handing me money until noon".
That makes for some simple advice today huh? Leaving a table when you are losing is smart. Don't throw away more money when you're obviously either off your game or in over your head. Leaving a table when you are winning is fine. Its called profit. Leaving a table when others are just handing you money is stupid.
After tonight, I'm pretty much already booked through the end of the year (next Wednesday LOL), and I'm also pretty much booked for January too. The great thing is I will be ending 2008 up THOUSANDS of dollars. As I've said before, I track every dime I put into and take out of poker. I then deduct any expenses I have that are poker related. For example, a book is an investment n my game, so I deduct it from my profit total. I also deduct the poker table I bought this year, as well as the new set of chips. And after all of that, I am still showing a profit for 2008 of thousands. How many thousands? None of your business ;-) But it is a healthy profit. And with 3 more tournaments and 2 more cash games before the year is over, it could be even more. And the great part.....it won't be much less, no matter what. The most I could lose in the next week is $1000, if I lose every dime possible at every game. So I'll be up strong no matter what comes January 1st.
If you enjoyed reading this blog, the rest of 2008 is for you. This is basically the format for the next few days. I expect one or two days reflecting on the highlights for 2008, and another couple of days just discussing my feelings about the game. Then in 2009 we'll start up again with lessons and other stuff. To those that have been regular readers, thank you. To the two of you that read just to send me nasty fanmails or leave critical comments, thank you too. To those that don't read....you don't know it, but I'm cool with that too. I really write this for me. Its my therapy.