10:03 PM ET 12.28 |
Congrats to Thug who finished on top...
And now the playoffs begin. Wild Card games are as follows...
Ravens (11-5) vs. Dolphins (11-5) - Sunday 1 p.m.
Colts (12-4) vs. Chargers (8-8) - Saturday 8 p.m.
Eagles (9-6-1) vs. Vikings (10-6) - Sunday 4:30 p.m.
Falcons (11-5) vs. Cardinals (9-7) - Saturday 4:30 p.m.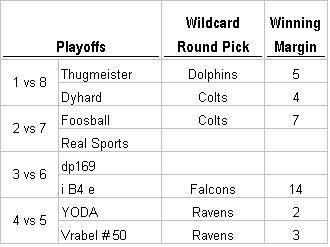 As I stated before all games and teams are open, (i.e. more than 1 can make the pick) the only difference is that you need to pick a winning margin. The winner will be declaired by who has the closest winning margin.