12:51 PM ET 01.05 |
Well 2 upset games and a lot of picks had to go to a third or fourth tiebreaker in order to determine the winner...
Therefore, advancing are Dyhard, Foosball, dp169 & Vrabel #50.
Here are the divisional Matchups...
Foosball vs Dyhard & dp169 vs Vrabel #50
Games are...
Ravens vs Titans (Saturday 4:30pm)
Cards vs Panthers (Saturday 8pm)
Chargers vs Steelers (Sunday 1pm)
Eagles vs Giants (Sunday 4:30pm)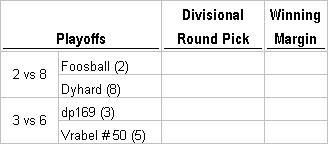 Same rules apply...Make your pick and winning margin...