03:33 PM ET 01.17 |
Five years. What's five years? A look into the future? A chance to see how great something was? An opportunity to get a glimpse of what is really- never mind. In five years, things can change dramatically. Often times, five years is the point of which to look at something, and re-evaluate it. In five years, we can look back and see if Barack Obama really was ready to be President of the United States. In five years, we can see if George W. Bush really was as bad as most people think. In five years, we will have a good idea about what kind of career Adrian Peterson will finish with. Of course, if you are in the present, you need to look at the past. What was happening five years ago?
On the Harvard University campus, Facebook was founded. I guess that was a decent success, huh? John Kerry won the Democratic presidential nomination, and arguably the presidential election...although George W. Bush won another term. Five years later, Bush is one of the most scrutinized men in America, and Kerry is a Senator from Massachusetts (in case you were wondering). Also at the Democratic Convention, a little-known man from Illinois gave a speech. I don't remember his name, but I guess he's kind of famous now. Oh well...
The CIA admitted that there "was no imminent threat of weapons of mass destruction in Iraq". What about Iraq five years later? More than 4,000 U.S. soldiers are dead, more than 30,000 U.S. soldiers have been wounded, and thousands more people are still arguing over it all.
The Madrid Train bombings took place on March 11th, killing almost 200 people and injuring more than 1,750. The Humanatarian Caesefire Agreement was signed in Darfur, Sudan. Five years later, what are we doing? Massachusetts legalized same-sex marriage, which five years later, is still very controversial. The tsunamis and earthquakes struck in the Indian Ocean, which five years later, is still the one of the worst natural disasters in history, leaving over 186,000 people in total dead.
What happened in sports? The Patriots won the Super Bowl, but that isn't what the Super Bowl is remembered for. Greece hosted the Olympics, which in America are rembered mostly for the success (or lack thereof) of the men's basketball, uh, team, consisting of guys like Stephon Marbury, Lamar Odom and others. The Montreal Expos became the Washington Nationals. More famously in baseball, the Boston Red Sox came back down 3-0 and took four straight from the New York Yankees, went on to win the World Series, and broke the curse. There was the Malice at the Palace, featuring the Indiana Pacers, Detroit Pistons, and everyone's favorite peacemaker Ron Artest.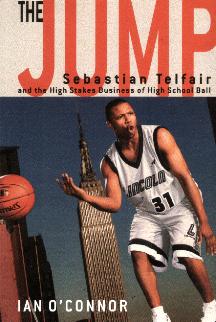 Perhaps more importantly for the focus of this, something was happening in New York. Well, lots of things were happening in New York, but a very special one was going on in the high school basketball world. Abraham Lincoln High School was going for their unprecedented third city title in a row. Led by a point guard from Coney Island, they went on to a prolific season, capturing their third straight city title.
So, what is this about? Around three or four years ago, I read a very good book. "The Jump" by Ian O' Connor, chronicled the senior season of Sebastian Telfair, high school basketball, and his team, the Lincoln Railsplitters. In my opinion, the writing wasn't fantastic, but it was pretty good, and the book was very good. I would suggest this to any basketball fan. Not only does it talk about Telfair, but it also talks about high school basketball image, problems, excitement, and very interesting facts, and talks about NBA stars from when they were in high school, including LeBron James, Dwight Howard, Rudy Gay, Josh Smith, Kobe Bryant and many more.
Well, recently I came across the end of a Louisville-Villanova basketball game, and watched someone miss two free throws. If you saw this as well, the man was Antonio Pena. I also am a Timberwolves fan, and like to think I know a little bit about them. Sebastian Telfair plays for the Wolves. Now, some of you might know who Bassy is, but I'm guessing most of you have no idea who Pena is. The starting lineup from that Lincoln team consisted of Pena, Telfair, Nyan Boateng, Eugene Lawrence, and Yuriy Matsakov. I'm guessing that most of you don't know anything about these guys, but that is why you should read the book. Lincoln went on to win the New York City championship, coming up just short for the state title.
Why is this important? Looking back, this was one of the most dynamic starting lineups I have ever seen for a high school team. Since then, Lincoln has won more titles, is still coached by Tiny Morton (read the book and understand) and currently features one of the best players in the country, Lance Stephenson.
So, what are we going to do? We are going to go on a journey. A journey that combines that past and present, looks back, looks ahead, and looks now, at what was, what is, and what could be. Come along, and enjoy the ride...
Just who was Eugene Lawrence? Sharing the backcourt with a lottery pick is never easy. Of course, he was no slouch, either. Playing great down the stretch for Lincoln, he stepped up and played a big part in their success. After his senior season, he went on to play basketball for St. John's. He led them in assists four years in a row, finishing third all-time at the school, and finished fifth in steals, as well. He continued to develop, and his senior year, he was supposed to breakout. However, as a senior, although his scoring went up, his rebounding, assists, steals, and shooting percentage all went down. Some people thought that the pressure was just too much to be the focus of a Big East team, but I guess we'll never know. After his senior year, he did have workouts and got looked at by NBA teams, but went undrafted. He had a very nice jumper, though, and that can be seen here.
Often the second fiddle to Sebastian Telfair, Nyan Boateng was still a very good player. He was often considered the most athletic player on the team (even ahead of Telfair), and was highly recruited for both basketball, and football. In fact, he was called "arguably the best athlete in the Tri-State area". After his senior year, he went to Florida on a football scholarship to play for Urban Meyer. After playing there, he transferred to California. After transferring, and then getting hurt, he was able to play last year and showed what he could do. Boateng led Cal with 29 catches for 439 yards, and was second in receiving touchdowns with five. He is just a junior, and could be a breakout WR in the Pac Ten next year. NFL scouts seem to like him, and he is 6-3 with a 40 inch vertical, so don't be surprised to hear about him in the future. He made things happen on the basketball court, and you can see a highlight video of some of them here.
The big man down low, Antonio Pena played a key part in the success that Lincoln had with his ability to control the post. Towards the end of the year, not Lawrence, Boateng, or Telfair, but Pena led them in scoring multiple times, and carried the team a few times. As one of the only players in New York history to win three city titles, he was one of the more decorated big men to ever play there. After going to junior college, he enrolled at Villanova last year, where he played in 35 games. This year, he is a key big man for the Wildcats, and his scoring, rebounding, assists and shooting are all up. Pena is second on the team in rebounds, and leads Villanova in field goal percentage. With a good post game, you can see some of what he did in high school here.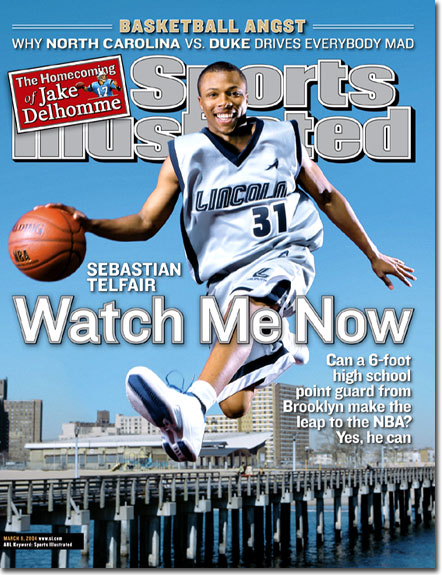 Unfortunately, I have not been able to find anything about Matsakov. But of course, this wouldn't be complete without talking about Sebastian Telfair, arguably the most distinguished high school basketball player ever. With a book entitled "The Jump", a documentary called "Through the Wire" and a Sports Illustrated cover reading "Watch Me Now: Can a 6 foot high school guard from Brooklyn make the leap to the NBA? Yes, he can". That was Telfair then, and this is Telfair now, as the point guard for the Minnesota Timberwolves.
The catalyst of the Lincoln team (and the best player), Telfair had media following him wherever he went. He is the all-time New York state scoring leader, who averaged around 30 a game. He led Lincoln to three straight city titles, played at the Adidas ABCD camp before his freshman year (think about that), and became the first six foot guard from high school to be a lottery pick, going to the Portland Trailblazers.
Search 'Sebastian Telfair high school' on Google, and you get "about 46,000" matches. Need any more proof of what this guy did before he was 18? On YouTube, there are videos of him everywhere, from his AAU games to his high school state tournament games to him in eighth grade. Seriously; check them out.
But of course, with Sebastian Telfair, everyone labels him a bust. Instead of going to Louisville to play for Rick Pitino, he went to the NBA. Taken fourteenth by Portland, he instantly had a ton of expectations on him, and everyone expected the undersized kid from Brooklyn to be a future superstar. Career averages of 7.8 points and 3.8 assists aren't exactly the numbers people were expecting. So, what happened? Everyone labeled him as a bust. What is my opinion? He is not a bust; not at all. Am I crazy crazy?
First of all, he is just 23 years old. At this age, most point guards in the NBA are just out of college, and are coming into the league with hype, but people know that they won't be able to do anything soon. If they do, it is a surprise, not a disappointment, which it was for Bassy. Next, point guard is easily the hardest position to come into the NBA and succeed at. You have to be able to run an offense, essentially manage a team, be able to find your open teammates, knock down open shots, create scoring, figure out how to beat a defense, and be a leader. I've played point guard, and although I obviously haven't played in the NBA, it's not easy. So imagine having to do all those things, at just 18 years of age, with the world of expectations on you. You could slip up, right?
Well, that is exactly what happened to Telfair. He didn't play terrible, but he didn't play great. So everyone threw him under the bus. Well, almost everyone; excluding me. I'm still convinced that he is going to be a good point guard in the future, and I don't want the Wolves to give up on him.
Here is my first reason; assist-to-turnover ratio. Arguably the most important stat for a point guard, you need to be able to create scoring, but not commit turnovers. How well did Telfair do that? Well, last year, here are some of the players that Telfair had a better assist-to-turnover ratio then:
Brandon Roy
Deron Williams
T.J. Ford
Steve Nash
Jason Kidd
Kirk Hinrich
Jason Terry
Andre Miller
Raymond Felton
Jameer Nelson
Baron Davis
Rajon Rondo
Derek Fisher
Tony Parker
Miky Bibby
Allen Iverson
Mo Wlliams
Devin Harris
Yes, you read that correctly. Telfair had a better assist-to-turnover ratio than all of those guys. And that list isn't a bunch of lousy point guards, is it? Playing on a team with Al Jefferson, Randy Foye and Ryan Gomes, he didn't manage to get all the assists in the world, but if you put him on Phoenix, Boston or San Antonio, I guarantee that his numbers would be way up.
Next, since he is still just 23, look at his stats from his fourth year in the NBA, compared with other guys, who are now some of the best point guards in the NBA:
Telfair- 32 MPG, 9.3 PPG, 5.9 APG, 2.3 RPG, 40% FG, 1.9 TO
Billups- 23 MPG, 9.3 PPG, 3.4 APG, 2.0 RPG, 42% FG, 1.4 TO
Nash- 27 MPG, 8.6 PPG, 4.9 APG, 2.2 RPG, 47% FG, 1.8 TO
Parker- 24 MPG, 16 PPG, 6.1 APG, 3.7 RPG, 48% FG, 2.7 TO
Kidd- 38 MPG, 11.6 PPG, 9.1 APG, 6.2 RPG, 41% FG, 3.2 TO
Looking at those numbers, what do they show? They show that although Telfair wasn't quite as good as those guys, he still competes with them. Look at that! Not only is Sebastian Telfair being mentioned with the Kidds, Parkers and Nashs of the NBA, but he competes with them, too! He averaged more assists than Billups or Nash, and averaged less turnovers than Parker or Kidd. The main thing against him is that he can't shoot like those guys. That has always been the knock against Telfair, since his days in high school. But you know what? I think that he really has the capabilities to improve his jumper. Lots of guys develop their jumps shots over their careers, and can knock them down over time.
So what am I saying? Don't let the expectations fool you; Telfair has been playing much better than the general basketball world gives him credit for. He is still young and talented, and his career doesn't seem close to being over. So like the other guys on his team, things might not have gone exactly to plan. And although they all took different paths, all have had success in sports.
In the next five years, who knows? Sebastian Telfair could be a consistent point guard in the NBA. Maybe Eguene Lawrence will get his chance and prove himself. Antonio Pena could develop, and get a look at the NBA. Nyan Boateng could be an up-and-coming receiver in the NFL. What is going to happen to this group of guys? Stay tuned to find out.