09:42 PM ET 02.03 |
http://zellspinstripeblog.com/2009/02/03/fans-show-support-and-line-up-for-joes-book/
There was a lot of support for Joe Torre at Barnes & Noble today. Fans waited in line patiently to meet him and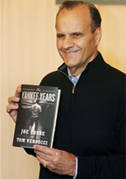 get their copy of the book signed. Even a bunch of LA Dodgers fans showed up to the book signing. The books were flying off the shelves. According to one employee, all the copies of the book were sold out soon after noon. The line stretched down the corner of the street, and halfway down the next block. The people who showed up sure didn't come to heckle him. My copy of the book should be here any day now. Can't wait...
Joe Torre was on WFAN with Mike Francesa earlier today. Check out the interview here.
------------------------------
First update from Joe Torre Book Signing Day
Gimme a Minute: Mariano Rivera
Again with the Jeter standing up for A-Rod thing / Mid-season bench pickups?
Talk of the Town? On Tuesday, It'll Be Torre's Book