05:00 AM ET 02.13 |
Though I realize the New York Yankees are a business, perhaps this will serve as a lesson on how to build a baseball team rather than a marketing juggernaut. Whether for the YES Network, new Yankee Stadium, expanding to the Japanese market, or for record breaking milestones the Yankees have made some ill advised moves since the end of 2001.
This is not a bash A-Rod story, because the Yankees have had plenty of other guys come and go with steroid abuse, most notably Jason Giambi, Roger Clemens and Andy Pettitte along with some others in the so-called Mitchell Report. No this calls into question why A-Rod is still even a Yankee.
I'm not going to go as far as Bill Madden of the NY Daily News who suggested the Yanks just outright cut A-Rod and eat the rest of his $275 million while he hits 40 HR's a year for somebody else at a reduced rate while the Yanks are left constricted with nothing to show for it. And given the names listed above, I can't give the Yankees a pass on signing A-Rod without some sort of protection, especially just a year after getting duped by Pettitte right after he re-signed with them.
No this goes deeper, to something Derek Jeter said when vacationing and asked about A-Rod opting out of his Yankee deal. Jeter commented on how the Yankees had won in the past without superstars and big egos and one would have imagined that Jeter would have rather had Mike Lowell patrolling 3rd base for the Yankees than A-Rod.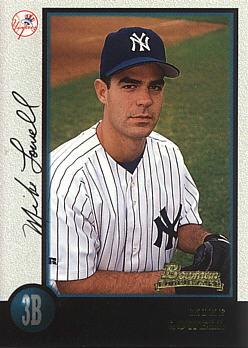 That is ultimately what is at the crux of this, because while A-Rod will no doubt in my opinion still put up solid numbers, if the split on bringing him back was based on having him be a marketing tool for the network and new stadium for the record chase, then there's really no point in having A-Rod on the Yankees is there?
I'm sure when he hits the field I'll root for him like I did for Pettitte and Giambi, but really do the Yankees need all this drama? Honestly the only slim saving grace of this is that now perhaps A-Rod stops caring about the record books which are now tainted and focuses more on the team. Because really with all of the steroids, off the field tabloid stuff and poor post-season performance issues, if this guy's not going for the record books all that is left is all of that other garbage.
Perhaps one good idea if at all feasible would be making a deal in reverse that started all of this in the first place. That deal would have A-Rod going to the Chicago Cubs for Alfonso Soriano. Soriano could possibly solve the Yankees hole in centerfield and A-Rod would be re-united with his ex-manager and mentor Lou Pinella in Chicago where if he could ever lead the Cubs to a World Championship, that could possibly be the last shot he has at completely turning around his legacy.
If you're the Yankees it certainly couldn't hurt to try.