09:23 PM ET 02.15 |
Basketball is a great sport. One of the fun things to do with it is to make your own team of guys. People do this constantly, but I'm going to do it differently. You know why? Because if you're trying to pick the best possible team, everyone is going to take the same guys. Chris Paul, Kobe Bryant, LeBron James, Dwight Howard, etc. Unless you're Mike Krzyzweski and get to wear uniforms that say "USA" on them, you aren't going to win many games. And even if you do have those benefits, there are no guarantees.
You know why? Because if they played in the NBA, during an 82 game regular season, and the playoffs, even those guys would start complaining. Tayshaun Prince and Carlos Boozer would want to play. Michael Redd is going to want to shoot. Dwyane Wade, Jason Kidd, and even guys like LeBron would want the ball more. Eventually, they would start to complain, and the team would fall apart.
So, what am I going to do? I'm going to make my basketball roster, to win games, without the likes of superstar after superstar after superstar. In fact, I'm going to basically leave the two best players at each position off the team. The team will not have James, Bryant, Howard or Paul. It won't have Kevin Garnett, Tim Duncan, Chris Bosh, Carmelo Anthony (AKA Mr. Overrated), or Deron Williams. Not even Richard Hamilton, Manu Ginobili, Ben Gordon or Antonio McDyess coming off the bench. Even more, there will be no future stars who are currently sitting on the bench snuck in here, so don't expect to see guys like Greg Oden, Kevin Love or Brandan Wright.
The team will get two "stars", neither of which is considered a top five NBA player. Teamwork makes things happen, and defense wins championships. That being said, my team will not be what one would expect.
Point Guard- Andre Miller, Philadelphia 76ers

One of the most underrated players, and probably the most underrated point guard in the NBA. Only two guys average more points and assists than him: Paul and Williams. He plays better defense than one, and the other is one of the best players in the league. So why is it that Miller is talked about less than the likes of Steve Nash, Kidd, Derrick Rose, Devin Harris, Jose Calderon or Chauncey Billups? They are all good players, and so is Miller. He can score, averaging 16+ a game; he can pass, averaging 6.5 assists a game, and he plays better defense than he gets credit for. A point guard should be able to run a team, knock down shots, and make things happen. Miller helped lead the 76ers to the playoffs last year, he shoots 48% from the field and 33% from downtown, and he turns the ball over less than every aforementioned guard other than Calderon. Miller can run a playoff team, and make things happen as a third option, and he is the point guard for this team.
Shooting Guard- Dwyane Wade, Miami Heat

Every good team needs a star to depend on, and Wade is no exception. As acclaimed as he was when he led the Heat to the NBA title and won Finals MVP, he is often overlooked at the guard position by the likes of Bryant and CP3. How good is this guy? He's second in the league in scoring, and has the ability to go off, like when he went for 24 in the first half (!) of the Gold Medal game, but is a great passer, which is a rare combination. Among shooting guards, he leads in both scoring and assists. He averegaes 28+ a night, with seven assists, so essentially he accounts for 42 points a night. If you think he is all offense, you are wrong. He gets more than two steals a game, which leads shooting guards. He also gets more than a block and a half, which, wait for it, is far-and-away the best amongst shooting guards. As for rebounding, he gets five a game, which is a lowly fourth. But what sets him apart is that he is a warrior, who plays 38 minutes a night. Wade can do it all, and is the star of this team.
Small Forward-Marvin Williams, Atlanta Hawks

Marvin Williams?!?! What is he doing here? I'll tell you what he is doing, he's the starting small forward. Williams is one of the more underrated players in the league, and often gets overlooked, especially playing with guys like Joe Johnson, Mike Bibby and Josh Smith. Playing as the fourth option, Williams isn't counted to score, but he still drops 13.9 a night, which is better than you might think. He is a good rebounder for his size, pulling in 6.5 rebounds a game, which is better than Caron Butler, Rudy Gay, Paul Pierce, Danny Granger, or Hedo Turkoglu. Williams shoots 45% from the field, 37% from deep, and a respectable 81% from the line. But he also does the little things to win games, such as turning the ball over almost one-third less than LeBron, and playing good defense. Williams can do a little bit of everything, which is good enough to start for this team.
Power Forward- Al Jefferson, Minnesota Timberwolves

The list of NBA players who get 20+ points and 10+ rebounds a night is very short. It goes Howard, Duncan, and then Big Al. One of them was a superstar, one of them is a superstar, and one of them is on his way to becoming a superstar. Jefferson just happens to play in Minnesota, otherwise he would be a combination of David West and Chris Bosh. What does he do on a nightly basis? 23+ points, 11+ rebounds, 1.7 blocks, and 1.6 assists a night. The two biggest criticisms of Jefferson are that he shoots too much, and that he doesn't carry a team. He shoots 49%, which is better that Bosh, Shawn Marion, Josh Smith or Dirk Nowitzki. And if he played on a team with Calderon and Andrea Bargnani, Wade and Michael Beasley, Johnson and Bibby, or Jason Kidd and Josh Howard, you better believe the results will be different. Big Al has great post moves, a great all-around game, and although is primarily a center, he can be an effective power forward, where he will control the paint for this team.
Center- Kendrick Perkins, Boston Celtics

The easiest pick of the starters, Perkins is the best center nobody gives any credit to. Although he does nothing especially good, he does multiple things good. On offense, he averages eight points a game, which doesn't sound that special. But you have to remember he's the fifth option, playing with three All-Stars, so I think that's pretty good. He doesn't need the ball, but he can go off, like he did against Chicago, when he went for 25. On defense, he pulls in 8 rebounds a game, to go with 1.8 blocks a game, good for seventh among centers. He's one of the better offensive rebounders in the league, and if you weren't impressed by now, let me remind you that he has a championship ring, is still just 24 years old, and shoots 58% (!) from the field. Perkins is the fifth option, the guy who does the dirty work, and the starting center on this team.
Sixth Man- Ron Artest, Houston Rockets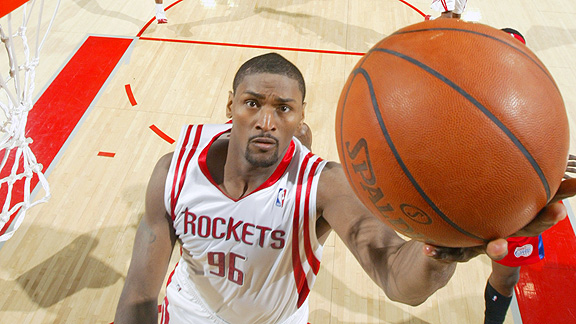 If he was a starter, there's no doubt he'd be my starting forward. But I'm gonna bring him off the bench a couple minutes into the game, and let him do his thing. Nobody wants to hear it, or admit it, but Ron Artest is a very good player. Obviuosly, he can score, getting 16 as a third option, behind two guys who look to score a lot. He shoots 40% from downtown, which is better than acclaimed shooters such as Peja Stojakovic, Granger, or Redd. He gets over five reounds a game, which is better than Granger, and he gets over three assists a game, which is on par with Granger, and better than Kevin Durant. Remember, Granger is an All-Star. Artest is a leader, who has led both Indiana and Sacramento to the playoffs, where they took the one seed to six games, and he can step up in the playoffs. But why is he here? Defense, where he is one of the best in the league. He's a former Defensvive Player of the Year, and is a three time All-NBA defensive player, two of which were first team. An underrated part of his game is that he doesn't turn the ball over much, which is a key factor late in games. He's a savvy veteran, even though he's just 29 years old. He can score, make his teammates better, and is an excellent defender; the perfect guy coming off the bench first.
Seventh Man- James Posey, New Orleans Hornets

James Posey went to Miami, and he won a ring. James Posey went to Boston, and he won a ring. James Posey went to New Orleans, and they're one of the best in the league. Was he the reason for winning? No, but did he hit many big shots and play important defense? Yes. He's a key player off of the bench, who can score (9.5 points), rebound (4.7), pass (1.1 assists) and play defense. He shoots over 40% from the field, and is one of the best, and most clutch three point shooters in the NBA. He can play a big role off the bench, and is currently averaging over 28 minutes a game for the Hornets. Posey is clutch, team-oriented, and can do a little bit of everything, perfect for a bench player.
Eighth Man- Anthony Carter, Denver Nuggets

Much like the starting point guard, the backup point guard should be able to come off the bench and run the offense, play defense, and do a little scoring; Carter can do all three. Although he doesn't score much, he averages a whopping 4.9 assists in under 25 minutes a game. By comparison, that is more than Mario Chalmers, Derek Fisher, or All-Star Mo Williams, who all are starters. Carter is also a solid defender, as evident by the fact that he gets more steals per game than Kobe Bryant, one of the best defenders in the NBA, and Kevin Garnett, who just won the Defensive Player of the Year award. He doesn't take a lot of shots, but he takes smart ones, and hits 44% of them. Add in his 2.9 rebounds a game, and you have a good all-around backup, veteran point guard, which is what Carter will play.
Ninth Man- Leon Powe, Boston Celtics

As the first big man off the bench for the NBA-champion Celtics, Powe is proving that he can fill the role very nicely. In just over 15 minutes a game, Powe is averaging 6.4 points and 4.2 rebounds, and is shooting 50%. Continuing with the theme of defense off the bench, Powe is a versataile player who has guarded three positions. He has the ability to score if called upon, and can control the glass, whle shutting down otherwise-effective big men late in the game. I know you all remember what he did in the playoffs, and then against the Lakers last year, and I remember it, too. Powe is a great player off the bench.
Tenth Man- Trevor Ariza, Los Angeles Lakers

Playing for the Lakers, Ariza is overshadowed by the likes of Kobe, Andrew Bynum, Pau Gasol, Lamar Odom, Derek Fisher, and even Luke Walton. He scores more than eight points a game, gets more than four rebounds a game, picks up 1.9 assists a game, gets over 1.5 steals a game, shoots 47% from the field, and doesn't turn the ball over much. Ariza was hurt last year, and didn't have a chance to play in the NBA Finals, but if the Lakers are there this year, he could make a difference. Off the bench, you are hard-pressed to find a more complete player than Ariza, and he has a spot secured on this team.
Eleventh Man- Ronny Turiaf, Golden State Warriors

Turiaf is the second big man off the bench, and when he's in the game, he makes things happen. Although not much of a scorer, he gets four rebounds a game, almost two assists a game, and plays great defense. In under two minutes, he gets 2.2 blocks a game, which is good for third in the NBA. If he played as much as Howard or Marcus Camby, he would lead the league, as he is far-and-away the leader in blocks per 48 minutes. As a big, he shoots over 80% from the line, which is much better than most big men who play good defense. Turiaf can get enough playing time to make a difference, and even if he isn't playing, he's a great teammate, which only helps him for a bench spot.
Twelfth Man- Chris Wilcox, Oklahoma City Thunder

It's the moment everyone reading this has been waiting for, the announcement of the twelfth man! As it is in Oklahoma City, my man Chris Wilcox is currently stuck behind Nick Collison, Nenad Kristic and Joe Smith. But don't let that fool you, he's still getting more than eight points, and more than five rebounds in under 20 minutes of playing time. The past three years, he has averaged 14+ points, 7+ rebounds and over an assist a night, but this year, he has not been getting the playing time to produce like that. Even so, Wilcox is a great option as the backup center, and the last seat on the bench.
So, there's my ultimate NBA team. I know you are going to disagree with me, so tell me what you think. If you've got a better team, hit me up; I'd love to discuss it with you. If you don't, I might have to unleash the enforcer on you...and you don't want that.