08:04 PM ET 04.27 |
Quite a shameful weekend for New York sports, wouldn't you say?
The Sweep at Fenway
Game 1:
Rivera entered the 8th inning for a 3+ out save (one of the first times he's done so under Girardi) to putrid results: he served up a game-tying shot to Jason Bay in the bottom of the 9th, opening the door for Marte to do much of the same in the 11th. Facing Youkilis in extras (why pitch to the guy, Joe?), Damaso telegraphed a flat fastball over the plate, right into his wheelhouse. Game, set, match. Boston wins.
Game 2:
Beckett was bad, but Burnett matched him in the dreadful department, relinquishing a 6 run lead that effectively ruined Robinson Cano's coming-out-party (three extra base hits, two of which were home runs). By the 8th, the 'pen had already thrown its 247th pitch in just two games, putting the finishing touches on a 16-11 laugher. Advantage, Boston.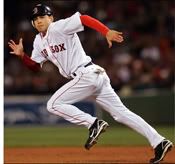 Game 3:
Promising outing by Mark Melancon notwithstanding (he might very well be the set-up stud the Yanks are so desperately seeking), Jacoby Ellsbury poured salt into the wounds the Yankees were still licking at this point, stealing home in grandiose fashion while putting an exclamation point on the sweep (the three-game performance, giving the Sox 9 wins in a row, might very well have given them "best in baseball" status in this young season). Not even Pettitte, who was 17-1 in his career when saving the Yankees from a sweep, could provide the answer on a weekend when the pinstripes had entered Fenway 9-6 with a full head of steam, only to leave Boston listless and banged up (Wang, Bruney, and Ransom all earned trips to the DL).
No Sweep at Citi Field
On Saturday, I experienced Citi Field for first time. Let me be one to say that the place is stunning; the Wilpons did it right, something in which the old Shea faithful can relish. Pelfrey followed up a typical Johan gem with a strong performance of his own against the hapless Nats, making up for a horrid start to the season. Thanks largely to Beltran and Church's bats (and the lead glove of Elijah Dukes, who committed two errors in center), Pelfrey helped lead the Mets to a 8-2 victory, setting them up for a sweep that never came. Why, you ask? It was a matter of Ollie being Ollie. Perez left the mound to a cacophony of boos, coughing up 7 runs off 9 hits and sending Met fans home frustrated after an ugly 8-1 loss, bolstered by Austin Kearns (the first to hit one into the black at Citi Field) and Jesus Flores's loooooong balls.
The Jets Make a "Splash"
Sure, it cost them two picks, Brett Ratliff, Kenyon Coleman (as if the dearth at DE weren't enough), and Abram Elam, but the Jets got their man: USC alum Mark Sanchez, who you'd think was the second coming of Joe Namath by the way he was touted on ESPN. Then, the Jets sent three more picks to Detroit to land Shonn Greene, last year's Doak Walker winner as the nation's top RB. Mind you, the Jets received two potential studs in Sanchez (who emanates bravado) and Greene (an eventual fill-in for Thomas Jones), but at what cost? Throughout the ENTIRE draft, New York made three picks. Three. For an organization that lacks offensive firepower (especially at the wideout position), does not have a pass-blocking TE, and could use some depth on the O-line. But if that's what it takes to procure a potential franchise QB, then so be it.
From Upset to Oust
In the Rangers' storied history, no team in the organization has EVER coughed up a 3-1 series lead, the position the Blueshirts find themselves in tomorrow night. How could this have happened? Here's a rundown:
The King
For as much as Henrik Lundqvist has tried his best to channel Mike Richter, he doesn't have the likes of Jeff Beukeboom, Sergei Zubov, or Brian Leetch to provide the initial front on defense. Instead, Lundqvist must deal with a porous defensive unit that forces him to face a barrage of 45 shots in a contest (which should never happen in the postseason). On two straight occasions (both losses, in Games 5 & 6), Lundqvist was pulled after putting the Rangers in a hole; this, despite two shutouts in the series already.
Scoring
At one point, the Rangers had 7 goals total in the series, all scored by different players. Aside from Chris Drury, who scored his 16th game-winning goal in his playoff career in Game 4, the Rangers lack the gunslingers to push them far into the playoffs.
Who's More the Fool: The Fool, or the Fool that Follows Him?
First, Sean Avery gets suspended by Coach Tortorella for reckless play/behavior, then, Tortorella himself gets suspended by the league for doing something far more infantile: responding to a fan who dumped beer on his head behind the Rangers' bench, Torto shot a water bottle at the heckler, tossing it over the glass at her in disgust. In what could very well be the last game on MSG ice in '09, Torto wasn't there to lead his team in Game 6, which the Rangers lost 5-3 (all 5 goals given up by Lundqvist). It's one thing to make an example out of a player, a la Stephon Marbury and Allen Iverson, but to do so in the midst of a playoff series, and then follow it up with his misconduct in Game 5, can only spell doom for the Rangers this year. Then, to top it all off, he said in an interview, "It's the Caps who have the pressure on them. We weren't even supposed to stretch this series to seven games." With faithless remarks like that, I wouldn't feel slighted if the team around Torto purposely (a) tanked the season or (b) won in spite of him (like the Lightning before them).