07:11 PM ET 05.27 |
The Dallas Mavericks finished 3rd in their division, and sixth in the Western Conference this year. Coach Rick Carlisle improved the Mavs to a 50-32 record in his first year. In the playoffs, he led the Mavs to a series victory 4-1 over the San Antonio Spurs, but was later defeated in the second round by the athletic Denver Nuggets. Tension rised between Mavs owner Mark Cuban, and Denver's PF Kenyon Martin. At the end Nuggets won, and Kenyon Martin got the last word. Now Mavs season is over, and the attention has been turned to the offseason. What will the Mavericks have to do to win a NBA Championship?
Free Agency: 6 total Mavericks player will be a free agent this year including Jason Kidd, and Brandon Bass. Most likely they will let go of Gerald Green, Singleton, and maybe Jason Kidd. Kidd, right now has a 50/50 chance that he will return. Jason Kidd has helped the Mavericks both offensively and defensively. If they do let go of Kidd, than Barea will have a much bigger role. Excpect the Mavs to bring back Jason Kidd, Brandon Bass, Devean George, and Ryan Hollins.
There are also many free agents from other teams that are interested in the Mavericks. The biggest name of all is Shaq, that's right The Big Diesel.
Shaq
More than Multiple sources stated that Shaq wants to be a Maverick. Overall If the Mavs can sign him for 2 or 3 years that isn't overpaid, I think it would be a great deal for the Mavs. The Mavs need defense, and Dampier isn't the best answer. Other free agents such as Maurice Ager, Kyle Korver, and Felton are also Options. The Mavs should sign Shaq, and one of the three player I listed.
NBA Draft picks: 22
The Mavs finally get a 1st Round draft pick this year. Luckly this years draft is talented. They're are many options, but Mavs need a Young talented point guard or a young Center. If they can get Shaq, I think they will draft a talented PG such as Maynor, Collsion, or maybe if they are lucky they probaly can get Holiday. The Mavs must play their cards right if they want to win a championship, becuase their recent draft wasn't pretty. My prediction at the draft is the Mavs will select PG Darren Collison at #22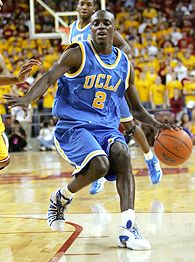 Darren Collison
2009/2010 Dallas Mavericks predicted Depth Chart
PG. Jason Kidd/ J.J Barea/ Darren Collison
SG. Antoine Wright/ Jason Terry/ Matt Carrol
SF. Josh Howard/ Kyle Korver/ Devean George
PF. Dirk Nowitzki/ Brandon Bass/ James Singleton
C. Shaquille O'Neal/ Erick Dampier
Prediction. 2nd in Division, 4th in Conference, Lose in the second round of the playoffs.