08:46 AM ET 06.01 |
Hello and welcome to the daily SoccerNation Report. Over the next two months, you will be receiving an update on transfers, coaching, and all the big games that will take place over the summer. I will do my best to have a new blog up everyday. But please understand that things do come up in life every now and again. Ok, with that said I'm going to start this thing off.
The Big Deal- Chelsea has added stability by signing former AC Milan manager Carlo Ancelotti as manager. The move has been talked about for at least 6 months now. It dates back to the days of Scolari at the Stamford Bridge, so no one's all too surprised. But I am surprised by the timing of this. One day after AC Milan's last match and subsuquent release (mutual) of Ancelotti and Chelsea has snapped him up. This move likely happened so early because Roman Abramovich, Chelsea's owner, actually wants to build some chemistry and stability within his side. After having three different managers in the course of a year, the Russian has realized that his side must have stability in order to truly compete. Ancelotti is the man to win the Champions League for Chelsea. After winning it two times already, Chelsea will be anxious to see if he can do it with them. Both titles came with AC Milan during that massive stint from 2001 to 2009. On another note, I don't expect many transfers to be made for Chelsea this summer. The point of bringing him in is to stabilize and Chelsea have the players to win as it is. We shall see.
Something Interesting- Zlatan Ibrahimvoic may not stay in Italy next season. The Italian Serie A Golden Boot winner has won everything in Italy and is possibly looking to move elsewhere to continue winning trophies. One huge influence on him will be the fact that Inter are notroriously bad in European play. If the Swedish striker was to make a move to either Spain or England, it would be a very costly move but it would likely be worth it. No doubt that he can score goals.
Yesterday's Big Game- Fiorentina 0, AC Milan 2. This match was of vital importance to both sides due to Platini's "new and improved" European tourneys. The new system in the Champions League will be different for non-champions. If you aren't a champion and you come in fourth (or third in Germany) then you will likely have to face one of Europe's big dogs in a two-legged tie just to advance to the group stage. So with third place on the line, Fiorentina were at home in the Stadio Artemi Franchi. La Viola needed a clear 2-0 victory to claim third place and automatic qualification for the UEFA Champions League Group Stage. But it wasn't meant to be. The first half was a good one for La Viola, but they couldn't get the ball on target (that's all you have to do when Dida is in goal). Two second-half strikes by Brazilians Kaka (55) and Alexandre Pato (76) downed the men in purple and sent Ancelotti out on top. It was also the final league match that legendary defender Paolo Maldini ever played in.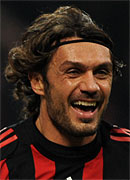 Classic Match of the Day- Since there are no matches today to speak of, I will give you a classic match to watch. Here it is:
Well, I hope you liked it. It's been Keeper and I'm out.