09:42 AM ET 06.01 |
We're halfway home in the race to make this year's Chase but if history is any indication the field for this year's playoff season is pretty much set.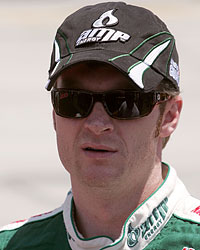 Junior is in 18th place, 215 points out of the Chase. (Getty Images) Since the controversial format was introduced in 2004, the championship contending field of 12 has been more than locked in by the time the regular season reaches race No. 13.
And if that's the case after Sunday's Autism Speaks 400 at Dover, there are going to be some very high-profile faces not in this year's title picture unless something changes dramatically.
Kasey Kahne, Clint Bowyer, Dale Earnhardt Jr., Jamie McMurray, Kevin Harvick and Joey Logano top the dubious list and have history and time against them.
Kahne finally received the boost the Richard Petty Motorsports driver was looking for this weekend when the team employed the new Dodge engine for the No. 9 entry.
It immediately proved to be beneficial with an outside-front row qualifying effort but Kahne's sixth-place finish didn't help enough to crack the magic 12.
But Kahne still believes there is more than enough racing left to change his destiny and the clock isn't yet at midnight on his Chase dreams.
"I don't think so at all," Kahne said. "If we were in late July, then I would probably say yes, but we have plenty of time to get back in the running. The guys back at the shop have been doing a great job building new race cars.
"I think this weekend showed what we're capable of doing, and a few good finishes can go a long way into getting some momentum going on our side."
Momentum is something the entire Richard Childress Racing operation seems to have lost this year with the three-car stable unable to get any kind of consistency going.
Harvick has been the most notable disappointment of the RCR bunch and despite team owner Childress changing crews between his No. 29 squad and newcomer Casey Mears' No. 07 team, not much has gone right for the 2007 Daytona 500 winner.
"Right now, the main focus is to get solid finishes," Harvick said. "Right now for us, a solid finish is a top 15 finish. We've got to crawl before we walk and get our stuff back together."
Even Jeff Burton, the RCR driver currently in Chase territory, can't understand what has plagued the operation this season.
"I'm not trying to be a smart guy here when I say this," Burton said, "but if we knew what the problem was we wouldn't have it."
One theory is NASCAR's testing ban, which went into effect this season, has hurt teams like RCR with a lack of information and data in helping to set up cars going into race weekends.
That means chasing a set-up becomes part of Friday and Saturday's qualifying and practice sessions rather than fine-tuning race strategies.
"We tested a lot," Burton said of past seasons. "The 29 [of Harvick] and the 31 spent a lot of time testing and I think that we got a lot of benefit out of that. We may not have been as prepared as a lot of teams without being able to test.
"I think we've gotten a little behind in a lot of areas," Burton said. "One of the things that was clear to us coming into this year and last year, and I openly talked about it, is we were on the verge of not being good enough last year. We had one of two ways to go -- we could either improve or we couldn't improve."
High-profile rookie Logano has improved in recent weeks after getting off to a slow and disappointing start.
Success in NASCAR's Nationwide Series has helped the young phenom get necessary seat time at tracks that have been foreign to him in the first part of the year.
With that experience as well as a chance to go back to tracks he's now familiar with in the summer months and second half of the schedule has Logano feeling pretty good about things.
"My confidence lately has gone up to the moon. I think since Darlington is really when it stepped up a ton for me, Zippy [crew chief Greg Zipadelli] and the team," Logano said.
But there are still tracks coming Logano has never seen and he'll use a combination of Joe Gibbs Racing resources and video games to prepare.
"Once you get there you pick your teammates' brains and go out and run a few laps," Logano said. "Once you do that you have a million questions. I like to sit and think about it.
"And then you can always run a few laps on the Xbox."
As the countdown to making the Chase continues, that may be the only fun and games for Logano and many others.
Source: CBS Sports