12:03 AM ET 06.08 |
Baseball season is in full swing, my favorite time of year. I know that many people complain about the "dog days of summer" and that baseball tends to get monotonous at times leading up to the trading deadline, but I respectfully disagree. I love these days. I love going to the ballpark. I love watching baseball every night on my HDTV, living and dying with every pitch that the Rockies throw, and strategizing with Jim Tracy from my couch (OK, so I guess I haven't had much experience strategizing with Jim Tracy, but so far it's proven easier than trying to strategize with Clint Hurdle ever did.).
Opening Day 2009
This was the first time in my life that I'd ever made it down for Opening Day. I met and talked to Rockies broadcaster Jeff Huson before the ballgame. He is an incredibly nice individual, and that was a fun experience. Last season, I went to the Rockies second home game and saw them unveil the 2007 National League Pennant. Opening Day is a spectacle that everyone must experience, though. My experience was somewhat unique this year.
Every home game, the Rockies have a promotion known as the "Coca-Cola Grounds Crew Challenge". A fan is selected to go on the field after the 3rd inning when the ground crew changes out the bags and manicures the infield. You start on the warning track by the "390" sign in left-center field, and you run in and change out 2nd base before running across the foul line by 1st base. Do this in under 20 seconds, and you win a free jersey courtesy of Coca-Cola. (It used to be 30 seconds, then it went to 25 seconds for the past three years, and now it's down to 20 seconds.) I had always wondered how one gets selected for this contest before a couple of people wearing suits approached me in the bottom of the 2nd inning and asked if I'd like to participate. Naturally, I agreed.
This looks easy, but it is the furthest thing from that. The announced attendance at this particular game was 50,013. Safe to say that I never thought that I'd ever run the 100-meter dash in front of 50,000 people. In order to get an accurate picture, you must know some things about me. I come from the country. I'm about 6'3", 240 pounds, and I always wear Ariat Heritage Roper boots with my Cinch Black Label or Wrangler 20X jeans. I have also never been accused of being a track star. In fact, I don't know that anyone in the history of the earth would be capable of losing a foot race to me. Naturally, I didn't complete it in the required time, so all I got was a crappy consolation T-shirt. A gentleman sitting next to me took some pictures, though, and I've shared a couple of them with you below. It was a fun experience, but I wouldn't care if I never did it again.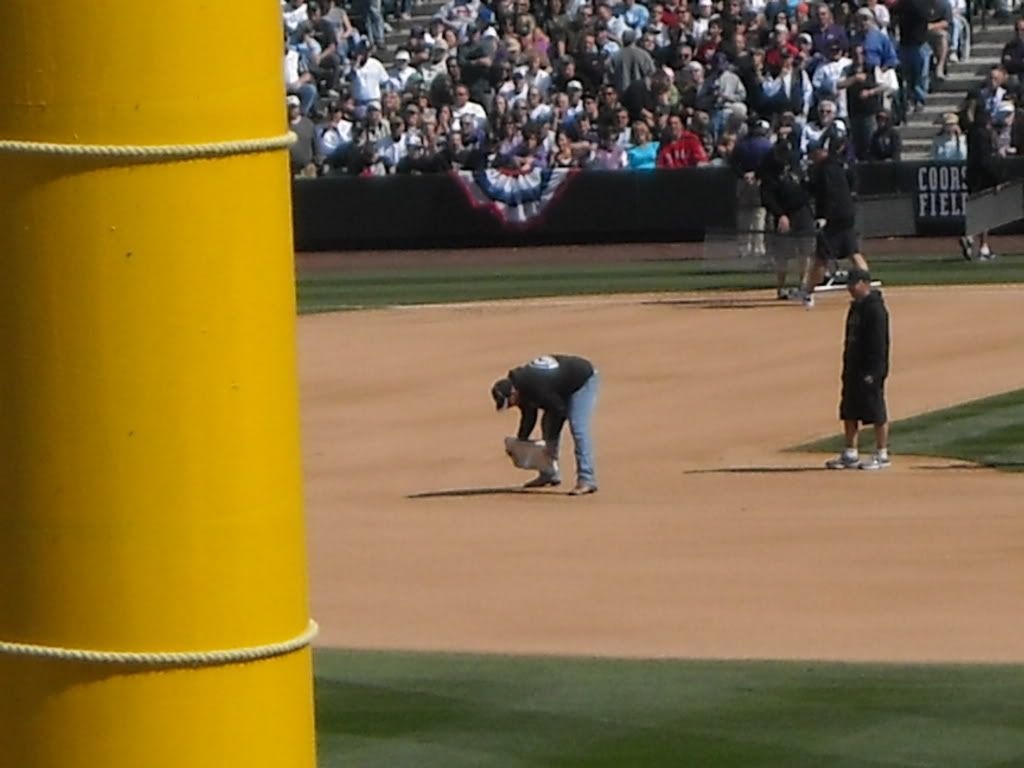 Baseball Mecca
I made my first trip to a baseball stadium not named Coors Field this past April 23. A friend of mine that I grew up with was graduating from Navy boot camp in Great Lakes, Illinois, on April 24, so I decided that I would see if the Cubs were in town, as part of me roots for the Cubs, and Wrigley Field was the one place I wanted to visit before I died. They were in town on Thursday, so I took a 6:05 AM flight out of Denver to Chicago to go to the game. People that say that there isn't room in the seats there are lying. The seats are close together, but I found that my seat was incredibly comfortable. When you go there, you must get a Chicago Dog. It is nothing more than a hot dog on a poppy seed bun, but it's a good hot dog, even if it costs $6. I also purchased a dog from a vender walking through the stands, as we don't have this in Denver, and I had to experience it all. The bullpens being on the field provides a nice touch, and that is something that I actually liked very much.
Having a real organ in the stadium is tremendous. That is the way that it should be in every baseball stadium and hockey arena in America. It just seems right. The Bleacher Bums are a sight to behold as well. The bleachers are full during batting practice, and everyone is into every BP pitch. I also witnessed a fan throw a Cincinnati Reds homerun ball onto the field, which is something that will get you ejected from a game in Denver. The 7th inning stretch is also an experience. Ron Santo sang that day, and there is no such thing as a stranger during the 7th inning stretch at Wrigley Field. One more interesting note: Nashville recording artists Emerson Drive sang the national anthem prior to the game. A week later, they played a concert at my school, Colorado State University. They had trouble getting a ride from Denver International Airport to CSU, and somehow a friend of mine was alerted to this. He and I picked them up from the airport and drove them to Ft. Collins. I can't say that I ever thought that I would do anything like that.
The Road To Recovery
Last summer, in my first FanNation blog, I told you the story of a F-4 tornado that went through my hometown of Windsor, CO, causing many millions of dollars of damage. One of the areas damaged was Chimney Community Park, the local Little League baseball park. Everything from the concessions stand to the fences and dugouts was completely destroyed. Well, the reconstruction of Chimney Park was recently completed, and the park re-opened, and the rec baseball team that I coach was the first to practice on the new Field #1. The park is immaculate. The infield dirt was changed from sand to red clay, which is a much better playing surface. There is a statue of a boy with a baseball bat at the entrance. The old chain-link dugouts were replaced with brick dugouts. All three fields have bullpen areas on both sides, and the landscaping is incredible. The cut of the outfield grass was re-edged on each field, and it is a smooth transition from the infield dirt now with no lip where the grass begins. It is far nicer than it was when I played there.
Field #1 is the best of the three. There is grass on the infield of this high school regulation field. There are two batting cages that double as bullpen areas down each line. Colorado Rockies pitcher Aaron Cook personally donated $50,000 through the Rockies charity fund for this field. It has been appropriately named Aaron Cook Field, and he threw some pitches off of the mound at Aaron Cook Field last week during the dedication ceremony. I've added some before and after pictures below.