08:28 PM ET 06.12 |
Opinions are like excuses, everyone has one. When one talks about the best of something, everyone has as opinion on who should be where. And everyone has an excuse as to why their pick should be higher.
In the game of hip-hop, this is certainly not an exception. Plenty of rappers make the claim of being 'the best rapper alive'. If you listen to mainstream hip-hop, you have probably heard at least three or four artists claim to be 'the best', 'the top' or 'the king'. But just who is at the top of the list? And who is even good enough to be on the list?
After many sleepless nights, many stress-filled days, and multiple trips to the psychologist's office, I have finally been able to make this happen.
As your guest host and ranking-maker, I will be guiding you through this process, the process of finding the best. However, there are a couple of things you will need to understand for this process to take place.
1- This is current guys only. Yes, I know this might cause some problems, but if you don't like it, make your own list...or just don't read mine. There are plenty of guys who could be considered "current", but if you haven't done a lot lately, you will not be on the list. So as good as guys like Rakim, KRS-One and Snoop Dogg are, they won't be here.
2- Music and sports can both be considered entertainment, and they will forever be associated together. Music gets athletes pumped for sports, and sports give artists inspiration for music. I don't really care if the "top blogs" on here are about pretty women, this list will relate hip-hop to basketball; so don't be surprised to see Lil' Flip being compared to Richard Hamilton.
3- This list will cover mainstream, except for one guy I feel the need to give some props to. There are plenty of guys underground, but for the purposes of this, mainstream will be used.
4- You are going to dislike my list. I know it. I mean, I am a white kid from Minnesota, so my interests might be a bit different from yours. But I ask you to voice your opinions, and tell me what you think about all of this. Thanks for taking the time to review these rules, and now let's begin!
First off, we'll start with the honorable mentions. These guys are good, but not quite good enough. Who just missed?
Earl Simmons- Oh yes, if it isn't none other than DMX. X is one of the, uh, angrier rappers in the game, but nobody can deny his ability to make music.
John Jackson- One of my the more underrated guys in the rap game, Fabolous is yet another rapper to come out of New York City, and maybe it's too soon to put him on, but hey, why not?
Dante Smith- As good of a rapper as he is, Mos Def is also a very good actor. If he focused solely on his music career, I belive he could be truly one of the elite.
LaRon James- He might not play basketball for the Cavaliers, but as a Diplomat with Jimmy and Killa Cam, Juelz Santana made a name for himself, and has followed that up with multiple hits as a soloist.
Malik Cox- What? Memphis Bleek? Why is he on here? I think he's great...just kidding. But seriously, what ever happened to this dude?
Well, now that we have gone over the five honorable mentions, the time has come to determine the best of the best, the top 15. Determing the dynamic of hip-hop is never easy, but the list has been made, come and enjoy the ride.
15- Curtis Jackson. Player Comparison: Carmelo Anthony
He acts. He runs companies. He drinks Vitamin Water. He works out. What can't 50 Cent do? Well, in the opinions of many, and myself included, he can't really rap. Much like Melo, 50 started off on the right note in the eyes of America. His first album, Get Rich or Die Tryin' wasn't a bad album. Anthony won a title at Syracuse, and finished second in Rookie of the Year voting. But both began to fall. 50's following albums weren't that great, and Melo has seemingly failed to live up to expectations. Now, both are considered near the top of their fields, and they share another distinction: these two men are overrated.
14- Jay Jenkins. Player Comparison: Allen Iverson
Everyone seemed to like Barack Obama during the election, and Young Jeezy was no exception. Neither one of these guys was supposed to make it big. Jeezy wasn't supposed to come out of the hood. AI was just short to be a succesful basketball player. But as they made it big, both of them have had problems, yet neither one is afraid to speak their mind. Iverson has caused plenty of controversy with his statements, and the same can be said for Jeezy. But they also have done good things, with charity funds, work with kids, or helping out with the aftermath Hurricane Katrina. At the end of the day though, nobody can deny the success of either one.
13- Felipe Coronel. Player Comparison: Gilbert Arenas
Who is that? The man on the left is Immortal Technique. He refuses to sign with a record label, he refuses to listen to people who tell him what to say, and he speaks about issues that matter, such as politics, health care and the problems in America. At the end of the day, he is afraid to criticize nobody, but he's right; and he's good. Much like Technique, Arenas is not the ideal NBA player. He says things people don't like, he does things people wouldn't expect, and he will criticize if it's necessary. But he also does many good things, much like Technique. Neither one of them will ever be idolized with the elite, but both have valid points, both do what they want, and both are good at what they do.
12- Lonnie Lynn. Player Comparison: Ray Allen
Common and Ray Allen. Two of the elite in their respective fields. Two guys who have a great sense of the world, and do great things out of their profession. Two guys who have been in movies, and who can both act. Is this a good comparison or what? Common is one of the better lyricists in hip-hop, and his career has taken off to the point where he can be considered one of the best. Allen is one of the best shooters in basketball, and he will be under consideration for the Hall of Fame when he retires. Both guys make things happen, both guys are true good guys in the professions, and the talent of both of them can't be doubted.
11- Wasalu Jaco. Player Comparison: Derrick Rose
When a young guy breaks onto the scene and garners success instantly for their accomplishments, you know that they have a bright future ahead of them. Hailing from Chicago, both Lupe Fiasco and Derrick Rose have broken into the selective with Grammy Nominations, and Rookie of the Year awards. But what defines these two is their future. Lupe is relatively new to his game, and Rose is new to the level of his game. In the next couple of years, watch out for the next batch of success from two kids from Chicago who made it big.
10- Chris Bridges. Player Comparison: Steve Nash
Both Steve Nash and Ludacris are considered two of the top in their entertainment buiness. Yet even so, neither Luda, nor Nash deserve this praise. Personally, I like both of them. I feel that Nash is a very good point guard, and that Luda is a good rapper. However, neither of them are truly "elite". They both live off of their names. Luda just isn't that special anymore, and after some of his early work, I feel that Theater of the Mind wasn't his best work, and although it wasn't a bad album, it just wasn't that good. Until he drops another album, I think he topped out at The Red Light District. Nash was a two-time MVP, who had the benefits of playing with an awesome supporting cast and Mike D' Antoni as a coach. Look at D' Antoni now, Chris Duhon is running the point guard position for him, and his stats are muhc better. Name recognition can be misleading, and as it pains me to say it, both Luda and Nash aren't near the top anymore.
9- Andre Benjamin. Player Comparison: Jason Richardson
Andre 3000, what a guy. Arguably the most underappreciated man in hip-hop, he has talents in quite a few places. He writes songs, he plays instruments, he can act, he can sing, he can rap, and he doesn't get enough credit for it. In the NBA, J-Rich can dunk, score, rebound, shoot, play some defense, and even set up his teammates. As you might have guessed, he doesn't get much credit, either. Andre 3000 is one of the most clever lyracists I have ever heard, and he has influences that tie greater than hip-hop. Both of these guys do great things, but neither of them get acknowledged like they should be.
8- Jayceon Taylor. Player Comparison: Ben Gordon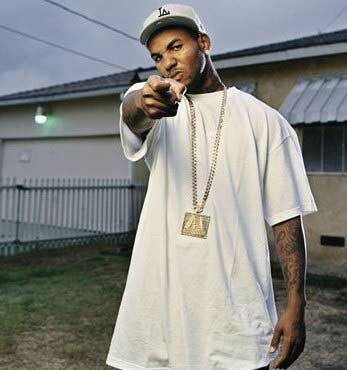 The Game is an excellent rapper, but is he as good as he thinks he is? "I consider myself the best rapper in the world" he said "but I'm cool with being second". Now, Game is very good at what he does, but is he really that good? Top two good? I don't think so. Much like him, Gordon is a very good shooting guard. He is an awesome scorer, and could be an All-Star if he continues to improve in the future, but is he as good as he thinks he is? Gordon has turned down multiple contract offers, including one for $59 million. Ben Gordon is worth more than that? No, and Game isn't the best rapper. Both are good, but maybe just a little conceited.
7- Talib Greene. Player Comparison: Al Jefferson
Not to be confused with Mr. Overrated, 50 Cent, Mr. Underrated also comes out of New York. But he goes by a different name, Talib Kweli. Kweli is one of the best hip-hop artists I've ever heard, but unfortunately, nobody really seems to agree. Oh well, hardly anyone thinks Big Al is very good, either. All Kweli did was make multiple good albums, and collect praise from some of hip-hop's kings. All Jefferson did was average 23 and 11, while out-playing the likes of Tim Duncan or Amare Stoudemire, and miss out on the All-Star game. Neither one is done yet though, so if you want to watch out for someone in the future, along with Lupe, check Talib Kweli. And show the Wolves some love, haha.
6- Marshall Mathers. Player Comparison: Chauncey Billups
I know many of you want to see Dirk Nowitzki or Nash here with Eminem, but let me make my case. Both Slim Shady and Mr. Big Shot have incredible determination. Both have won plenty of awards, with highlights coming on the biggest states for both, as Eminem won a Grammy for Album of the Year, while Billups won a Finals MVP award. Both gave back their roots, and Detroit. Eminem is a Detroit legend and has done much to help the city, while Billups brought Detroit a title. Billups came back to Denver, and led them to the Western Conferene Finals. Both of these guys are some of the best, both of them are incredibly valuable, and both given big assists to #15 on the list, whether that be 50 or Carmelo.
Now, we are going to the top five. This is the best of the best. The dynamic of the dynamic. Who has done enough to make the cut? If you don't believe me, just check out some of the lesser-known songs I'll give to you.
5- Kanye West. Player Comparison: Vince Carter.
As good as a comparison as Arenas might be here, I think VC and Kanye West exemplify some of the same traits. Both are incredibly cocky, but both are also down to Earth in a sense of understanding. Give Kanye the mic, and he thinks that he'll make the best track ever. Give VC the ball, and he thinks he'll score. But give Kanye another good artist, and he'll make a very good song. Give VC a good teammate, and watch him mature and become a better player. Both might have been off of their game as of late, but I feel that both will rebound, especially Kanye.
Why is Kanye in the top five? 808's and Heartbreaks was not a good a very good album, much less a very good hip=hop album. It wasn't his best work, but it wasn't terrible, either. Heartbreak is never an easy thing, death is hard to deal with, and these two things contributed to the album; I don't blame Kanye for that. But as a rapper, he is very good. I firmly believe than The College Dropout was one of the best albums from start to finish that I've ever heard. Late Registration was good as well, and Graduation only produced some more hits. In the future, if Kanye stays true to his word and makes another rap album soon, I guarantee it will be worth giving a listen.
4- Dywane Carter. Player Comparison: Kobe Bryant
Weezy and Kobe, the names say it all. Both are great. Both are dynamic. Both are some of the best in the business. But both are overrated. Lil Wayne will do his act, we know this. Kobe will do his act as well, we also know this. Weezy is gonna rhyme with random stuff, mean to say something else, talk about Birdman and compare his flow to that of a hosptai. I'm sorry, but am I wrong?!?! Kobe will score a lot of points, point at his teammates when things go wrong, take the blame when he knows it doesn't matter, and complain about not getting the calls. I'm sorry, but again, am I wrong?!?! Weezy wins awards, makes tons of money, has tons of fans, and even more haters. Kobe has awards, makes money, has tons of fans, and even more haters.
Where to start? He's been called the greatest rapper alive by countless people. He goes around calling himself that. He has millions of fans who stand by that. But is Lil Wayne really the best? I can give you multiple songs where he uses the same rhymes. I can give you multiple songs where he says the same stuff. I can give you multiple songs that just aren't very good. And this is true for every artist. Weezy is a great rapper, he's a top five, for sure. But the best? I don't think so.
3- Nasir Jones. Player Comparison: Kevin Garnett
When true fans think of Nas, they think of greatness. When true fans think of KG, they think of greatness. Nas is a great rapper, and while he isn't the best, he is near the top of the all-time rappers. KG will never be considered the best PF of all-time, but he is near the top. Both have had long careers, both have long lists of accomplishments, and neither are afraid to speak their mind. As much as Nas might resemble Duncan, he has the swagger of KG. Both Nas and Garnett are still going, and good things might be yet to come.
Nas is a great rapper, so why is he number three? You have to look at what he has done lately. Yes, he has done new stuff, but it hasn't been on par with that of the two guys ranked ahead of him. Keep reading, and it might make sense.
2- Shawn Carter. Player Comparison: Shaquille O' Neal
H-O-V-A. One of the best ever. One of the best currently. Jay-Z truly is a top rapper. He has hits with nearly everybody out there. He has put up numerous good albums. And he just can't seem to give up rapping, even after all he has accomplished. Much like Hova, Shaq can't give it up, either. He has four rings, an MVP, and has done what many players could only dream about, placing himself near the top of the list among all-time great centers. As both dealt with beef, it appeared both suffered losses, as Nas killed Hova on their diss tracks while Kobe stayed in Los Angeles. But in the end, they both won. Hova got his "peace" while he continues to bring in millions, and Shaq got his title, while his All-Star career continued. These two would be first-ballot Hall of Famers in the rapper/baller Hall of Fame, if only they ever decided to give it up.
Jay-Z has a resume that many could only dream of. He has done tracks with half of the business, and has the respect of nearly everyone. Even when he had a beef, with Nas, he managed to work it out, and "put Nas with Def Jam", as he points out in the Put On remix. So with all that he has done, why is he number two? Keep reading to find out.
1- Clifford Harris. Player Comparison: Chris Paul
WHAT?!?! What is this guy doing here?!?! He's sitting on top, that's what T.I. is doing here. Much like CP3, T.I.P. is always considered near the top of the elite, but never actually at the top. He falls behind the likes of Jay-Z, Lil Wayne and Eminem; but not on here. CP3 falls behind the likes of D-Wade, Kobe and King James, but he is up there. T.I. has done hits with the likes of Jay-Z, Ludacris, Lil Wayne, Eminem, Nas, Usher, John Legend, etc. I could go on, and on, and on. CP3 makes his teammates much better, just ask Tyson Chandler or David West. Both of these superstars hail from the South, and both are at the top of their games.
Now, you might have listened to Urban Legend. Or you might have listened to T.I. vs. T.I.P.. Or You might have listened Paper Trail. But I honestly think that if you want the full experince of his music, you have to listen to all of them. If you do this, the appreciation will come. Honestly, I would say out of "Whatver You Like", "Swagga Like Us", "Live Your Life", "What You Know", "Top Back", "Dead and Gone", "Bring 'Em Out" and "Rubberband Man", only a couple of those are really good songs; but that's my opinion. However, if you listen to the albums, and not the hits, you'll find that the rest of the songs are great. He doesn't need the backing of legendary producers, he doesn't need an auto-tone. After back-to-back-to-back-to-back platnium albums, T.I. has done some awesome stuff.
But he also can back it up. He has hustled, he's done the bad stuff, and he has the forgettable experiences to share about. He has dealt with jail. He has dealt with murder. He has dealt with more loss than many could only think about it. But it seems as though it has made him a better person. He has helped tons of kids and he hass done countless hours of community service. With all of his hits in the studio, he has made a legacy outside of the studio, as well. A legacy worthy of the top spot in the rap game.
"Ay, this is a special what's happenin'
To all my soldiers over there in Iraq
E'rybody right here, what you need to do
Is be thankful for the life got, know what I'm sayin'?
Stop lookin' at what you ain't got
Start bein' thankful for what you do got"
So there it is. I know you'll disagree, so please be respectful with your opinions, and respect my arguments. Thanks for reading!