08:53 AM ET 06.27 |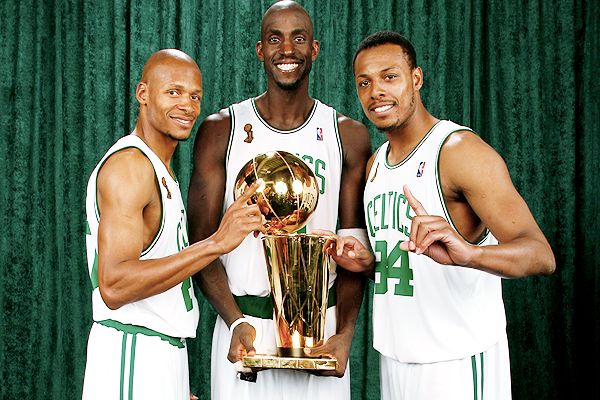 With the NBA draft ending, reminding me again of just how much the Celtics gave up to obtain one Kevin Garnett, it caused me to pause for a moment and reflect on how the General Managers of my favorite sports teams have fared through triumph and failure. Through personal awards and accolades as well as media and fan criticism.
One thing all sports fans share is the propensity to be extremely opinionated. Whether doling out criticism or praise, our opinions are always quick in coming and with conviction, if not always bourne of sound reasoning. Often our snap judgements are proven way off base but that doesn't deter us one bit because for every move our team made that we were sure was going to result in a championship (or get someone fired, whichever the case may be) that proved to be wrong, we can point to a dozen times we were "right". Of course this proves conclusively that we know far more about sports than those fools sitting in the General Managers office. I mean, who couldn't do a better job than Matt Millen, right?
As an armchair GM I thought the Garnett trade was horrible. Keep in mind, I'm a huge Celtics fan who also wanted Doc Rivers fired AFTER winning it all and who thinks Kevin McHale is actually a better General Manager than Danny Ainge, so most Celtics fans think I'M an idiot.
Upon further review...I still think it was a bad trade, but I also think that in hindsight it was one worth making. The deal won a bumbling Ainge an executive of the year award and was the driving force in running McHale out of town admist angry boos from Wolves fans (I'm told all 16 of them showed up to Kevin's presser announcing he was stepping down). Armchair GM's the country over were filling up the blogosphere and social networking sites claiming collusion.
Supposedly McHale gave KG away for a bag of magic beans as a favor to Ainge and his old team, the Celtics. This nonsense circulated among fans mostly because they didn't know who one Al Jefferson was. I did. Where the non Celtics fan saw a good young power forward, I saw the next Kevin Garnett. Swapping for KG with a much younger and cheaper mirror image of himself in the salary cap era seemed nuts to me. Throwing in a plethora of talented young players, a first round pick, AND cash was insane. Thought so then. Think so now. McHale absolutely fleeced Ainge on that deal and was run out of town on a rail for it. Ainge sold his teams future decade for a title today, and looked like a genius when the banner was raised in TD bankwhatevertheycalltheGardenthesedays and he was handed the executive of the year award.
It was a horrible trade by a bad GM, but in hindsight was completely worth it. Without KG the Celtics don't win that trophy. Period. Jefferson was simply not ready. The question is, ten years from now will the fans still think it was such a great move as they watch big Al turn into the superstar he was traded for, while "the big three" are sipping Mai Tai's on a beach somewhere enjoying retirement? Time will tell. Maybe holding onto a budding superstar, a bench full of athletic talent, and a first round pick would have netted the C's more than a single title. Then again, it might have resulted in none. In the end, they don't sell these things at Wamart so I guess you've got to take 'em when you can get 'em. Ainge is just lucky KG didn't let him down is all I have to say.

This brings me to...Jerry Jones
For a Cowboys fan, there was no better time than the first half of the decade of the 90's. Scissorgate? White House? Switzer did what with a gun? Who cares. Just keep winning trophy's.
I hated Jerry Jones from day 1. Literally. The first action the man took after buying America's team was to unceremoniously fire Tom Landry. You don't fire a legend. The only coach in the history of America's team. The man who led the Cowboys to five Super Bowls, more than any other coach at the time. No, you don't fire the face of the team without fallout. Sure, the Cowboys had gone 3-13 the year before and the roster was a mess. But making Tom the scapegoat so this oilman from Arkansas could bring in a COLLEGE coach to take over the team? Nope, hated him.
Didn't help when JJ and JJ directed my team to a 1-15 record in their first go-round. Didn't help when the bumbling idiots couldn't even decide who they wanted at QB so they used two #1 overall picks drafting QB's on a team that needed to basically replace every position on the field. Then the morons traded away the only real football player on the team. How the hell could the get rid of Herschal?
My how winning changes fan perception in a hurry. Maybe the oilman who never met a camera he didn't like did know what he was doing. Perhaps that College guy with too much hairspray wasn't so bad afterall.
Truth is, neither was near as bad as we originally thought, nor was either near as good as they led themselves to believe after a couple of Super Bowls. Winning cures all and buys a lot of goodwill for quite a long time. Even in Dallas where winning isn't hoped for, but expected.
That was a lot of years ago now. My youngest daughter was little more than a month old when she sat on my lap to watch an Eagles-Cowboys Monday nighter. A few months later she was on my lap again, witnessing the Cowboys win the Super Bowl. At little more than 3 years old, she had seen the Cowboys win their 3rd Super Bowl in her lifetime. It was an amazing time to be a fan of America's team. It's too bad she was too young at the time to remember any of it.
That same daughter will graduate from High School next year.
And she doesn't recall ever seeing the Cowboys win so much as a playoff game live.
Sure, she witnessed three Super Bowl wins, just as I witnessed Neil Armstrong's giant leap for mankind at two months old while sitting on MY fathers lap. But just as I have no recollection of seeing man land on the moon in my entire lifetime, she has no recollection of Cowboys January success.
My point is an entire generation has been raised, and is ready to enter the world on their own, who can't recall a single Cowboys win in the month of January. We won't even talk about February.
Those three Lombardi's got the fans to stop hating you, Jerry. They earned you a fair amount of good will and overlooked mistakes. They did not, however, earn you an entire generations worth of free passes. Not in that city. Not with this team.

Finally we have my favorite GM among my sports teams (mostly by default) Ken Williams.
Growing up a White Sox fan is akin to being a Marlins fan now, only without the occasional World Series success. In fact, being a fan of Chicago baseball at all was somewhat masochistic. There really wasn't any hope of winning it all. Hell, there wasn't really any hope of finishing better than third place in the division most years. You went to the ball park to see what crazy stunt Bill Veeck was going to pull and hoped the score wouldn't be too lopsided by the 5th inning, making the adults want to leave early. We're talking about a City with two of the original teams in their respective leagues that went 88 years without a single World Series parade. The White Sox hadn't even been IN a World Series since 10 years prior to my birth. By my 30th Birthday I was resigned to the fact I'd never live to see them win one. My Father resigned himself to that fact years earlier (though he did indeed see the impossible happen 3 months before passing away.)
For better or worse, that all changed with Kenny Williams. Trader Kenny, as he's called both affectionately and derisively depending on the mood of the person using the nickname, has shaken up the franchise if nothing else. From hiring the crazy, but baseball savvy, Ozzie Guillen to getting into a war of words in the media with franchise icon and fan favorite Frank Thomas after the latter was released, one thing is certain...it hasn't been boring with Williams around.
Love him or hate him, you've got to respect Williams. Whether he's right or wrong, every move he makes and every breath he takes is an attempt to make the team better while staying within the teams philosophy of not overpaying for players.
I mean, are Cashman and Epstein really genius'? Even this armchair GM could assemble a roster full of superstars with a gazillion dollar budget in a sport with no salary cap. Billy Beane? Pfft. For all the press and cult like following moneyball has received, what have the A's ever won in his tenure?
Kenny ignores the media and fans alike as every.single.move the man makes is scrutinized as if it were a nuclear proliferation treaty. Every trade is automatically criticized and Williams portrayed as a bumbling idiot in a city where far and away the largest media power just happens to own the team on the other side of town. If nothing else, the guy has got some damn thick skin.
So we have three men with three very different philosophies. All of whom have reached the pinnacle of success in their sport at some point in their tenure. All received way too much credit for the successes and way too much blame for the failures.
Considering the failures far outweigh the successes no matter who you are or what team you work for, maybe this General Manager stuff isn't quite as simple as we fans think it is? Nah...of course it is!